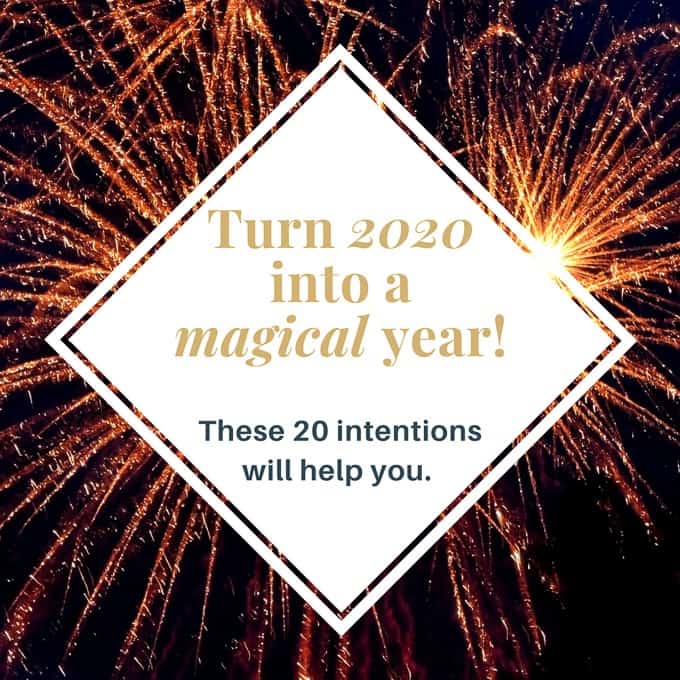 Think of fireworks.
The most beautiful fireworks in the world.
What colors do you see? What shapes?
The year 2020 will be magical! As magical as fireworks.
I knew from the very first second that this year would not be an ordinary one. After all, the number 2020 alone is spectacular.
Do you know when was the last time that such a special number combination occurred? A thousand and ten years ago, in the year 1010. And the next time it will happen? Right. It'll be 3030.
To me this is mind-blowing: Knowing that I have the opportunity to witness such a once-in-a-lifetime event (in fact, once-in-a-one-thousand-and-ten-years event). I get to live and make experiences in 2020! And so do you.
You have it in your hands
How else do I know that 2020 will be magical? It's very simple: I have it in my hand. As far as my life is concerned. And what about you? Exactly, you have it in your hand too to turn your life into something extraordinary.
I like to leave many things up to fate, trusting life, and believe that it will bring me only good things (and some lessons I need to learn).
Write down what you want to create in your life
How can life know what I want if I don't know it myself?
I have written down 20 intentions. Noting them down helps me in gaining clarity about what I really want and in opening my heart to these wishes. It's an invitation to them to come and enter my life.
If you fall in love with a stray cat and you want her to take a liking to you too, what will you do?
You will feed her. You'll talk nicely to her. You will be patient and caring. And you will show your affection every day, not act on a whim, but with consistent love. This way the cat will come to trust you. She'll understand that you're serious about it, and will want to stay with you.
It's the same with life's intentions.
You need to think about what you want - often and regularly.
So "feed" your desires with your thoughts to invite them into your life. In this way, you show life that you are ready for these things, that you opened up your heart to them.
This is what the 20 intentions I've compiled below are for. They help you to live a good life. Even a happy one. In fact: A magical one!
Turn your intentions into affirmations
Read these 20 intentions with an open heart.
Listen to your inner voice and ask yourself if a particular intention especially appeals to you. Does your heart beat faster? Do you feel angry or happy? An emotional reaction will show you that this particular topic is especially important to you.
Take that particular intention and use it as an affirmation. Like a mantra. Recite it daily or read it, write it in your notebook or diary. You can set this intention as your affirmation for a week, a month, or the whole year. Do it the way it feels right to you. Thinking often about the affirmation will remind you to also act upon it.
A magical year amidst a pandemic?
We are currently experiencing a global crisis. Almost every person in the world is directly or indirectly affected by the Coronavirus.
'And this is supposed to be a magical time?', you ask me.
This crisis should not be taken lightly. But it will pass, just like every tough time passes.
The most important question is: How do you deal with the situation? What decisions do you make on a daily basis? The affirmations below are particularly suitable for times of crisis. In fact, these are the times when you should use them even more often.
Maybe this quote by the Buddhist master Atisha (982-1054 AD) will help you remind you that the most important work is the internal one:
Do not let external circumstances divert you from your path.
If you are still not convinced, get inspired by the quote of the American motivational speaker Grant Cardone:
Never Waste Tough Times.
Tough times are temporary and they never last forever. How you respond to tough times will determine how you come through this.

And now let's fill the new year with brightly colored fireworks: With many magical moments! Big and small. 🎇 💫 ✨
May 2020 be a year full of love, trust, and compassion. And may you have the strength and courage to bring these qualities into the world.



20 Intentions for turning the 2020ies into magical years!
Live intentionally.
Envision what you're here for. Then set goals – and good deadlines, to make your dreams come true.


Do more things for the first time.
They make life exciting! Go on and live daringly.


Go forest bathing.
Spend time in nature as often as you can.


Take time for yourself.
You need silence and lonesome time to hear your inner voice. It's full of wisdom.


Listen to your gut feeling.
Always. It will warn you when you should back off from something, and encourage you when something is good for you.


Write, write, write.
Write in your journal. Write down your goals and life aspirations. Write to your lover, your relatives, your friends. Writing helps become more clear about your feelings.


Dance daily.
Even if it's just for a couple of minutes. Dance on your own, and for yourself - or dance as if no one is watching. You can dance with someone else, but you don't need a dancing partner for dancing. You can just have fun moving your body the way it feels right. It connects you with your body.


See things as they are and remain detached.
We are conditioned and used to judge, think, overthink, and react emotionally. The key to inner peace is to observe without emotional involvement. Try to face each situation and your emotions like a detached and curious observer.


Welcome all feelings.
The good, the bad, and the ugly. They are all meaningful. And transitory.


Be willing to forgive.
Forgive your younger self for making mistakes. Forgive others for disappointing or hurting you. Free your heart of any grudges or feelings of guilt and regret.


Show empathy.
With yourself. With every other living being. And with the planet.


Change limiting beliefs.
Take the time to investigate your thoughts and beliefs, and choose to change anything that's limiting you. You can choose to change any belief that is not serving you (anymore).


Smile a lot.
Smile when you wake up. Smile throughout the day. Go to bed with a smile on your face. You will make yourself happier, and the ones around you.


Don't buy into failure.
Failure is human. Don't let it get to you. See it as the lesson you needed to learn in order to grow.


Follow joy.
Make it a habit to listen to your feelings and to go with joy.
Do more things that bring joy to your life.
And whenever you have to make a decision, choose the path that sparks joy.


Make compliments.
Often. Say something nice to yourself every day. Compliment your partner, your friends, your pet, your family, and everyone about something that sticks out to you. Pay attention to the little things you like about yourself and about others.


We, not me.
It's good to be authentic and take care of yourself. Yet this is not worth anything if you don't see yourself as part of a bigger community. We are all connected in one way or another.
We can achieve the greatest things only when we reach out to other people. Provide the help that you can and ask for the help you need.


See death as another journey.
Life is a journey. It will end one day. No one knows for sure what will happen next (the same way we don't know for sure what came before our existence). Yet we can look at death as the next big adventure. This will help you enjoy life while not fearing death.


Be kind.
Act kindly towards yourself, others, animals, and the planet. Ahimsa.


Trust.
It's the foundation of love. Trust yourself. Trust other people. Trust life. Trust the universe. Believe that life is good.

I have decided spontaneously that all 20ies will be magical. Not just 2020, but also 2021, 2022, 2023... yes, all of them. I call them the magic 20ies. And you never know, maybe the 30ies will continue just as magically.
I'd love to find out your thoughts: Which intention triggered something in you? And do you have other intentions that will help make the new year magical?