Welcome to Planty Delights, a vegan lifestyle blog for people with a passion for food and a taste for life's myriad pleasures.

This site covers laid-back plant-based cuisine, mindfulness, life hacks, and travel gems 'off the beaten track.'
Planty Delights will help you find beauty in everyday moments and live a kind and authentic life.
Creating a compassionate and joyful life - one kind thought and one delicious bite at a time.
I'm thrilled to have you here, thank you so much for stopping by. I can't wait to embark with you on this heartwarming journey - towards a life of wellbeing, sustainability, and deliciousness.
Wishing you planty of delights,
Ramona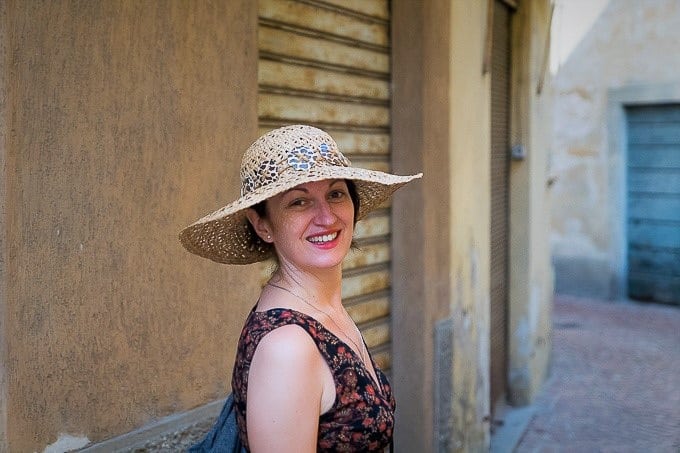 Frequently Asked Questions
Is Planty Delights a food blog?
Yes and No.

Yes, as the majority of the posts revolve around easy plant-based recipes and all things food-related.

However, that's not the entire picture. The content also delves into non-food subjects like sustainable living or wanderlust-inducing travel tales. And truth be told, I explore any topic that promises to spark joy.

What type of recipes do you share?
I'm all for laid-back vegan food made with high-quality (ideally organic) ingredients.
What cuisine do you specialize in?
I love to cook and eat different foods and I'm always curious to try new ingredients, dishes, and recipes. Yet, with my background in Romania, and over 30 years of living in Germany, I'm most acquainted with these cooking styles and enjoy sharing recipes from both traditions. Hope you enjoy them as much as I do!
Are all the recipes vegan?
Yes.
Are you a trained chef?
No, I am a self-taught chef without a formal culinary degree. My culinary journey has been fueled by a genuine passion for truly delicious food. The simple truth is: I love, love, love food.

Before any recipe finds its way to this site, it must first pass the ultimate taste test conducted by my friends and family. Only when they ask for seconds or inquire about the recipe with a hint of disbelief ("Are you sure that it's vegan?") do I feel confident enough to share it with the rest of the world.

Therefore, I hope from the bottom of my heart that the recipes I share are not only loved by those closest to me but will also resonate with you.
Are you a dietitian or nutritionist?
No, I am not. While I thoroughly enjoy reading about the nutritional value and health benefits of various plants, I approach this information with a discerning perspective. I believe that each fruit or vegetable is unique, and therefore, I take generalized nutrition data with a grain of salt. Such data can provide helpful indicators, but I recognize the importance of considering the individuality of each food item when making dietary choices.
Who takes the photos?
The photos you see on the blog are mostly taken by my partner Nils and me unless otherwise stated. Nils utilizes a Sony Alpha 77 II, while I rely on a Panasonic Lumix GM1.
Why did you turn vegan?
After delving into the profound insights of books like Eating Animals by Jonathan Safran Foer and The China Study by T. Colin Campbell and Thomas M. Campbell, I knew there was no turning back. Embracing a plant-based diet is not only compassionate towards animals but also beneficial for one's health and the environment.
What's the story behind the name Planty Delights?
The blog name Planty Delights is a fusion of words intended to evoke a sense of deliciousness in the realm of plant-based eating.

Furthermore, the name hints at the blog's broader focus, encompassing not only vegan cuisine but also the journey of recognizing that life is filled with an abundance of delights.

For more details, check out the story behind the new blog name in Drumroll, please, for the new blog name.
Do you have ads or do sponsorships or affiliate marketing?
No ads or sponsorships.
Planty Delights participates in affiliate marketing. This means I may earn a small commission if you buy something through my affiliate links (at no additional cost to you). You can read more about the affiliate program in the privacy policy.
Get in Touch
I absolutely love hearing from you and connecting with like-minded people. Please feel free to leave a comment on any of the posts, or you can reach out to me via email at mail@plantydelights.com.