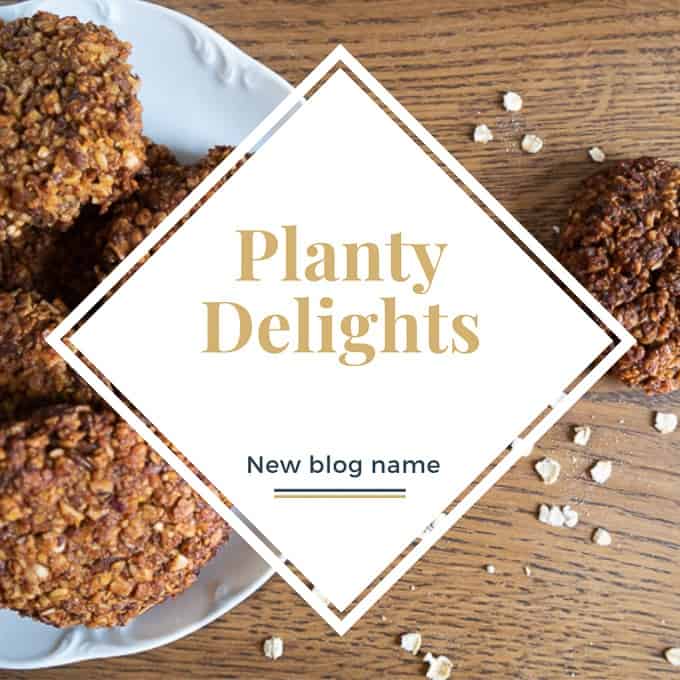 "The blog has a new name!" I've been looking forward to saying this sentence for a very long time.
Why change the name at all?
I knew from the start that the first name, Looking for Delights, was just a stopgap. When I started the blog, the final name just didn't want to reveal itself to me.
The naked truth is that my favorite name for the blog was already taken. And the second favorite, and third favorite, and so on and so forth. When I checked the domain for yet another name for the tenth time, only to be disappointed again, I was fed up with name guessing. I settled for a compromise: Looking for Delights. A bit bulky, a bit highbrow, too verb-heavy. But at least it contained "delights", one of my favorite words in English. And the biggest advantage of all: Domaincheck gave the go-ahead.
Now, about 3 years later, the blog and I have become familiar with each other: I know it's most important characteristics, and what topics are particularly close to its heart. And just like that, one day, I had the new name whispered to me: Planty Delights.
"Yes, that's it, it fits perfectly," was my very first thought. Planty Delights immediately felt right to me.
Ahem, how I really came up with the name
Well, the story isn't so short, of course. I didn't have a sudden heavenly insight while doing the dishes, or the laundry, or whatever other mundane activity you can think of. One fine day I decided to sit down with pen and paper and to not stand up until the right name manifested.
A nice day it was indeed, holidays in Italy, sitting on a beautiful terrace with a breathtaking view over the Lake Maggiore, Piedmont, and the lower tip of Switzerland! Little yellow butterflies were dancing around in the air. I believe a sparkling Aperol Spritz was patiently waiting on the table in front of me.
Ha, you bought into the butterflies and the Aperol? Sorry, that wasn't real, it's the stuff of legend. But you have my explicit permission to pass on all of it.
After I had been dreaming and brainstorming for a while, at least 15 name ideas jotted down on a piece of paper, Planty Delights was born.
But is "planty" even a proper English word? Never heard it before. Nope, the Merriam-Webster Dictionary informed me that it's not. Well, where do we go from here? "It won't work, you can't use it!", my logical side retorted. "You know what? You're going to simply make that word up, Ramona!" That was my rebellious side, and when in doubt, I listen to that one.
What is the meaning of the name?
Ok, now I had a blog name that felt right to me (and Domaincheck approved of it, too). That could be the end of the story. But if your logical side inquires more information, please read on for some explanations of what Planty Delights means:
I know that "planty" is not an English word, but to me, it is a playful way of converting the word "plant" into an adjective, which addresses the core topic of this space: The vegan recipes.


Since "planty" is pronounced like "plenty", it immediately brings the phrase "plenty of delights" to my mind. Joie de vivre, the sheer joy of being alive and how to find happiness in the little things of everyday life makes up a big chunk of the blog's focus.


"Plan delights" is included in "Plan(ty) Delights". Planning delights reflects my belief that we can choose happiness, indeed that we have to set our minds on positivity if we want to enjoy life. I truly believe that anyone can learn happiness, as it is a skill that we can hone every day.


An additional way of interpreting the blog name is "planet delights". This, in turn, covers another important area of the blog: Sustainability and the protection of our precious environment.


And last but not least: I just like the sound of this name. Repeat after me: Planty Delights, Planty Delights, Planty Delights.
By the way, the content of the blog will not change. I will continue to cover a wide range of topics that are health-related: The health of people, animals, and our beautiful planet.
I wish you plenty of delights in your life ... and with Planty Delights.
One more thing...
If you happen to know someone who works at the Merriam Webster Dictionary, kindly ask him or her to officially include the beautiful word "planty" in the English vocabulary.