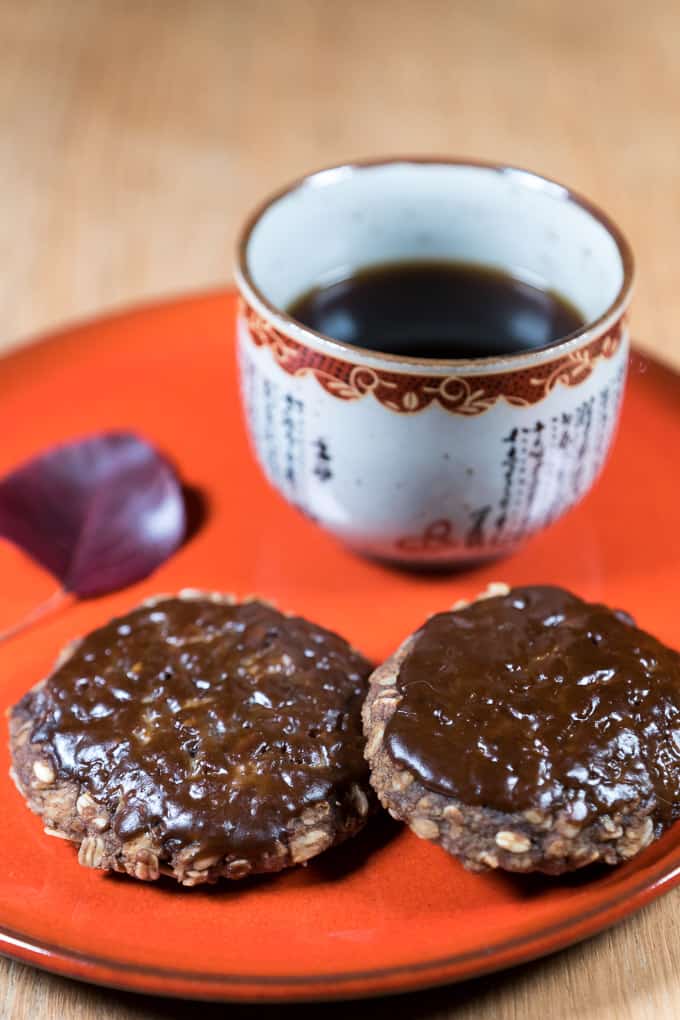 If sunny, peaceful afternoons in fall were a sweet treat, then these cookies full of cinnamon, caramel, and apple flavors would be it. So easy to make, requiring just a handful of natural ingredients, yet so sweet and delicious.
The frosting is made with only cinnamon and coconut sugar. These two ingredients turn into caramelly deliciousness once mixed with a bit of hot water. Did you know that apples and caramel are a match made in heaven? If you haven't, you should try caramel apples – or these cookies, which are basically a healthier, breakfast-friendly version without compromising taste. 
The coconut sugar has a natural light caramel aroma, which is intensified by cinnamon. Therefore, if you want to have the full apple cinnamon caramel flavor, I encourage you to not substitute the coconut sugar for another granulated sweetener in this recipe. But please feel free to experiment if you feel like it, there is nothing wrong with leaving the caramel flavor aside and munching on cinnamony apple oat cookies. Yum.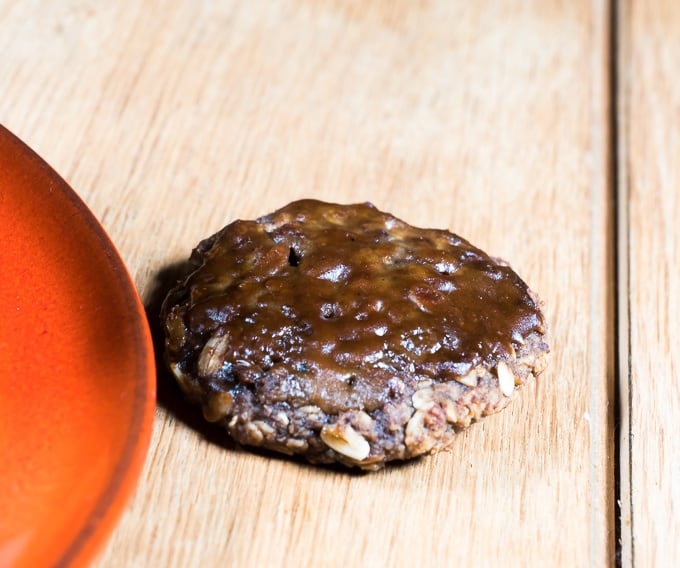 | | | |
| --- | --- | --- |
| Apple Oat Cookies with a Cinnamon Caramel Frosting | | Print |
Ingredients
2 very ripe bananas
150 g unsweetened apple sauce
150 g ground walnuts
3 teaspoon ground cinnamon
1 package baking powder (17 g)
250 g whole oats
100 g coconut sugar
1 teaspoon ground cinnamon
2 tablespoons hot water
Directions
Preheat the oven to 200° C.
For the dough, peel the bananas and mash them using a fork.
Mix the mashed bananas with the apple sauce.
Combine the dry ingredients for the dough (all the remaining ingredients), then add the mashed bananas with the apple sauce.
Line a baking sheet with parchment paper.
Form 16 cookies using slightly wet hands. Place the cookies on the parchment paper. As the cookies won't rise, one large sheet should suffice (if you place the cookies close to each other).
Bake in the oven for about 20 minutes, until the cookies turn golden brown at the edges.
Once done, take them out of the oven and leave to cool completely.
For the frosting, combine all ingredients.
Drop a teaspoon of the frosting on the center of each cookie. Spread the frosting to the edges using the back of the teaspoon.
Leave to firm uncovered overnight at room temperature.
You can store the cookies for up to 5 days uncovered at room temperature. I recommend not to store them in an airtight container as the frosting will soften and get sticky.