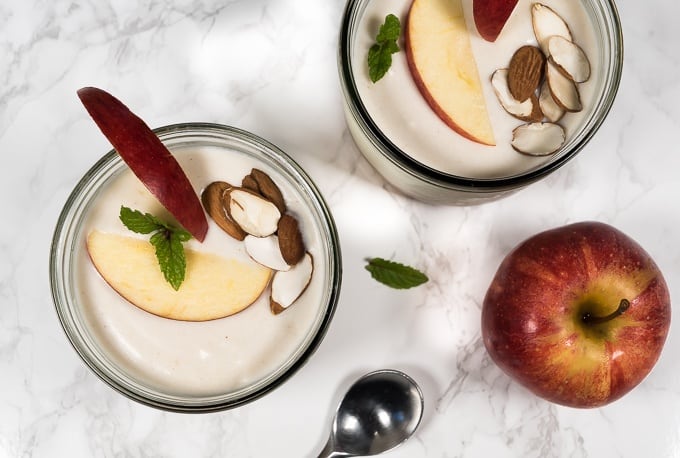 Apple snow is a simple classic dessert that is a hit all year round – despite its wintery name. It's as easy as mixing whipped cream with apple sauce and then adding some sweetener. And a pinch of cinnamon if you're like me and love the apple cinnamon combo. That's it for the classic base recipe.
In this variation, I swapped regular whip cream for coconut whip cream for the extra zing. But also because I think that the fruity aroma of apples and the exotic richness of coconut go heavenly together.
I also brought some yogurt to the creamy dessert party for lightness; and coconut blossom sugar for a hint of caramel flavor.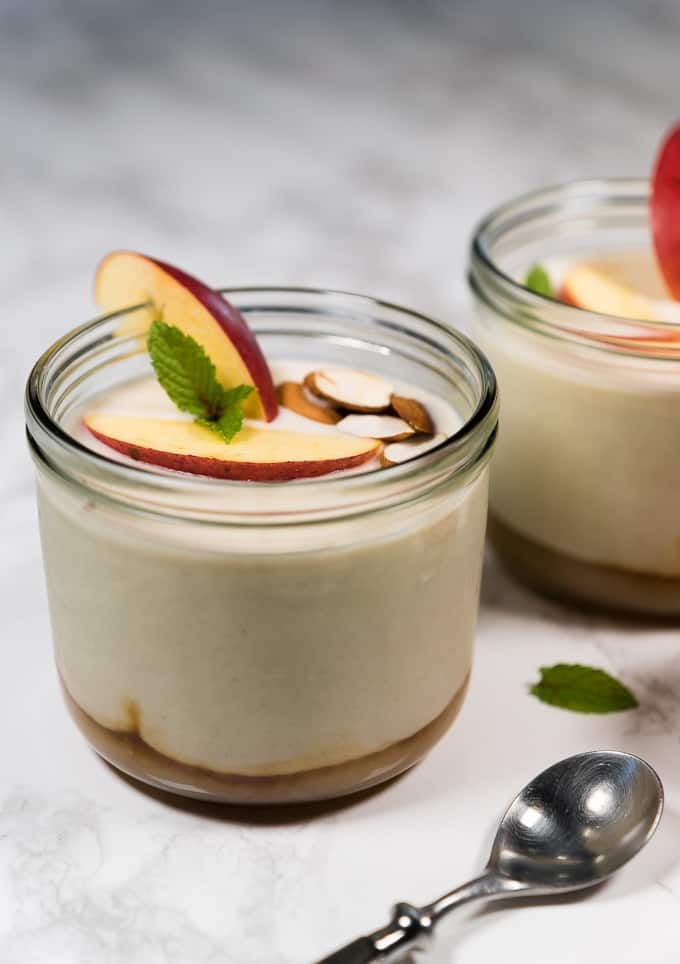 Depending on the size of the jars you're using, the recipe will serve either 2 or 4 persons. I used two large jars – just the right size if you have a huge appetite for apple snow.

| | | |
| --- | --- | --- |
| Apple Snow – An Easy Dessert with Coconut Cream and Apple Sauce | | Print |
You'll need 2-4 glass jars for dessert
Ingredients
400 ml coconut milk, chilled overnight in the fridge (you'll need just the firm, fatty part of it)
100 g birch sugar
200 g unsweetened apple sauce + 4 tablespoons
200 g unsweetened vegan yogurt
2 teaspoons coconut blossom sugar
Cinnamon
Apple slices
Handful of almonds, chopped
Mint leaves
Directions
Chill the coconut milk in the refrigerator overnight, so that the firm part can separate from the liquid.
The next day, scoop out the solid part and beat with a mixer for 30 seconds. Add the birch sugar and beat for a couple of minutes until creamy and slightly fluffy (don't worry if it doesn't get as fluffy as regular whipped cream). You won't need the liquid from the coconut milk can for this recipe, but there is no need to discard it as it goes well with baked goods, smoothies, or curry dishes.
Combine 200 g apple sauce with the yogurt, and mix in the whipped coconut cream.
Place in the freezer for approximately 30 minutes so that the mixture can firm up (you don't want it frozen, so don't forget it in the freezer).
Distribute 4 tablespoons of apple sauce among 2-4 jars and sprinkle each with a generous pinch of cinnamon.
Distribute the coconut blossom sugar among the jars.
Remove the whipped cream mix from the freezer, and distribute it across the jars by the spoonful.
Decorate the jars with apple slices, chopped almonds, and mint leaves.
You can enjoy the dessert immediately, or keep it in the fridge for up to 3 days. It will set and harden in the fridge.
Notes
If you like, you can substitute the coconut cream with another vegan whip cream (you'll need about 200-250 g whip cream).