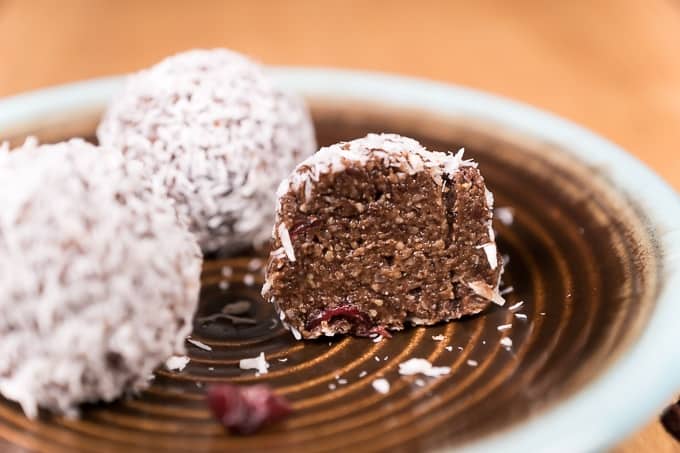 It's been hot in Germany for weeks. No, actually it's more like months! An endless summer since April, with temperatures that often exceed 30° C. This is not normal in these latitudes. Everything groans. Everything has to adapt. Man, animal, and nature, they all are looking for ways to cope with these southern weather conditions.
Things have changed for me, too. Firstly, I get up earlier to enjoy the few hours of the day that feature pleasant temperatures around 23° C. I'm not an early riser and by no means ready to set the alarm clock to a figure smaller than seven (which would put me in a bad mood the evening before) - but I sleep restlessly and often wake up too early on my own. To be honest, I'm even glad these days, glad when I'm awake before the alarm goes off because at 5 or 6 the air is still wonderfully refreshing. With the windows wide open I take a few deep breaths, then I air all rooms before lowering the blinds and closing the windows for good for the day to keep out the roaring heat.
In the evenings I go to bed later and later. The nights are mild, and I often spend hours lying on a deck chair on the balcony reading an eBook (I love paper books, but in some situations, eReaders are unbeatable, such as outdoors in the dark - you know: no light because of the moths and mosquitos). But there's always a faint hope of a cool breeze. That's why I'm waiting. And usually, I'm waiting a little longer. And suddenly it's past midnight. The cool breeze may not have come, but by the time I'll be tired enough to go to bed despite the heat.
Even my eating habits have changed. I skip the 3 P's - pizza, pasta and potato fries -, even if they are of my favorites. I can't have a heavy or hot meal right now. At the latest when the heat becomes unbearable during the afternoon I crave something refreshing straight out of the fridge. Anything that's cooling and hydrating is welcome. First on the list is watermelon, which I store – nicely diced, by the kilo in the fridge. However, my absolute secret weapon against heat-induced dizziness is a large glass of water with lemon slices and ice cubes. I drink the water and pour fresh water over the lemon slices before I place the glass back in the fridge – this way I have a supply of fresh lemon water throughout the day.
There is a box of soft dates next to the water glass in the fridge. I have to store them there at the moment, otherwise, they would quickly go bad at room temperature. When I need something sweet against the fatigue, this is my go-to snack, especially when dunked in cashew butter. This is a quick and healthy snack. Which also happens to be delicious. Extremely delicious, by the way! Yet I admit that the dates are usually only my second choice, as the first one is not as readily available (at least not in my fridge): The amazing chocolate hemp seed pralines (see recipe below). For me, these pralines are the epitome of a perfect, sweet, small, cold delicacy. They have an elegant chocolate note, are rather soft, and melt in your mouth. Hidden inside is a yummy surprise: Slightly sour cranberries, which go wonderfully with the taste of cocoa and ground hazelnuts. Soft dates also play an important role here, because they provide the necessary sweetness - together with ripe bananas. No refined sugar is necessary, the pralines are sweet enough.
Well, I just realized it's high time I made these exquisite pralines again. But probably not today. It's way too hot. I'd rather have a big glass of cold water with lemon slices now, and maybe I'll join Merlin and Mim, our two smart cats. They slouch on the floor – it's the coolest spot thanks to the tiles. The two have an unerring sense for where it's warmest in the winter, and coolest in the summer.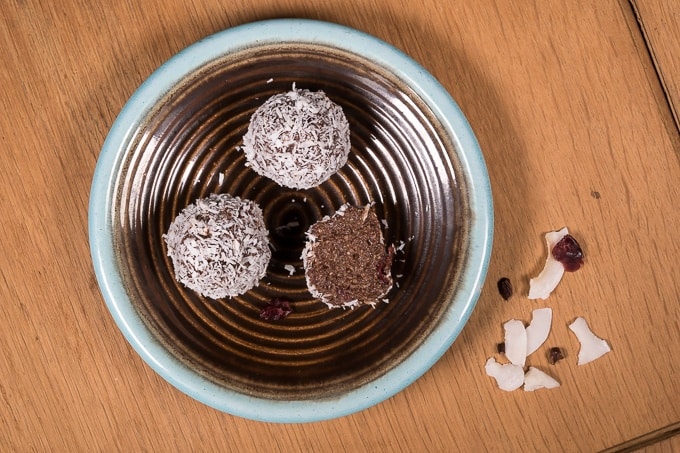 Later I'll take a watering can full of water and look out for a thirsty tree. I would thus comply with the official request to private individuals to protect the trees on public streets and squares from heat damage by providing them water. Indeed this could be fun – I'm just imagining all of my neighbors lined up with colorful cans, watering trees on the street – if it wasn't for the phrase 'climate change' lurking at the back of my head.
I have a favor to ask of you. If you make the chocolate pralines, could you spare me two of them? Or maybe just one? You know, I can be modest (if need be)! But knowing how irresistible the pralines are, they will surely be gone in no time.
Oh well, never mind, I have the recipe.
Recipe
Fine Chocolate-Hempseed Pralines with a Coconut Coating (Sugar-free)
These chocolate pralines are the epitome of a decadent, sweet, bite-sized treat, which also happens to be healthy as it features only natural ingredients.
Ingredients
For the pralines
3

tablespoons

of linseeds

flaxseeds

20

g

whole hemp seeds

120

g

ground hazelnuts

2

tablespoons

cocoa powder

1

teaspoon

vanilla powder

100

g

soft dates

pitted

2

medium-sized ripe bananas

their skin should already have brown spots

50

g

sweetened dry cranberries

mine were sweetened with pineapple syrup
Instructions
Grind linseeds and hemp seeds in a nut or coffee grinder.

Mix ground hazelnuts with the ground linseeds, hemp seeds, and the cocoa and vanilla powder.

Cut the dates into small pieces, peel the bananas and puree them together with the dates either with a hand blender or in a food processor.

Mix the dry ingredients and cranberries with the liquid banana-date mixture (i.e., all ingredients except the shredded coconut).

Place the mixture in the refrigerator for 1 hour to make it firmer. This will make it easier to form pralines.

Using your hands, form 16 walnut-sized balls and roll them in shredded coconut.

Chill the pralines in the fridge for at least one hour, then serve right from the fridge.

You can store the pralines in the fridge for up to three days.