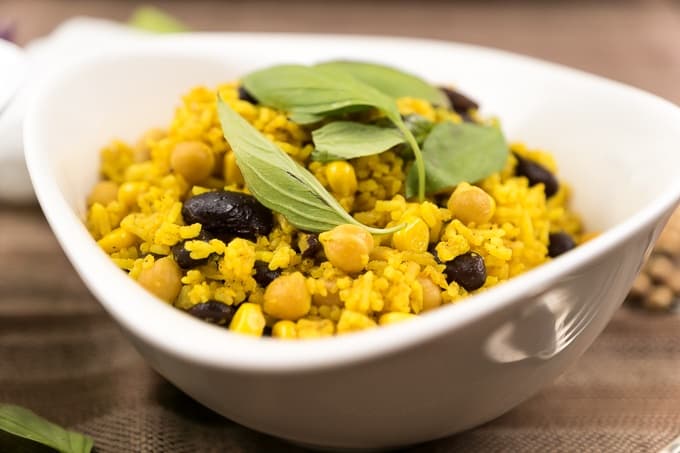 This dish comes in handy when you have a lot of leftover rice. You'll need just a couple more ingredients that I'm sure you already have in your pantry, and you can serve a yummy and satiating dish. Fragrant Basmati or Jasmine rice mixed with curry, chickpeas, kidney beans, corn and Thai basil makes for a quick and delicious lunch or dinner.
In fact, this dish is really fast to make as it's best prepared with rice cooked the day before. Fresh or even hot rice isn't suited too well for this recipe; if you cook the rice the same day, I recommend you leave it to cool completely with the lid off (helps lose moisture faster).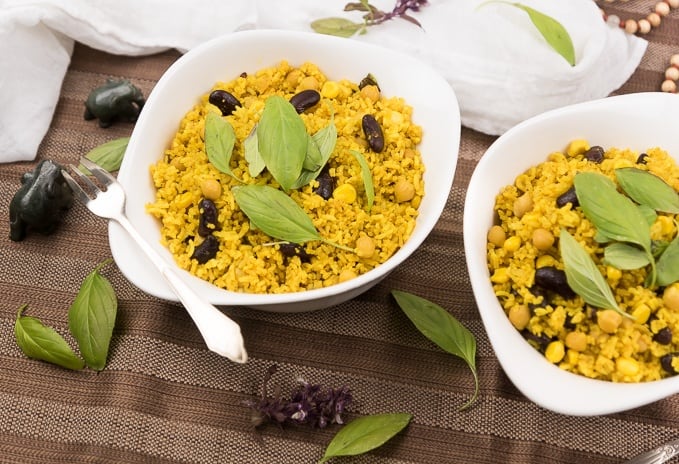 | | | |
| --- | --- | --- |
| Curried Fried Rice with Chickpeas, Corn, and Kidney Beans | | Print |
Prep time:
Cook time:
Total time:
You'll need a large pan with an extra high rim
Ingredients
1,5 kg Basmati or Jasmine rice, cooked (about 500 g uncooked)
10 tablespoons rapeseed oil (or any other neutral oil)
3 tablespoons hot Indian curry powder
200 g chickpeas, cooked
200 g kidney beans, cooked
200 g corn, cooked
Salt
1 bunch Thai basil
Directions
Cook the rice with the oil until the rice is loosened up and well coated with oil for about 10 minutes.
Add the curry powder and cook for a couple of minutes until the curry gets fragrant.
Strain the chickpeas, the kidney beans and the corn and rinse well. If you want to reuse the chickpea and kidney beans brine (e.g. use as aquafaba), strain them separately and store the brine in a container.
Add the chickpeas, the kidney beans and the corn to the curried rice and mix well. Cook for 5 minutes.
Season with salt according to your taste.
Set a couple of Thai basil leaves aside for decoration purposes, and chop the remaining leaves coarsely.
Stir in the chopped leaves and combine well.
Serve the dish topped with Thai basil leaves.