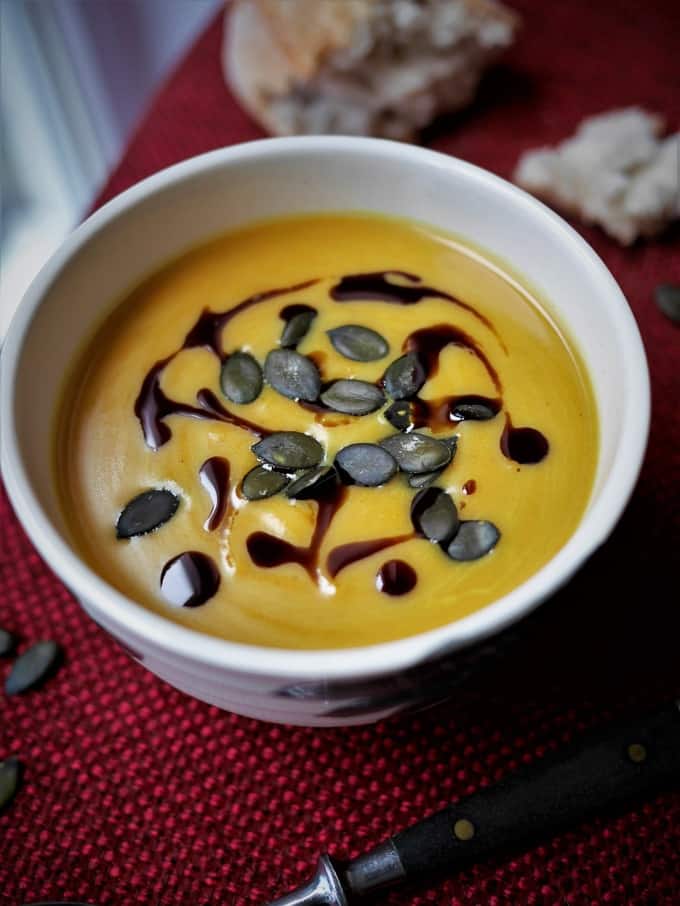 Last Tuesday, like every Tuesday, we got the organic produce box. I wondered if it would hold a particular item ...
And indeed! There it was.
(I was beaming all over my face.)
There was a ... MUSCAT SQUASH!
(As I had expected ... or rather, as I had hoped).
Specifically, a quarter piece of it...nestled comfortably against a bag of spinach on one side, and little apples and fragrant oranges on the other.
Once pumpkin season starts, we get this distinctive type of squash delivered about once a month. Only a quarter of it at a time (about 1 kg), never one half or three quarters. Always precisely a quarter of a pumpkin!
When this regularity crystallized, the recipe below became our go-to dish. Simple and quick to prepare ... and creamy soup is always a winner on chilly winter days, particularly one that's exquisite.
Muscat squash, also known as nutmeg squash, doesn't quite taste like the spice that inspired its name. Instead, I think of a wildflower meadow with soft peach-colored flowers; I think of its subtle, bloomy scent. Alternative terms of this romantic pumpkin variety first cultivated in France emphasize this sensual fragrance evocation: Musquée de Provence! And even: Fairytale Pumpkin Squash (What?!!?). (Beaming even more)
I'm a big squash fan; I like eating any variety from the big squash family. No wonder my favorite summer 'fruit' is watermelon, which (surprisingly) is a vegetable, but one (not so surprising anymore to me) belonging to the cucurbit family.
However, if I had to name a favorite winter squash, I most certainly would go for muscat squash. If only because it stands out from the (pumpkin) crowd: It is a dreamy beauty with a unique flavor! (And a teeny bit, too, because it transports me to a fairytale fantasy of billowy blooming meadows).
Recipe
Muscat squash cream soup
Easy to make, with an exquisite taste, this creamy soup is here to delight you. Muscat squash is also known as Fairytale Squash Pumpkin; it has a unique scent and flavor, which will lend any dish an elegant touch.
Ingredients
Soup
1

kg

muscat squash

5

medium-sized potatoes

1

red onion

peeled and chopped

3

tablespoons

of canola oil or another neutral oil

coconut oil also works

3

scant teaspoons of curry powder

1

liter

vegetable broth

400

ml

coconut milk

Salt

Pepper
Additionally
Pumpkin seed oil

Pumpkin seeds

Bread
Instructions
Peel and dice the squash. (I cut it into pieces first and then cut the peel off of each piece; I find this method easiest).

Peel and dice the potatoes.

In a large pot, saute the diced onions with canola oil until they are translucent (they should not brown).

Saute the curry powder briefly with the onions until fragrant, just a few seconds.

Add the diced vegetables to the pot and add the broth and the coconut milk. Bring the soup to a boil, then reduce the heat and simmer, covered, for 20 minutes until the vegetables are soft.

Puree the soup and season to taste with salt and pepper.

Serve garnished with pumpkin seeds and a few drops of pumpkin seed oil. If you fancy, serve with bread.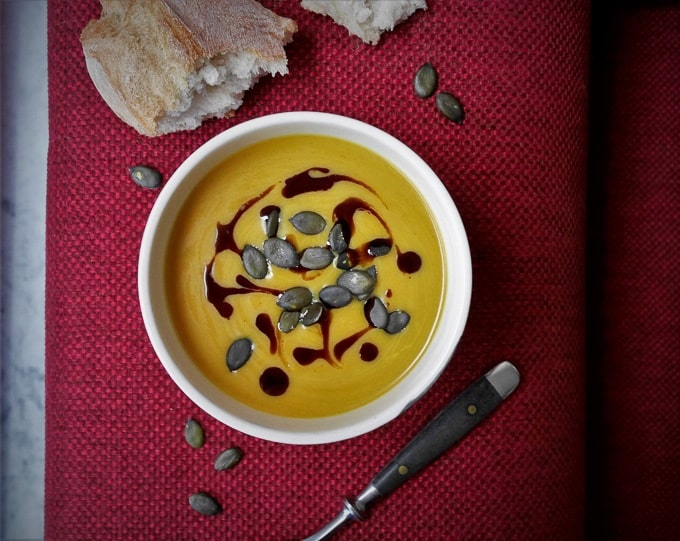 I'm curious to know: Have you heard of the Fairytale Squash? Do you cook with it?
Psst, you might also enjoy this Oriental chickpea & pumpkin soup, and this Creamy carrot and sweet potato soup.