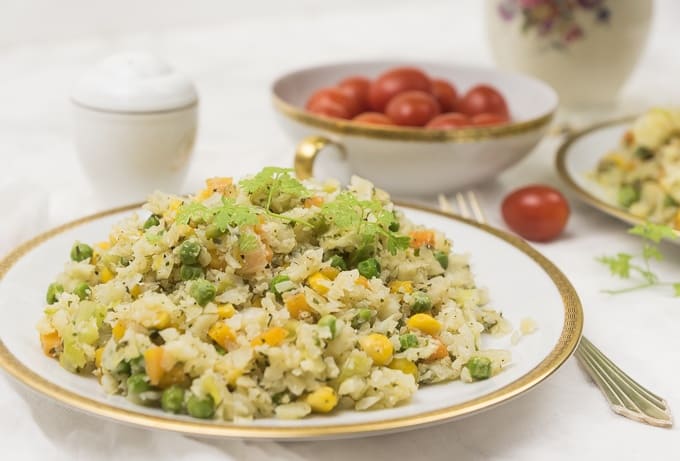 The thought of substituting cauliflower for rice in a recipe might sound strange to you. Honestly, I was rather skeptical too and didn't trust that it could work. Yet, I was intrigued by the idea of not having to cook rice first to make my beloved Chinese fried rice. So I gave it a try the next time I bought a cauliflower head, and I was indeed surprised at how amazing the dish turned out, ressembling very much the original fried rice version. Really delicious and satiating! Also, it was really quick and easy to make. This, to me, is comfort food at its best. 
You will surely love this recipe if you're looking for a dish with that luscious fried-rice taste, but want a variant that is richer in vegetables, grain-free, and quicker to make.

| | | |
| --- | --- | --- |
| Fried Cauliflower Rice with Corn, Peas, Carrots, and Leek | | Print |
Prep time:
Cook time:
Total time:
Ingredients
1 big cauliflower head (about 1 kg with leaves)
1 onion
2 garlic clove
6 tbsp olive oil
100 g carrots (2 small ones)
100 g leek
½ bunch parsley
100 g peas
100 g corn
2 small dried chili peppers (or ½ fresh chili pepper, deseeded)
Salt
Pepper
Directions
Wash the cauliflower, discard the leaves and the hard core. Cut the cauliflower into large pieces, just right to fit into your food processer. Grate the cauliflower in the food processer until it looks like rice. Do not process it too long, or you'll have cauliflower puree. Alternatively, you can use a kitchen grater.
Peel the onion and the garlic clove, mince both, and fry them with olive oil until they are fragrant and the onion is translucent.
Cut off the ends of the carrots, peel them, and cut them into small pieces (about the size of corn or peas).
Cut off the ends of the leek, discarding the dark green tops. Clean the leek, cut it lengthwise and fan it open to pay particular attention to the space between the white end of the leaves where mud and soil likes to gather. Cut the leek into bite-size pieces.
Add the carrots and the leek to the onion and fry them over medium heat with lid on for about 5 minutes (stirring occasionally).
Clean the parsley and mince it.
Add the cauliflower, the crumbled dried chili peppers, the corn, and the peas to the pan and cook until the cauliflower is tender (about 10-15 minutes), stirring occasionally.
When done, add the chopped parsley, and season with salt and pepper to your taste.