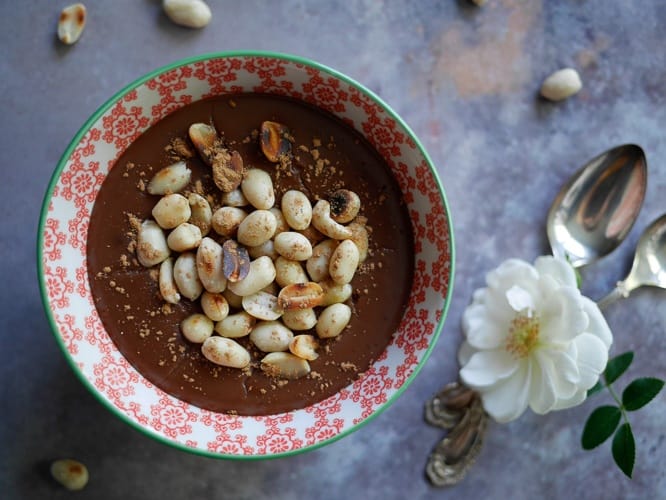 Peanuts love chocolate. And vice versa.

It's a romance that makes the heart of every Snickers fan beat faster. I admit that I was one of them when I was not yet vegan. The famous chocolate bar was one of my favorite snacking sins.
Fortunately, I can quickly conjure up this full-bodied chocolaty taste paired with roasted peanuts at home. In no time at all, I hold a bowl of fragrant, opulent pudding in my hand! Then I enjoy this creamy treat slowly, very slowly, letting it melt in my mouth – spoonful by spoonful.
Nothing tastes as good as something you have prepared yourself!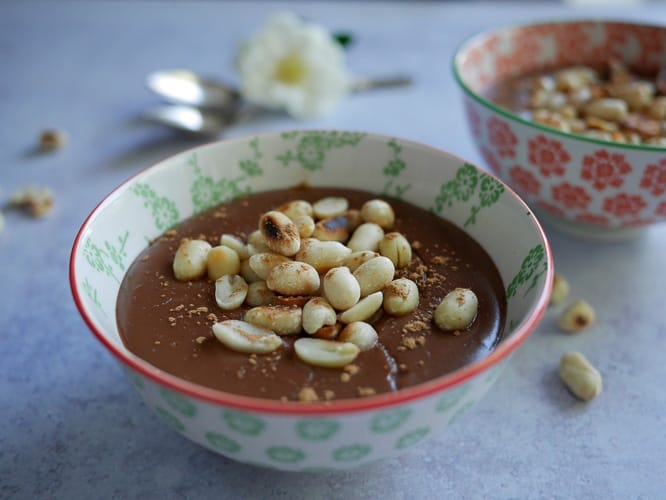 You find pudding boring? Well, you're not alone. How do you think most people will react when the question of what's for dessert is answered with "Pudding, my dears!"? Will their mouth water? Will they fall round the cook's neck? Will they swear eternal love to him or her?
Probably not.
And rarely will anyone order pudding in a restaurant as the culinary grand finale. Pudding brings to mind unimaginative canteen food. It sounds like an uninspired dessert that you make when you can't think of anything better or when you have to go ultra-fast.
I don't mind if something can be prepared quickly. Quite the opposite. So for me, this is not an argument against pudding.
And as for being an uninspired dessert:
How does creamy peanut butter, fused with velvety chocolate pudding sound to you? Muscovado sugar for the exotic touch of caramel? Roasted peanuts as a crisp contrast to the delicate, creamy pudding?
If you are still not sure, I invite you to taste just a spoonful of this dessert. Just a small one. And then tell me what word comes to mind. I suppose it's:
'Delicious!'
Or: 'Heavenly!'
Perhaps even: 'Opulent!'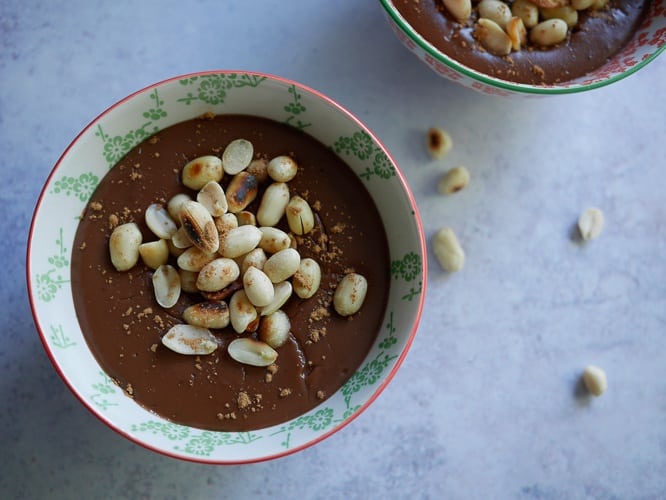 Recipe
Opulent peanut chocolate pudding that is more-ish
If you think pudding is boring, try a spoonful of this opulent velvety chocolate peanut butter pudding. Easy to make and moreish!
Ingredients
Pudding
400

ml

vegan milk

unsweetened (I had oat milk)

1

packet of chocolate pudding powder

1

heaped tablespoon creamy peanut butter

unsweetened

5-6

tablespoons

of coconut blossom or Muscovado sugar

alternatively regular white or brown sugar if you can do without the light caramel taste

½

teaspoon

vanilla powder
Topping
2

handfuls of peanuts

roasted

A generous pinch of cinnamon per bowl/serving
Instructions
Dissolve the chocolate pudding powder in 100 ml (½ cup) milk.

Stir the remaining milk in a small pot with the sugar and peanut butter until smooth and bring to the boil. Reduce heat to the lowest level.

Slowly mix the pudding-powder-milk mix in the pot with the rest of the milk, stirring continuously with a whisk so that no lumps form. Stir until the pudding thickens, then remove from heat immediately.

Divide the pudding while still hot among 3-4 small bowls.

Let cool slightly, and decorate with peanuts and cinnamon.

You can serve the pudding lukewarm if you choose a cream-like texture, or let it cool completely (e.g., in the refrigerator) if you prefer a firmer consistency.