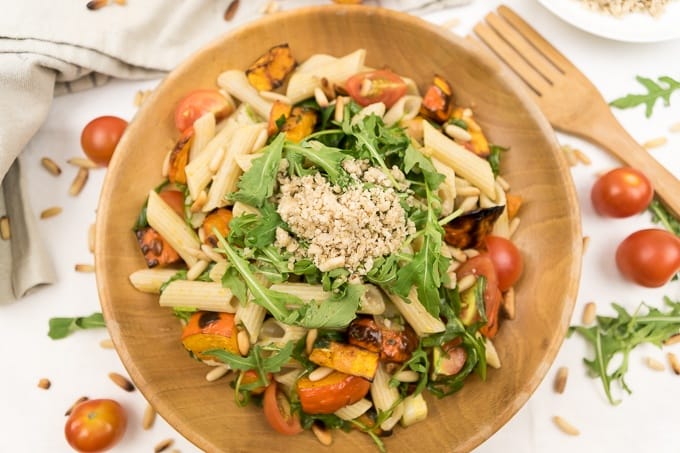 Squash season is almost over, but I'm ever so happy that my favorite organic grocery store still has butternut and ambercup squashes in stock. I'm taking advantage of all these squashes as long as they are around and indulge in delicious winter dishes. 
The recipe below is one of my all-time favorite squash dishes, and I will be forever grateful to the friend who introduced me to it.
I tweaked the recipe a bit, but the base is just perfect: Take any pasta, arugula, roasted squash, roasted pine nuts, some tomatoes, and then top everything with vegan parmesan.
I'm pretty sure that you'll love this dish just as much as I do, since everyone who tasted it requested a second helping, even the hard-core squash skeptics. It's hearty, comforting, filling, and really simple to prepare.
Recipe
Pasta with Roasted Ambercup Squash, Arugula, and Pine Nuts
This is an all-time favorite squash recipe: Pasta, arugula, roasted squash, roasted pine nuts, some tomatoes! And everything topped with vegan parmesan.
Ingredients
Pasta
70

g

pine nuts

2

large garlic cloves

1

big yellow onion

5

tablespoons

of olive oil

divided

1

mid sized ambercup squash

alternatively, use 1 small butternut squash

500

g

pasta

I like using brown rice penne or fusilli

250

g

cherry tomatoes

100

g

arugula

Salt

Pepper
Instructions
In a pan, roast the pine nuts until golden brown.

Peel the onion and the garlic, and chop them coarsely. Fry the onion in 2 tablespoons of olive oil until translucent, then add the garlic and fry until everything smells nicely.

Clean the ambercup squash, cut it open, and remove the ends and the seeds. Cut it into cubes and mix them with 1 tablespoon of olive oil, then bake in the oven at 250° C (482° F) for about 20 minutes until they turn soft and get brown edges. If you're using a butternut squash instead, peel it first.

Cook the pasta according to the packaging instructions.

Wash the cherry tomatoes and cut them in half.

Wash the arugula leaves and tear them with your fingers into big pieces. Set a good handful aside to decorate the dish.

In a big bowl, mix all the pasta ingredients. Season with salt and pepper, taste test and adjust according to your taste.

Serve the pasta topped with some arugula and vegan parmesan.

Eat and enjoy!
Notes
For a lighter salad-style meal just leave out the pasta, the result is truly delicious.