It's no secret that I'm a big potato lover. My mood goes up several degrees when I know that lunch or dinner will be starring potatoes. Just like cornmeal, potatoes are staples in Romanian cuisine, therefore I have a strong emotional connection to these food products that bring back happy childhood memories. Usually, I resort to no-fuzz potato dishes such as whole oven-baked potatoes with pumpkin seed oil, or oven-fried potato wedges with herbs. But what about a potato salad? Well, it never occurred to me to make one when buying potatoes, as much as I love eating it. Back in my Romanian childhood, no birthday party or other joyous gathering was imaginable without a potato salad. So I guess I made a mental note once that a potato salad is party food or a special-occasion dish. Plus, it seemed to me like one of those more complicated dishes that take a lot of time to prepare.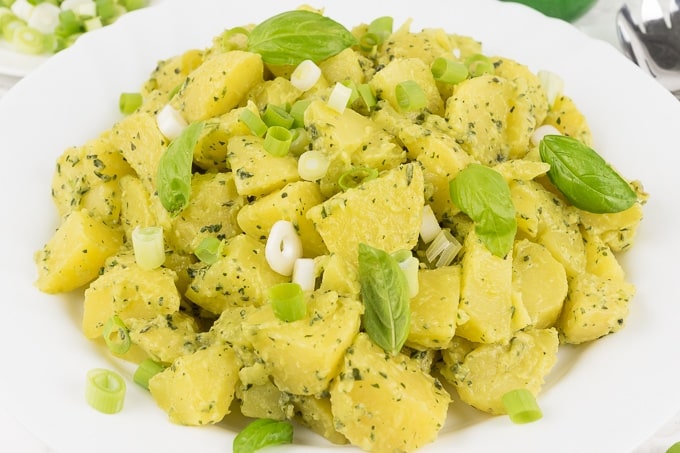 Until this one evening a couple of weeks ago when I played around with avocado and basil to create a new pesto version! It turned out really yummy and creamy, and I knew instantly that this paste will make a great substitute for mayonnaise and go fantastic with potatoes. Huge benefit: The 'mayonnaise' is done within minutes, just mix all ingredients either in a blender or a food processor. Take now some boiled potatoes, cut them into pieces, add the avocado mayonnaise and some chopped scallions, and there you have your crowd-pleasing innovative potato salad.
Recipe
Potato Salad with Avocado Mayonnaise and Scallions
Ever tried a potato salad with an avocado mayonnaise? If not, you've missed out on something. It's delicious and incredibly easy to make.
Ingredients
2

kg

waxy potatoes

4

scallions
For the Avocado Mayonnaise
2

medium avocados

50

ml

olive oil

50

ml

water

1

big garlic clove

crushed

4

tablespoon

lemon juice

about 1 lemon

½

bunch of basil

about 25-30 g

Salt

Pepper
Instructions
Boil the potatoes (in their skin) until they are tender all the way through. You can test this by poking a potato with a knife or skewer and see if it slides easily all the way to the center.

Let the potatoes cool completely, peel them, and cut them into bite-size pieces.

Wash the scallions, remove outer parts that are wilted. Cut off the tip of greens and the root. Then chop the scallions.

Put all the mayonnaise ingredients into a blender or food processor and mix until you have a creamy paste similar to regular mayonnaise. Taste test and adjust with salt and pepper according to your taste.

Pour the mayonnaise over the potatoes and gently combine to not crush them.

Serve the salad with chopped scallions on top.