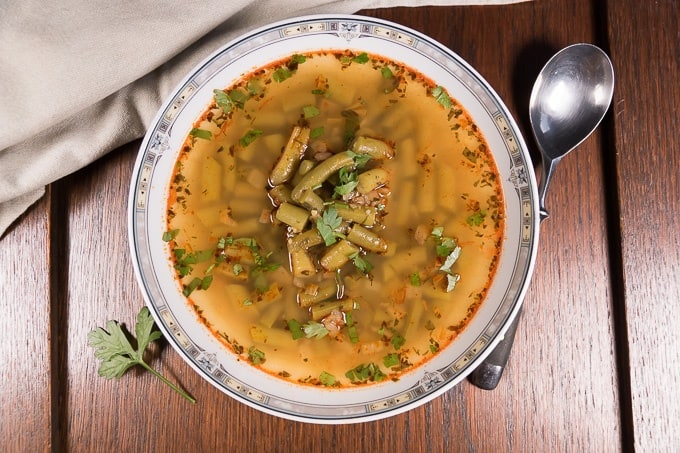 There are many things I admire about my Romanian grandfather, but what strikes me most is his passion for cooking and baking.
He is over 80 years old, yet no day goes by without him cooking up a storm. When I visited him this year in the summer, he cooked a green bean soup for us that was light, delicious and full of paprika flavor.
I asked him for the recipe, eager to write it down and to recreate the dish once back home in Germany.
But he just stared at me, puzzled. Then he chuckled. And shrugged, looking cute with his smiling old-man face.
This is how I found out that my grandpa never used a cookbook in his whole lifetime (or owned one, for that matter), or any form of measurements in the kitchen.
He just knows the recipes by heart for all the traditional Romanian dishes that my family, and especially my grandmother, liked to cook and eat over the years. That is, he knows what ingredients to use and how the dish should taste. Then, when he cooks or bakes he adjusts the spices and condiments on the spot.
So I grabbed my notebook and quickly jotted down the ingredients for my grandpa's green bean soup.
I made sure not to forget about the ground paprika as this spice gives the soup that particular deep Romanian flavor.
Back home in Germany I made the soup, playing around with the spices and adjusting their amount until the dish tasted just like the one my grandpa cooked in his little kitchen in Romania.
I hope you'll like it just as much as I do.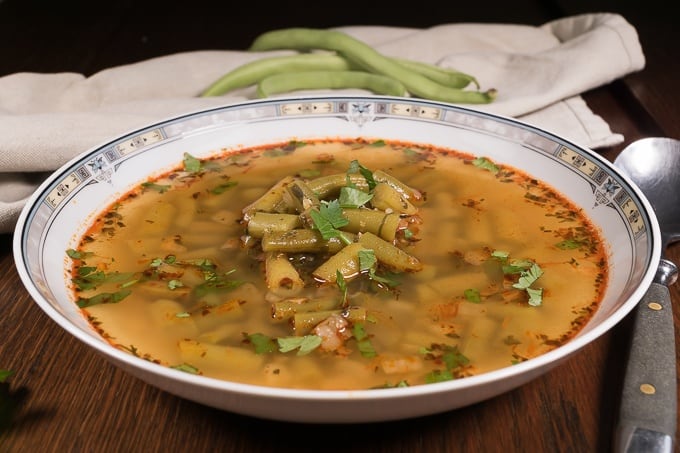 Recipe
Romanian Green Bean Soup with Paprika
This is my grandfather's original Romanian recipe for an easy green bean soup. It is light, delicious, and full of paprika flavor.
Ingredients
1

onion

2

cloves

of garlic

3

Tablespoons

rapeseed oil

Or any other neutral tasting oil

1

Teaspoon

ground paprika

600

g

green beans

fresh or frozen

1.5

liters

of vegetable broth

4

sprigs of fresh lovage or 2 teaspoons dried lovage

½

bunch fresh parsley

only the leaves, chopped finely

1

Teaspoon

fresh dill

chopped finely

Salt

Pepper
Instructions
If you're using fresh green beans, wash them, trim them, and discard the ends. Chop the green beans into bite-size pieces.

Peel the onion and chop it. Cook it with the oil until translucent.

Peel the garlic cloves, chop them finely, and add them to the onion. Cook for 2-3 minutes, stirring frequently.

Add the ground paprika and the green beans, cook for 2-3 minutes, stirring frequently, until the paprika starts to smell nice.

Add the vegetable broth and the lovage. Bring to a boil, reduce the heat, and cook over low heat with the lid on until the green beans are tender (about 10-15 minutes).

Turn off the heat and stir in the parsley and the dill.

Taste test and add salt and pepper if needed.