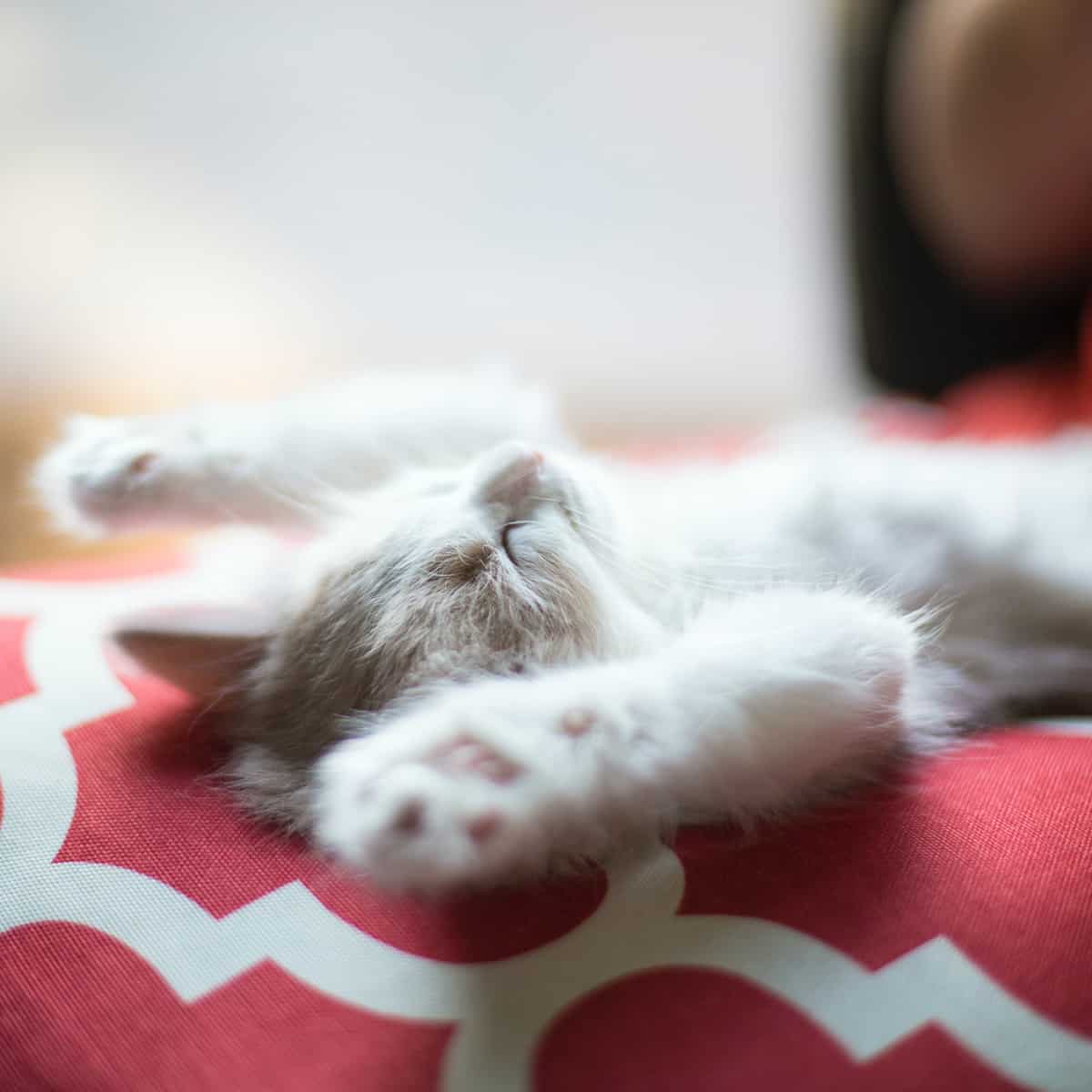 All living beings sleep. Some more, some less, but none can do without sleep. Not even us humans. Sleep is a biological necessity; it supports regeneration. The first piece of this two-part series on sleep looked at the importance of slumber for our physical and mental health. There, you can also find strategies to help you get back to sleep if you wake up in the middle of the night.
In this second piece, you'll discover how you can calm your mind in the evening, prime your body for sleep, and set up your bedroom for a restful night. In short, you'll find out everything that empowers you to ensure a healthy slumber so that you fall asleep quickly and wake up refreshed.
At the end of the article, you will find more resources like links to information online, documentaries, and books if you want to explore the mysteries of human sleep further.
Content:
Priming your body for sleep
Much of what determines whether we can sleep well at night happens already in the middle of the day: Do we take stimulants (caffeine, cola, alcohol, nicotine, energy drinks, medications, drugs), and if so, how much and at what time of day? Do we exercise? Do we expose ourselves to light?
These are a few tips that you can consider for setting your body up for good sleep.
Coffee
Like all types of stimulants, coffee harms our sleep quality - even more so the closer to bedtime we consume it. The half-life of caffeine is estimated at 5-6 hours. This means that if I have an afternoon coffee at 4 pm, the equivalent residual amount of caffeine from about half a cup of coffee will still be in my body at around 9 or 10 pm.
The German society of sleep research and sleep medicine (Deutsche Gesellschaft für Schlafforschung und Schlafmedizin) recommends avoiding caffeinated beverages 3-4 hours before bedtime. Since the rate at which caffeine is broken down varies from person to person and depends on many factors (e.g., whether a person smokes or is pregnant), everyone should test for themselves from what time onwards they better abstain from coffee.
Alcohol
Alcohol is a powerful sedative for our central nervous system, as is marijuana; they are mood changers. Sedatives like sleeping pills and certain painkillers have similar effects - they numb not only physical pain but also anxiety. Sedation, however, is not sleep. Or rather, not restorative sleep.

Alcohol, sleeping pills, or marijuana make it easier for us to fall asleep, but they cause fragmented, non-restorative sleep. Individual sleep phases, such as the light sleep phase, are skipped, and in others, such as the deep sleep phase, the restorative processes in the brain run less productively. If you want a restful night's sleep, avoid alcohol (and other sedatives) a few hours before bedtime.
Light
Concerning light, you should take two things to heart:
1. "Fill up" on daylight, especially early morning light.
2. Expose yourself to little or no light in the evening and at night.
Our sleep quality is significantly affected by how well we keep to our sleep-wake cycle - our internal clock. The sleep-wake cycle determines when we are awake and when we are sleepy/asleep. We can "wind up" this inner clock with daylight. In the evening, on the other hand, we have to "shut down" the light sources, otherwise, our internal clock gets confused (many people know this as jet lag).

The short-wave, blue light emitted by monitors (laptops, cell phones) and TV sets is particularly harmful to our sleep. Our body interprets this light as daylight, and thus it messes with our sleep-wake cycle. Ideally, we should avoid monitors of any kind two hours before bedtime; if that is not possible, we should use screens with a blue light filter in the evening. There are also night light settings for cell phones, which you can even set on a timed basis (e.g., from 8 pm - 7 am).
Workout
Something we know from watching children: If they romp around all day, they're sure to get a good night's sleep. For adults, exercise also helps promote a more restful night's sleep. Vigorous workouts should be practiced during the day, as it takes some time for the nervous system and the heart rate to calm down. Gentle exercises, such as walking or yin yoga, are more suitable in the evening.
Eating habits
Enjoy your last meal of the day at least two to three hours before bedtime. On the one hand, we want to give our body the necessary rest to devote itself to repair processes that were not possible during the day - a full stomach and all the accompanying digestive activities are a hindrance. On the other hand, our body releases insulin and cortisol after each meal, two hormones that negatively affect the sleep hormone melatonin.
Ideal sleep environment
An ideal bedroom is cool (a temperature of about 18 degrees Celsius is ideal) and dark, and no other sources of disturbance are present (TV, cell phone, laptop).
Plants in the bedroom can be helpful, as many (e.g., aloe vera or the common ivy) promote good sleep by improving the air quality (expelling oxygen and absorbing harmful neurotoxins).
Regularity
The human body loves habits; it is programmed for regularity. Our sleep-wake cycle, our inner clock, is the cause. This internal clock is strict, like Swiss clockwork. Therefore, try to go to bed and wake up at the same time, even on weekends.
Calming your mind
Fear is the leading cause of insomnia. Fear is the body's fight or flight mechanism and extremely useful in warning us of danger. In the Stone Age, it helped people recognize (and flee from) the saber-toothed tiger as threat. In the modern world, this mechanism is a hindrance in everyday (work) life, as no prehistoric predators are looming, but deadlines, bosses, and a mountain of work - none of which is life-threatening (but sleep-depriving).
For us to sleep well, we need to banish the fears and worries of the day, otherwise, we will stay awake. Here are a few methods that can help stop evening (or nighttime) brooding.
Relaxation techniques
There is an abundance of methods that can help your mind come to rest. Autogenic training, meditation, gentle yoga exercises, fantasy journeys, visualizations, Thai Chi, breathing exercises - all of these can help. Try out what does you good and suits you. At the end of the article, you will find a link to an overview of meditation apps.
Routines
Evening rituals and routines send a message to the brain and body: "Now you may rest, soon it will be bedtime." A walk, a cup of herbal tea, a few pages in a book, lighting a candle, saying a prayer, listening to pleasant music - whatever helps you relax is a good thing, and you should do it every evening before going to bed.
Calming scents
Scents can prime our brains for relaxation and sleep. Try different herbs, such as lavender, hops, Swiss stone pine, or valerian root, to find out which essential oils calm you down the most.
Notebook
When we are brooding about a particular problem, it can help write down our worries, questions, or unfinished tasks. This tells our brain that the thoughts "it" is thinking are important - they are now recorded, and we can address them more effectively at a later time (preferably the next day, when we are well-rested).
What else can help?
You can buy sleep-friendly artificial lights. Or you might fancy sleep-promoting technological gadgets that allow smart sleep monitoring, or other products that promise better sleep, such as weighted blankets (also called therapy or gravity blankets). They all cost you money, so it's wise to compare products from different manufacturers and consider which of these you really need. For tech-savvy people, sleep gadgets might be a good way to better approach the important topic of sleep and understand one's sleep patterns. At the end of the article, you will find links to various overviews of sleep gadgets.
Resources on sleep
Videos
How to get a good night's Sleep, DW Documentary (43 minutes)
The truth about Sleep, BBC documentary (60 minutes)
The New Science of Sleep and Dreams, Matthew Walker (70 minutes)
How to improve your Sleep, Matthew Walker (8 minutes)
Online Articles
15 + 22 surprising sleep facts
20 Best Meditation Apps of 2021
The best plants to help you sleep
A three-part series on Sleep, The New Yorker
Overview lists of sleep gadgets
Books
Why We Sleep: Unlocking the Power of Sleep and Dreams, by Matthew Walker
The Secret Life of Sleep, by Kat Duff
The Sleep Revolution: Transforming Your Life, One Night at a Time, by Arianna Huffington
Sleep Smarter: 21 Essential Strategies to Sleep Your Way to a Better Body, Better Health, and Bigger Success, by Shawn Stevenson
The Sleep Solution: Why your Sleep is broken and how to fix it, by W. Chris Winter
Wishing you a good night ... and well-rested days!
With planty of delights,
Ramona
(Photo at the beginning of the post by Jonathan Fink via Unsplash)