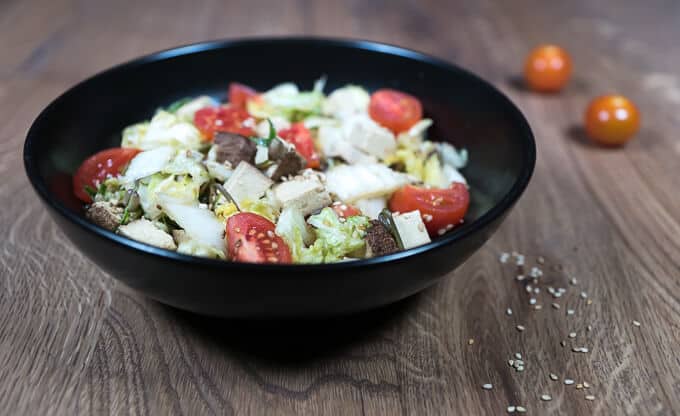 It's January, it's cold, it's grey and it's wet outside. Not the typical weather and not the typical month for craving fresh salads. And yet I do - probably thanks to the sumptuous food I had the pleasure to indulge in for Christmas and New Year's Eve.
I wanted to make a salad with Chinese cabbage, also known as Napa cabbage. It's still in season and a medium-sized specimen waited patiently in the refrigerator. I like Chinese cabbage a lot. Not just because it looks pretty and delicate with its long, unkempt-looking leaves (Did anyone else imagine how pretty he or she would look wearing a long skirt in the shape of an upside-down Chinese cabbage?).
It also has a mild taste and is cooked in no time (faster than its firmer relatives like white cabbage, red cabbage, or savoy cabbage).
I usually prepare Chinese cabbage in a pan with onion, garlic, some tamari sauce and a block of smoked tofu. On any regular day, this is all it takes to make me happy and full.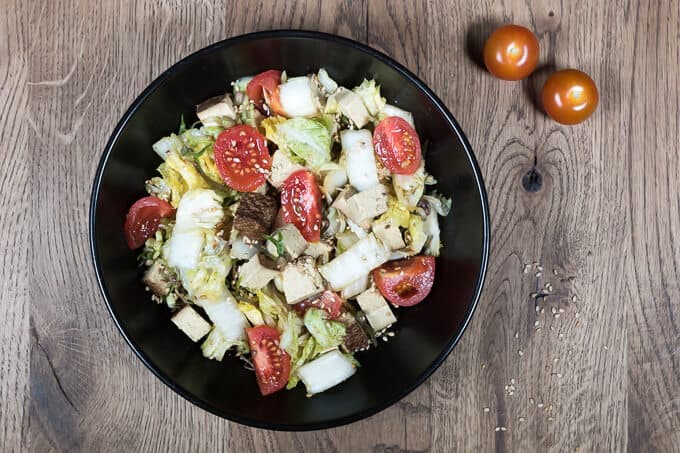 But this time around I wanted to enjoy the Chinese cabbage raw, turned into a tasty salad. As I had little experience with using this cabbage type raw, I looked for recipe inspirations online.
Movigo came to my mind, the blog of Heike Furch. Heike has already gifted Planty Delights with an extraordinary salad recipe, the Crisp and Refreshing Apple Radish Celery Salad. And I remembered that she's published some anything-but-usual salad recipes on her blog, such as a spinach salad with beetroot (in German) and – Lucky me! - a Chinese cabbage salad.
I used Heike's recipe as a starting point for creating my own recipe.
Heike's salad dressing features vegetable broth, which I could imagine going well together with the Chinese cabbage. I enriched the sauce with apple cider vinegar and roasted sesame oil. Next, in went some crunchy, fresh cherry tomatoes and satiating smoked tofu (protein, my lovelies!).
Et voilà, my new favorite salad was born.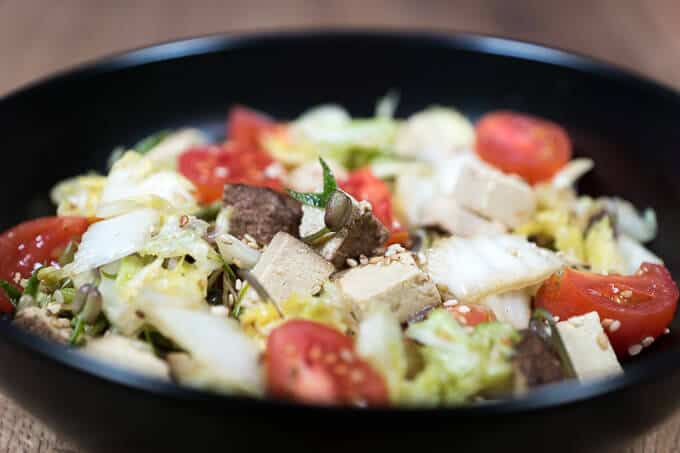 One important hint upfront about the size of the bowl in which you mix all the ingredients:
Take the largest one you have!
Seriously. You'd better go rummage your basement looking for that one giant salad bowl that your grandmother handed you down or another relative gave you for Christmas to use on a special occasion. This recipe marks that special occasion!
Find the extra-large bowl, rescue it from the basement, and then put it to use. A whole Chinese cabbage may not look like much, but once it's cut into pieces its volume seems to double. Or even triple. Well, you don't have to listen to me, of course. You might even like to have pieces of Chinese cabbage flying around everywhere in your kitchen. But as I'm a nice person I felt the urge to warn you.
One more hint (then I'll really stop, and you can finally go check out the recipe): You won't find any salt in the ingredients list for the sauce. Yes, that's true, no need to double-check or tell me that I forgot to mention it. I deliberately left it out, because I find that the tamari sauce and vegetable broth add enough saltiness to the dish. But of course, you are free to act according to your taste and season with salt to your liking.
Recipe
Chinese cabbage salad with mung bean sprouts and smoked tofu - Prepared in the largest bowl you own
A rich, filling, and tasty salad that will satisfy the whole family. Make sure to prepare it in the largest bowl you have otherwise you'll have pieces of Chinese cabbage flying around your kitchen.
Ingredients
Salad
1

medium-sized Chinese cabbage

about 800g

150

g

mung bean sprouts*

optional

250

g

cherry tomatoes

400

g

smoked tofu
Sauce
50

ml

strong vegetable broth

1

tablespoon

native sesame oil

1

tablespoon

roasted sesame oil

2

tablespoons

apple cider vinegar

3

tablespoons

tamari sauce

alternatively soy sauce

3

tablespoons

sesame seeds

roasted
Instructions
Wash the Chinese cabbage. Cut off the stalk, quarter the cabbage lengthwise and then cut the quarters into bite-sized pieces.

Rinse the mung bean sprouts (if you use any).

Rinse and halve the cherry tomatoes.

Drain the smoked tofu and cut it into small cubes.

For the sauce, whisk all ingredients together.

Layer the salad ingredients (Chinese cabbage, sprouts, tomatoes, smoked tofu) in a very large bowl. Pour the sauce over them and carefully stir until everything is well incorporated.
Notes
* When I have cooked chestnuts (up to 400 g / 14 oz), I use those as addition to the salad instead of the sprouts. The sweetness and "meatiness" of chestnuts goes well with the fresh Chinese cabbage.