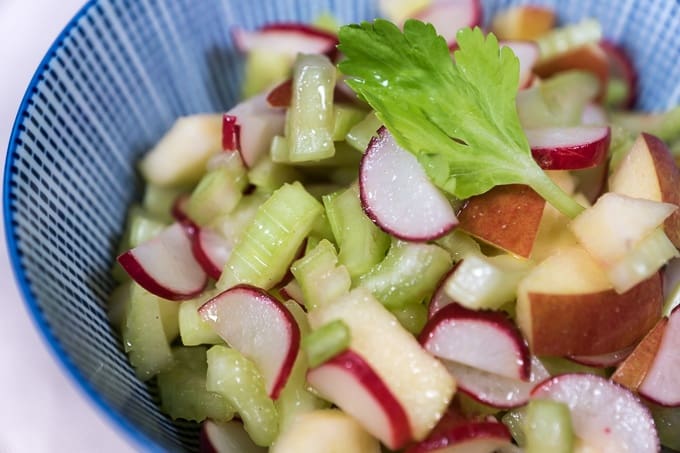 This is the recipe for a perfect early summer salad. It's crunchy, it's refreshing, and it's ready in no time. Admittedly, the combination of apple, radish, and celery is not a classic one, but the result is outstanding. Yummy! I have to thank Heike Furch for this new taste experience as she's the recipe creator.
Heike is all about physical health. As a trained sports scientist, ergonomics coach, lifeguard and trainer for rehabilitation orthopedics, she knows what's important to keep the body healthy, and how to relieve tension and pain. Yet she does not only emphasize taking care of oneself from the outside through sports and exercise. She also makes a point in having a balanced diet to nourish and strengthen the body from within. Her German website Movigo is full of appetizing salads that can be prepared quickly and easily – as there should still be enough time left for sports, right? Just browse around, you will find a lot of healthy food inspiration. But she also shares her knowledge on topics such as relaxation and ergonomics on her blog. Have you always wanted to know how you can relieve neck tension with a ball (Nackenlockerung mit Ball)? Or what the intervertebral discs have to do with a sandwich (Bandscheibene – die Sandwichposition)? And what about a few quick exercises for the thoracic spine (Übungen für die Brustwirbelsäule)? Well, for me it worked already: I just noticed that all of a sudden my back is straight and I'm sitting upright at my desk – all thanks to Heike's tips and her motivational words.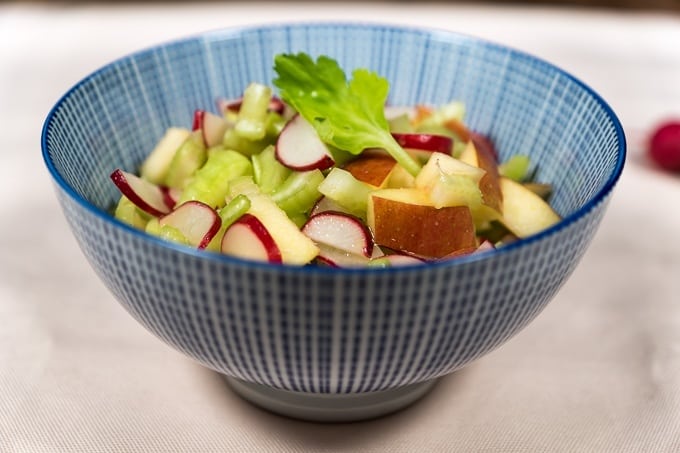 | | | |
| --- | --- | --- |
| Crisp and refreshing apple radish celery salad | | Print |
Ingredients
3 large or 4 small radishes
½ Apple
2 Stalks of celery
1 Tablespoon lemon juice
1 Tablespoon neutral oil
Pinch of salt
Pinch of pepper
Pinch of sugar (or any sweetener of your liking)
Directions
Cut the radishes into thin slices.
Core the apple and cut it into bite-sized pieces.
Cut the celery stalks in half and slice them.
Squeeze the lemon, mix the lemon juice with the oil and a pinch of salt, pepper, and sugar.
Combine all ingredients.
Enjoy!