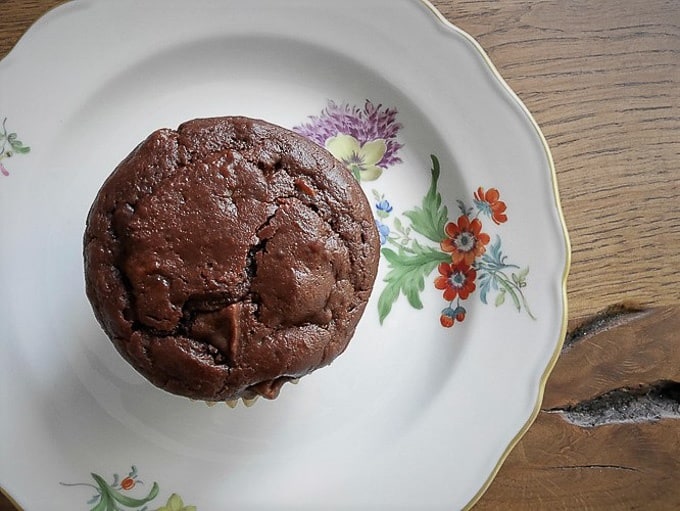 Pears and candied ginger make a harmonious duo, even more so when they are wrapped in a fragrant, airy chocolate batter turned into irresistibly delicious muffins. Prepared in no time at all and certainly something for even the most die-hard ginger skeptics.

Candied ginger is not everyone's cup of tea.
Well, I don't like to beat around the bush, so I'll tell it like it is: Candied ginger is not MY cup of tea.
Speaking of which: I like to drink ginger tea. And I can't imagine the vegan fish curry without ginger, just like any other Indian curry. The fruity spiciness of ginger is subtle in these dishes and I think it brings them to life.
But candied ginger? Whew! There's nothing subtle about it. It hits my taste buds with all the root's concentrated pungency. Coating it with sugar doesn't help and bathing candied ginger in dark chocolate doesn't make it any better. I perceive only heat, and sugar, and then something bitter. You might as well roll a chili pepper in sugar and dip it in chocolate!
What I mean: Candied chocolate ginger is absolutely wasted on me.
Unfortunately, not all my friends know about my dislike, and they keep gifting me this sweet snack. I'm sure they mean well knowing about my sweet tooth - which they think are feeding a special treat.
Now what? Where to put the unwelcome present?
Return it to the gift giver? Courtesy forbids me to do that.

Throw it away? Argh, everything in me rebels against the idea of trashing perfectly edible food. Too much food is being wasted anyway.

Give it as a gift to somebody else? Not that easy as I don't know anyone who fancies candied ginger.
How about turning this sugary ginger into something utterly delicious? Mixing it up with other ingredients to transform its taste into something sublime by scaling down its spiciness to just an elegant hint?
I rather liked this idea. So much so that fluffy chocolate muffins started dancing appetizingly in my mind's eye. A brief internet search revealed that pears and candied ginger harmonized particularly well, so I didn't miss out on adding pear cubes to the chocolate batter.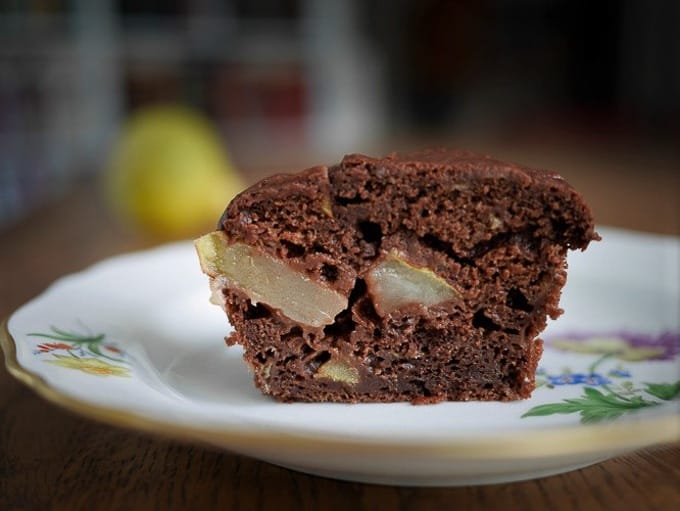 A bit of chopping (the candied ginger and the pears), a bit of stirring (the few remaining ingredients), a bit of patience while the muffins bake, and there you have 12 flavorful little cakes. I can hardly admit it out loud, but the star of these muffins is – Tadadada! – the candied ginger. It's the surprise ingredient that you cannot name right away after taking a bite, the one ingredient that makes the flavor complex and interesting. Leave the ginger out, and you have nothing but ordinary chocolate muffins with pears. Add the candied ginger and you get exquisite, mouthwatering muffins.
Finally, a note to my friends: I love candied chocolate ginger!
(Additional note to everyone: I love it only - chopped small - in chocolate pear muffins.)
Recipe
Chocolate muffins with ginger and pear
Pears and candied ginger make a harmonious duo, even more so when theyare wrapped in a fragrant, airy chocolate batter turned into delicious muffins.Prepared in no time at all and certainly something for even the most die-hard gingerskeptics.
Ingredients
60

g

candied ginger coated in dark chocolate

alternatively 30 g dark chocolate (1.1 oz) and 30 g candied ginger (1.1 oz)

200

g

all-purpose wheat or spelt flour

50

g

cocoa

2

heaped teaspoons baking powder

150

g

sugar

2

medium ripe bananas

2

ripe pears

250

ml

vegetable milk

e.g. oat milk, or water

70

ml

neutral oil

e.g. rapeseed oil
Instructions
Preheat the oven to 175° C (350° F) top and bottom heat.

Finely chop the ginger (also the dark chocolate, if you use chocolate and candied ginger separately).

Mix the dry ingredients together (flour, cocoa, baking powder, sugar).

Peel the bananas and mash them with a fork until you have turned them into a paste.

Wash the pears, quarter them, remove the cores, and dice the pear quarters.

Mix the dry ingredients with the milk, the oil, and the mashed bananas.

Fold ginger and pear pieces into the batter and mix well.

Line a muffin tin with 12 muffin wrappers and divide the batter evenly between the 12 wrappers.

Bake the muffins for 20 minutes on the middle rack.

Leave to cool before indulging.