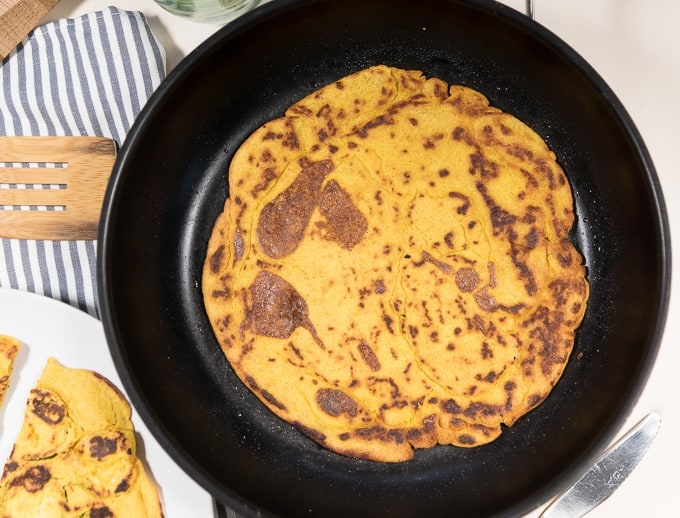 This recipe comes from my friend Anja who is not only a passionate biologist but also a fellow foodie. Last time I talked to her I asked her to contribute one of her great recipes to this blog, and to my great joy she shared her Farinata recipe with us, which you can find below. I tried the variant with garlic and zucchini and it was hearty, satisfying and deeply delicious (all pictures relate to this variant). But don't trust my words, find out for yourself.
When Ramona asked me to write a recipe for Planty Delights, it took me 5 seconds until I knew what I'd like to share: Farinata (chickpea pancakes)! It's one of my favourite dishes, it's healthy, easily and quickly made and goes with almost everything. You can eat it for breakfast, lunch or dinner and there are endless ways to variate the basic recipe. Honestly, I can't even remember what I ate before I got to know this dish... ?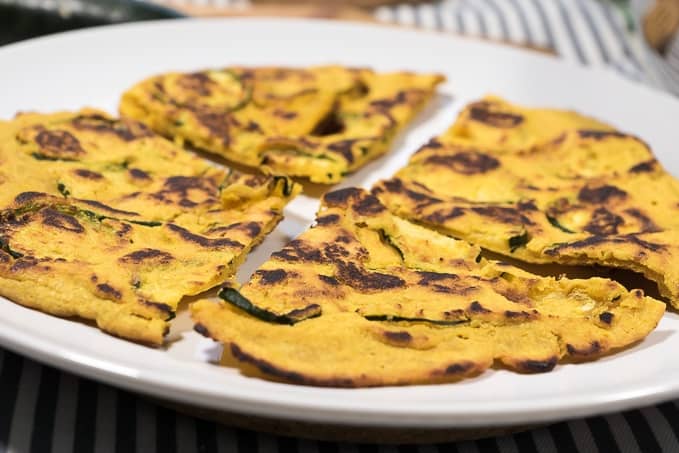 Farinata is known in Italy, France and Southern America and comes with many names: Farinata di Ceci, Torta di Ceci, Fainà, Fainè, Cecina, Calentita, Panelle, Cade or Socca. Similar dishes are prepared in Indian and Northern Africa. My Farinata resembles mostly the Sicilian variation, the Panelle, because it's fried and not baked. It's not a traditional recipe, but a very tasty one, you should try it!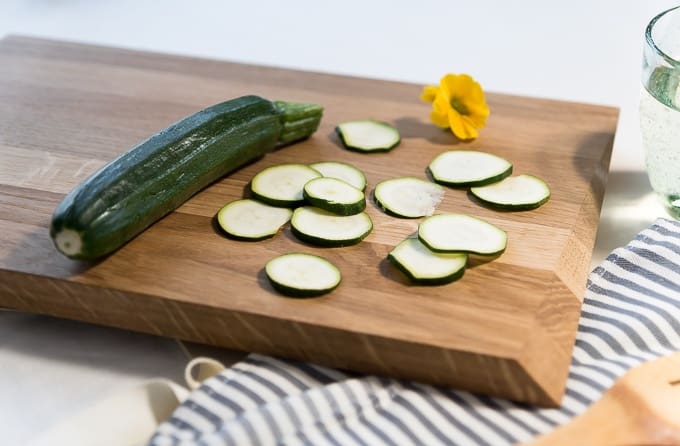 You can make just the basic recipe (it's tasty on its own!) or try one of the three variations with vegetables and herbs.
Recipe
Farinata - Chickpea Pancakes with 3 Variations
Farinata, easy and delicious chickpea pancakes: You can eat them for breakfast, lunch or dinner. Find out the basic recipe and 3 simple variations.
Ingredients
Basic Recipe
200

g

chickpea flour

not roasted!

About 400 ml water

1

teaspoon

turmeric

Pinch

of cumin

2

teaspoon

salt

Olive oil for frying
Variation 1: Farinata with sliced courgette
Add 1 clove of crushed garlic to the basic recipe.

You'll also need 1 small courgette (in thin slices!)
Variation 2: Farinata with spinach
Add the following to the basic recipe:

Two handful of fresh chopped spinach or one handful of frozen, chopped spinach

1

red onion in very thin, half or quarter slices

Optional: Add some Indian spices like Garam Masala chili or ginger, and you'll get Indian "Palak Poorda".
Variation 3: Farinata with herbs
Add the following to the basic recipe:

Chopped fresh or dried herbs after your liking: parsley dill, oregano, rosemary, thyme, lemon myrtle, ... I like it especially with a Café de Paris blend.
Instructions
Mix all the ingredients quickly in a large bowl with a whisk, until all chunks are gone (except the courgettes if you're making the first variation). Let the batter rest for approx. 10 minutes.

Heat a medium sized pan with a tablespoon of olive oil over medium heat. Spread a quarter to a third of the batter with a soup ladle or a turner evenly in the pan, it should be about 4 mm thick.

For variation 1, cover the batter quickly with courgette slices and press them lightly into the batter. Using a spoon, slightly cover the courgettes with a thin layer of batter.

Fry the Farinata at medium heat until the bottom side comes loose easily and is slightly browned (the edge will turn dry and golden brown).

Turn the Farinata and fry the other side, add some olive oil, if needed. When the edges turn brown and crispy, it's done. Your Farinata should be crispy at the outside and soft in the inside.

Repeat the procedure until all three or four pancakes are fried.

You can eat the Farinata pancakes with a dip, like yogurt with tahini, lemon or herbs, or top them with something like harissa or fresh ground black pepper. They also are tasty as a side for a mixed salad or inside a pita bread combined with tomato and cucumber. The pancakes are best eaten fresh and hot, as they are going hard and dry once they cooled down. At least for me, that's never a problem…