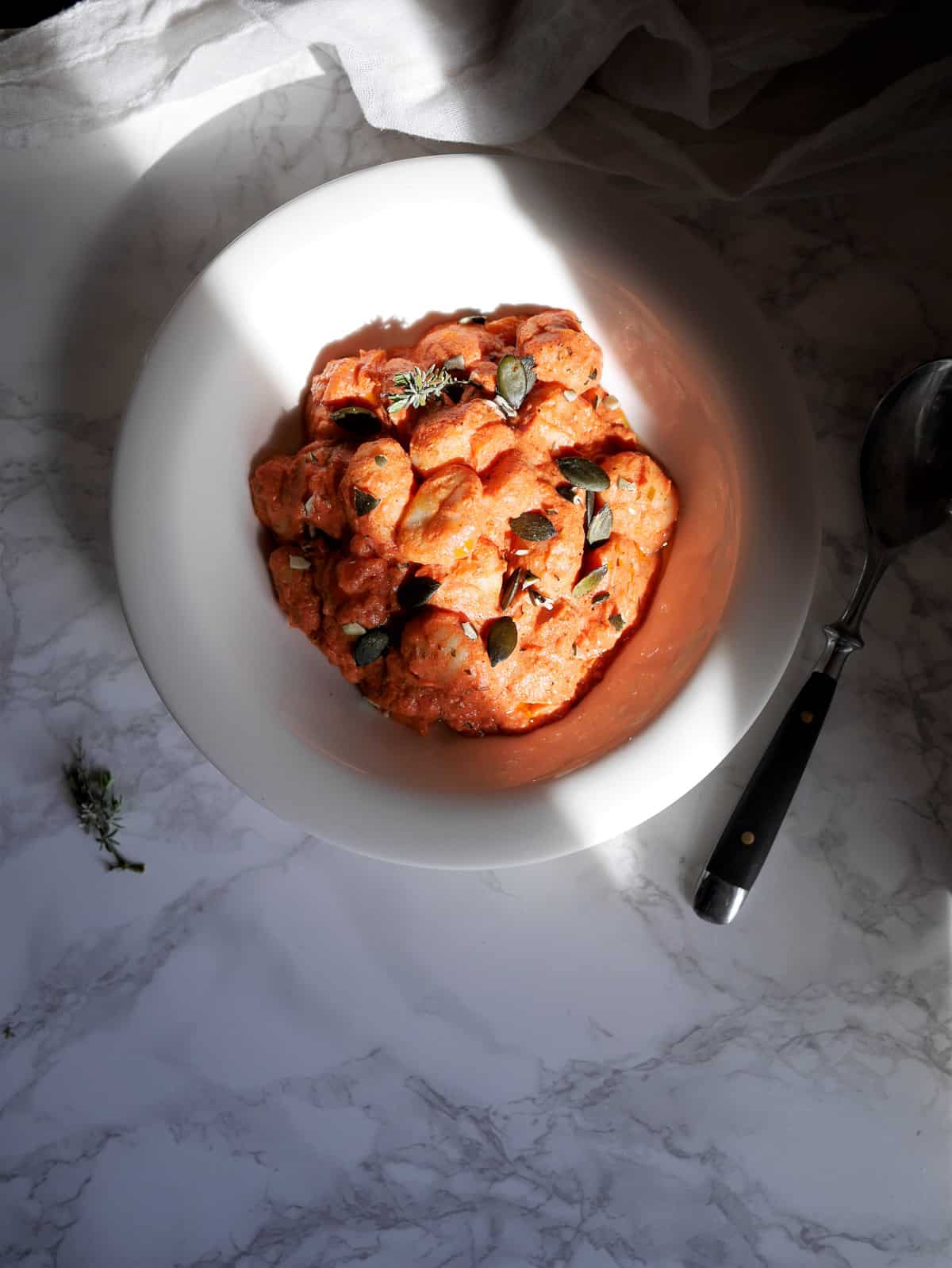 Get ready to indulge in a dairy-free and vegan version of this classic Italian dish consisting of gnocchi - miniature potato dumplings - cooked to a pillowy soft perfection in a rich and flavorful tomato-based sauce that boasts a secret ingredient: carrots. Each spoonful of these gnocchi in creamy tomato sauce melts in your mouth. This dish is hearty, comforting, and perfect for a cozy meal at home.
Jump to:
What the dish is about and why you'll love it
Gnocchi with creamy tomato sauce is a traditional Italian dish that features soft and tender potato dumplings cooked in a velvety tomato sauce. The vegan version of this dish is just as creamy and delicious as the traditional version.
The sauce is made with canned tomatoes, garlic, onion, and plant-based cream. My twist on the classic recipe is infusing the tomato sauce with the subtle sweetness of carrots. They add natural sweetness to the sauce and also help to thicken it, giving it an even creamier texture. The result is a harmonious blend of flavors that will leave you wanting more.
For a quick and easy meal, I recommend using store-bought gnocchi. Once you have prepared the tomato carrot sauce, simply toss the gnocchi in the sauce and cook them for a few minutes until they become soft and fork-tender.
Serve hot with vegan Parmesan cheese or some fresh herbs like basil or thyme, and enjoy. To make the dish more filling, serve it with a side salad or Ciabatta bread to soak up any remaining sauce.
Cooking or pan-frying gnocchi?
Gnocchi can be prepared in two ways: either by cooking or pan-frying them. While both cooked and pan-fried gnocchi are delicious in their own right, they offer distinct flavors and textures.
Most people are familiar with pan-fried gnocchi with sage. This recipe introduced me to the cozy comfort of gnocchi. If you prefer a crispy and savory experience, pan-fried gnocchi is a fantastic choice. It delivers a delightful combination of savory and earthy flavors. If you're in the mood for pan-fried gnocchi, you may want to try Lemony gnocchi with sage or Gnocchi with Brussels sprouts and dried tomatoes.
However, gnocchi can also be cooked, just like pasta. You can enjoy gnocchi with any sauce or pesto you would typically use with pasta. To sum it up: Whether to cook or pan-fry gnocchi depends on your momentary craving.
The recipe below showcases gnocchi cooked in a creamy carrot tomato sauce, resulting in a cozy and comforting dish. It is perfect for those who appreciate tomato-based sauces and enjoy the soft texture of dumplings.
What goes well with this gnocchi with tomato sauce?
There are many ways to serve and enjoy this gnocchi dish. Here are a few ideas to get you started:
Serve as a main dish
This dish is hearty and filling enough to be served as a main dish on its own.
Pair with a side salad
A side salad can help to balance out the richness of the dish. A simple green salad with a vinaigrette dressing or a cucumber and tomato salad would be a great choice.
Serve with soft bread
Serving these gnocchi with soft and fresh Ciabatta bread or baguette will make the meal more satisfying. The bread also helps you mop up any leftover sauce.
Serve with crispy garlic bread
Garlic bread pairs well with these gnocchi. Simply slice a baguette or Ciabatta bread, brush with olive oil and minced garlic, and toast in the oven until crispy.
Enjoy as leftovers
This dish reheats well, so you can enjoy it as leftovers the next day. You can store the leftover gnocchi in an airtight container in the fridge and reheat it in the microwave or on the stovetop when ready to eat.
Recipe
One-Pan Vegan Gnocchi With Creamy Carrot Tomato Sauce
Get ready to indulge in a dairy-free and vegan version of this classic Italian dish consisting of gnocchi cooked to a pillowy soft perfection in a rich and flavorful tomato-based sauce that boasts a secret ingredient: carrots.
Ingredients
4-5

tablespoons

olive oil

2

yellow onions

4

garlic cloves

2

medium carrots

700

g

- 800g canned chunky tomatoes (about 2 cans)

or tomato passata (1 bottle)

4

teaspoons

of dried herbs de Provence or Italian herbs

Salt and pepper to taste

400

g

vegan gnocchi

make sure they are egg-free

200

ml

vegan cooking cream

I use soy cream

1

teaspoon

sweetener of choice

2-3

tablespoons

pumpkin seeds, roasted pine nuts, or fresh herbs as a topping, optional
Instructions
Start by preparing the vegetables. Peel and finely chop the onions and garlic cloves. Peel and dice the carrots into small pieces.

For the sauce, sauté the chopped onions with the olive oil in a large skillet or pan for a couple of minutes until they become translucent.

Add the diced carrots and chopped garlic to the pan and continue to cook for a few minutes until the garlic turns golden brown and smells nice.

Pour in the canned tomatoes (or tomato passata), the dried herbs, salt, pepper, and sweetener of choice, and mix well with the sautéed vegetables. Let the sauce simmer on low heat for about 5 minutes with the lid on, allowing the flavors to meld together.

Add the gnocchi to the sauce and toss them gently to coat evenly. Allow them to cook together for another 5 minutes until they are pillowy soft.

Serve and enjoy with your favorite toppings.
Variations on gnocchi with creamy tomato sauce
There are many ways to switch up the recipe according to your taste preferences. Here are a few yummy variations you might want to try:
Add spinach
Spinach provides a nice contrast to the rich and creamy tomato sauce and adds healthy greens. Simply stir the spinach into the sauce once the gnocchi are soft and simmer for 1-2 more minutes.
Use roasted tomatoes instead of canned tomatoes
Roasted cherry tomatoes add a sweet and smoky flavor to the dish. Roast about 1 kg (about 2 pounds) cherry tomatoes in the oven with olive oil, salt, and pepper until they are caramelized, and then add them to the dish instead of the canned tomatoes.
Add vegan sausage
This variation adds some protein to the dish. You can use your favorite vegan sausage or crumbled tofu. Simply cut the vegan sausage into pieces and add them to the tomato sauce along with the gnocchi.
Top with basil pesto
Bring a bright and fresh flavor to the dish by topping it with a spoonful of homemade or store-bought vegan basil pesto.
Add vegan ricotta
Make the dish extra rich and decadent by stirring some vegan ricotta into the tomato sauce along with the gnocchi.
Vegan Parmesan or nutritional yeast
A sprinkle of vegan parmesan cheese or plain nutritional yeast on top of the dish adds a salty and nutty flavor that pairs well with the tomato sauce. You can make your own vegan parmesan by blending nuts, nutritional yeast, and salt together.
Add chili
If you like a bit of spice, add some red pepper flakes or diced jalapeños to the sauce for a bit of heat. Just be sure to taste as you go to avoid making the dish too spicy.
Add olives
Adding olives to the dish is a fantastic idea if you enjoy the salty and savory flavors of olives (both green and black olives work well). Olives can add an extra layer of complexity and depth to the dish, giving it an extra special Mediterranean touch.
I drew inspiration from many recipes online and would like to highlight two: Jamie Oliver's Sweet Tomato Gnocchi and Bianca Zapatka's Gnocchi with Tomato Sauce. I love that Jamie Oliver paired the dish with fried asparagus and a spinach hazelnut pesto, while Bianca Zapatka's recipe is a beautiful basic vegan version of the classic Italian dish.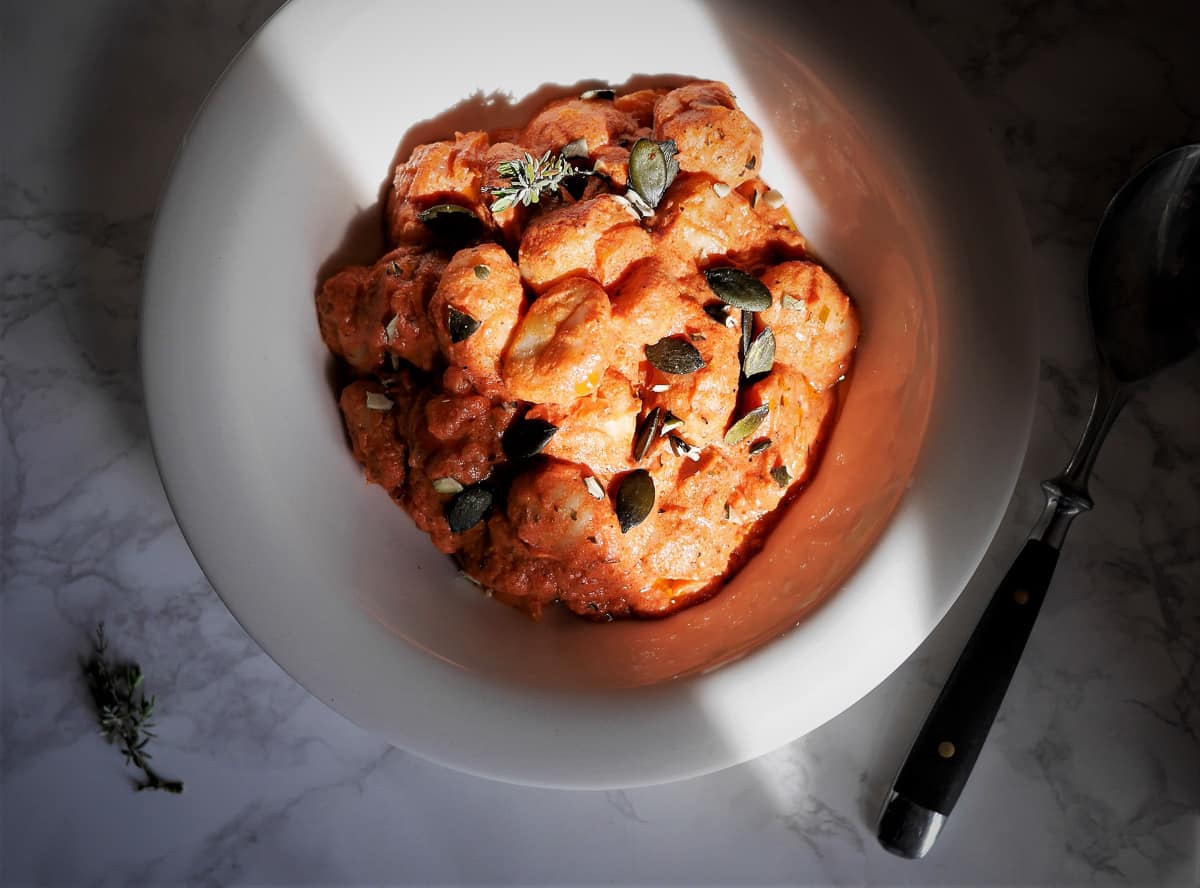 Buon appetito! Give it a try and let me know what you think.
Wishing you planty of delicious delights,
Ramona