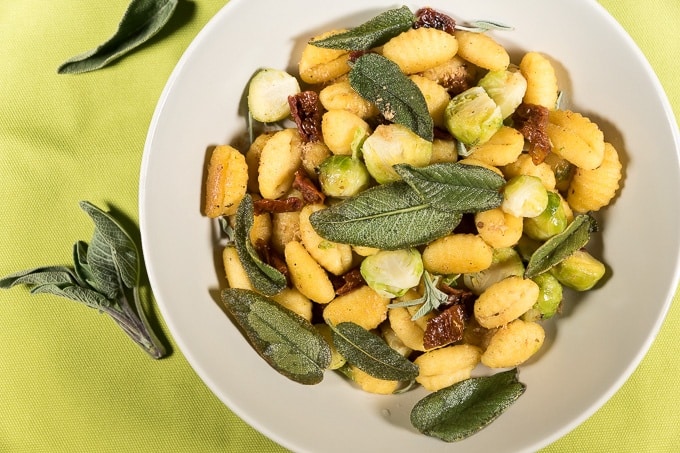 My friend Anja's recipe Farinata – Chickpea Pancakes with 3 Variations has been a big hit, and now she's back with another mouth-watering dish. She had me at "gnocchi", so I hurried into the kitchen and tried the recipe over the weekend. Well, well, needless to say that the dish immediately became a favorite of ours.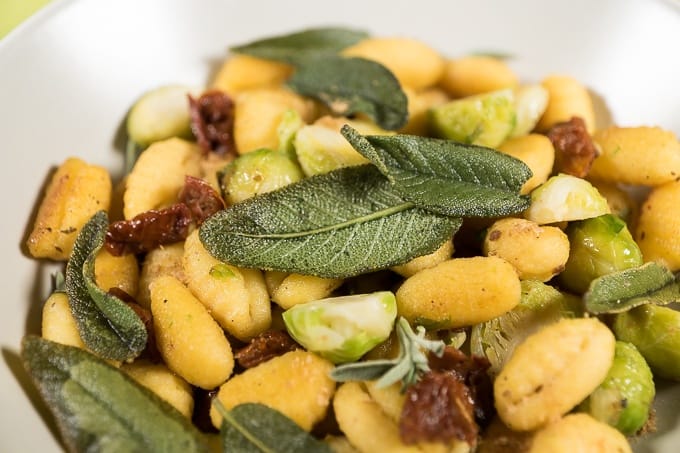 Reading Ramona's tasty recipe with gnocchi and crispy sage I was reminded of a very similar dish which is one of my all-time favorites (like pizza and pasta ;)). It truly sounds a little bit weird to combine brussel sprouts with gnocchi, but it is a really tasty combination. Years ago I discovered a dish with gnocchi and brussel sprouts on Chefkoch.de (which is a huge German recipe database) and adapted it to our taste over time... and we eat it over and over again when it's brussel sprouts season. Thus, I am really thankful to the creator of the original recipe although I changed the ingredients' proportions.
I hope you enjoy this hearty, crispy gnocchi-sprouts-sage variation as much as we do!
Recipe
Gnocchi With Brussel Sprouts, Sage, and Dried Tomatoes
Combining gnocchi with brussels sprouts might seem unusual, but this dish is definitely Italian food at its best! Easy to make and uber delicious!
Ingredients
400

g

vegan gnocchi

convenience or home-made

400

g

brussel sprouts

one big hand of fresh sage leaves

6

dried tomatoes in oil

chopped

Salt and black pepper

Olive oil

Optional: vegan parmesan

I use a mix of ground almonds, salt and nutritional yeast, or use Ramona's Brazil nuts vegan parmesan
Instructions
Clean the brussel sprouts by removing the outer layer of leaves and cut the brussel sprouts in half. Blanch them in salted water for about 4 minutes, strain them and set aside.

Heat olive oil in a large pan and fry the sage leaves until they are crispy, but not brown! Set aside.

Heat more olive oil in the pan and add the gnocchi, fry at medium to high heat until they start getting crispy and golden.

Add the brussel sprouts and the chopped tomatoes to the pan and roast everything together until the brussel sprouts and tomatoes start to turn brown (it's done when it smells really tasty and looks crunchy).

Add the sage leaves, salt, and (very little) black pepper to your taste and sprinkle with vegan parmesan.