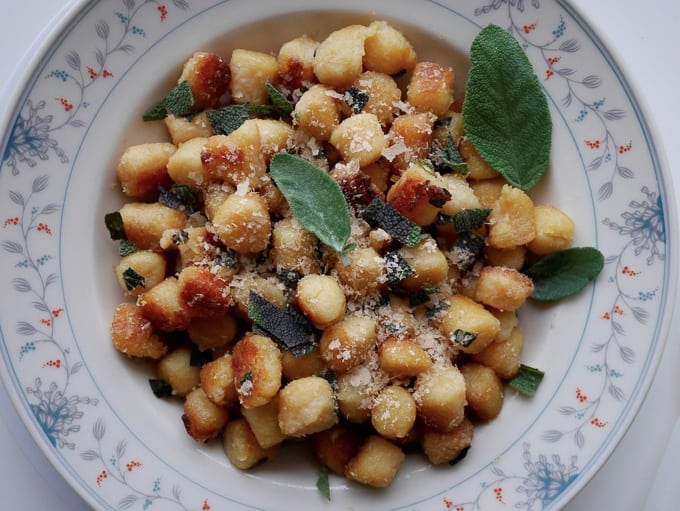 Is it not possible to love gnocchi?

I have never met anyone who disdains the tiny Italian potato dumplings (which in my opinion look more like little pillows).
(If you are out there: We are not going to be friends!)
I have proven already that I love gnocchi. Twice!
The first time with a simple recipe where gnocchi are allowed to mingle with two types of sage leaves (fresh and fried into crispy chips).
The second time, the little potato pillows were joined not only by sage but also by dried tomatoes and Brussels sprouts. This dish is meant for those days when you fancy a more complex taste experience.
And now a third gnocchi recipe!
This one is a tribute to summer and the "land where the lemon-trees bloom" (quote from Goethe 's Mignon poem in Wilhelm Meister). After all, it was a bright hot day in August at Lake Maggiore when I cooked the recipe for the first time.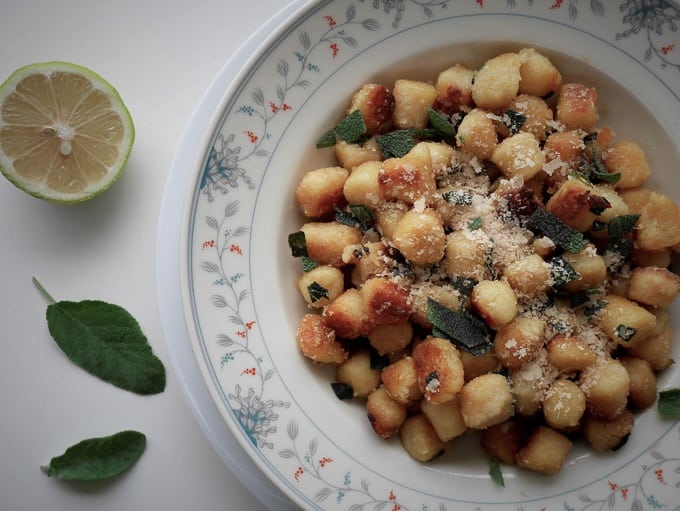 But don't get me wrong, the lemony gnocchi are a delight at any time of the year!
Their citrusy freshness is perfect for summer days. And in the cold of winter, they spark your imagination and transport you gnocco by gnocco to the fragrant splendor of an Italian Renaissance garden with lemon trees in full bloom. (The table is already set on the terrace. Feel free to take a seat).
You see, there are many reasons to love this dish. Another one is that it requires just few ingredients and is prepared in no time.
In short: Fast! Few (high quality) ingredients! And: Gnocchi!!!!
If that's not an (Italian) dream dish come true!
One more thing: For us, the dish serves two very hungry eaters (which we always are). For most people, it should make 3-4 servings.
Recipe
Lemony gnocchi with sage – Perfect to get you into the summer mood
This recipe is an Italian dream dish come true! It's fast & easy to make, requires only a few ingredients, and it puts you into a happy summer mood.
Ingredients
10

Large sage leaves

dried sage also works

8

Tablespoons

olive oil

1

Kg

gnocchi

I had gnocchetti

4

Tablespoons

nutritional yeast

Juice of ½ lemon

Salt

Pepper
Instructions
Rinse or clean fresh sage, pat dry (if wet), and chop. If you are using dried sage, chop it or crumble it with your fingers. Set aside a small portion of the sage (about 1 teaspoon) to decorate the dish later.

Heat the olive oil in a pan and sauté the gnocchi in it over high heat, stirring frequently.

Once the gnocchi start to brown, add the sage to the pan (except for the small amount you set aside).

Fry the gnocchi until golden brown and the sage is fragrant.

Remove the gnocchi from heat and mix with the nutritional yeast and the lemon juice.

Season with (a little) salt and pepper.

Best served hot.