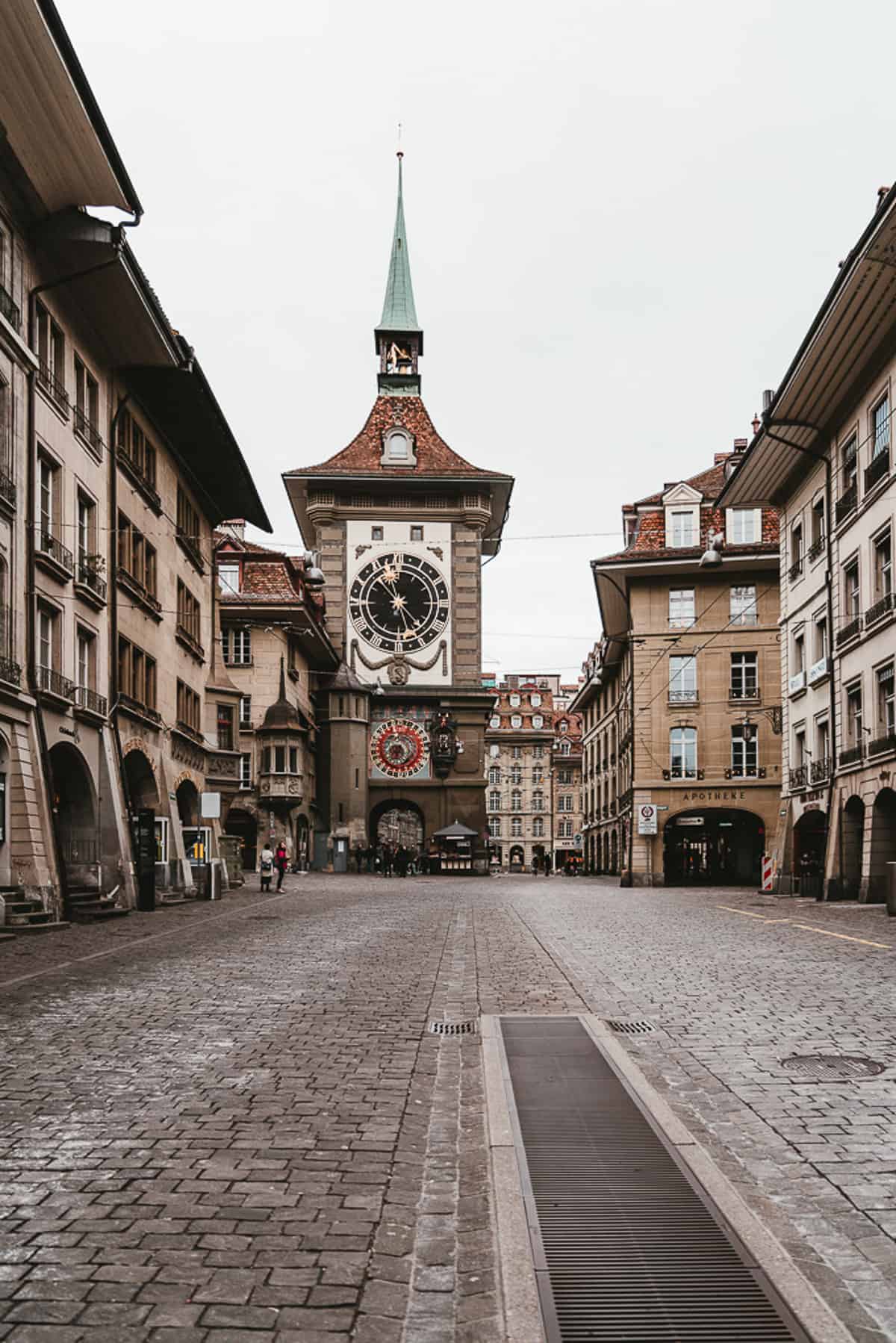 Curious about what to do in Bern? If you're seeking insider tips and valuable travel advice to discover what to see in Bern, what to do, and where to eat in the capital of Switzerland, you've landed in the right spot.
Sarah, a Bern-born foodie and fellow blogger (Velvet & Vinegar – stunning photography!), is here to share her insider tips. She will guide us through the most see-worthy attractions off the beaten track and reveal the finest spots to indulge in glorious vegan eats.
Get ready for a delightful tour of Bern with Sarah.
______________
Answers by Sarah-Vanessa Schneider
How long have you been living in Bern?
I've been living in Bern for all my life. I was born and raised here, and I still live here up to this point.
What's unique about the city?
The architecture, the river Aare which passes through the city, it's a very green city with lots of quiet places, you get into nature quickly, the overall atmosphere, especially in summer, the nice little cafés in the neighborhoods.
Which 3 words best describe the city?
Chill, cozy, dozily
If Bern were a person, what would be its main characteristic?
Slow, steady, pleasant
How do people react when you tell them you're from Bern?
Most of the time they want to know how it is to live in Bern and what's so special about the town. Lots of people don't know Bern, so they are interested if you tell them it's in Switzerland.
What to do in Bern? What are your insider tips?
Take a long walk around the river, go to BBQ in Eichholz, walk up to the Gurten to get a nice view over the whole city, have ice cream at Gelateria di Berna, and visit some small cafés and restaurants in the neighborhoods Breitenrein, Längasse & Lorraine. Visit the Buskers Festival in August.
What's the most common prejudice about the city? (And is there some truth to it?)
That people and the lifestyle here are very slow and not much is happening.
It's true in some parts. We like it a little comfy and don't like too much business or stress. And yes there are less cultural or nightlife events than in Zurich, but we still have a lot of nice little small events and things going on.
What pitfalls should people avoid when interacting with the locals?
Asking if Zurich is the capital of Switzerland (because Bern is 🙂 ).
In general, not just deducing us on Watches, Banks, Cheese and Chocolate; we have so much more to offer.
What should people pack for Bern? Anything visitors need to know to be prepared?
The weather is unpredictable and can change within a few hours. So make sure to pack clothes for warm and cold weather.
Make sure to bring good shoes so you can also go hiking and explore the countryside.
What's your favorite spot or thing to do in Bern?
Cycling… There are so many beautiful green places, small ponds, parks, rivers, and forests to go to. With a bike, you get to see a lot of this beautiful nature.
Do you have a recommendation for a great vegan spot to eat?
We used to have different kinds of pop-ups with vegan burgers, pizza, kabob, etc., so check for these when you visit.
There's always a great selection of vegan food in Tibits. Hans im Glück (several locations in Bern) and Swing Kitchen have vegan burgers. There are lots of Asian, Indian, and Sushi Places that offer vegan options as well. So you might find some vegan options almost everywhere.

Petit Couteau sells the most amazing raw vegan cakes.
What's the best spot for having breakfast? And for dinner?
I very rarely eat breakfast out, so I can't tell. I know Tibits has vegan breakfast options. Eating breakfast out is great on weekends; Becanto and Petit Couteau have breakfast options on weekends, as well as Toi et Moi.
I would suggest a small neighborhood restaurant for dinner in the areas mentioned above, or dinner in a restaurant in the old town or at the Front (the "Bärenplatz" in Bern). These are nice spots. I don't know about vegan options, though, but I guess the chefs will be happy to make something vegan for you.
What's the best place to enjoy a sundowner?
The sky terrace of Schweizerhof is great, as well as the terrace at the Bellevue. You get an amazing view of the city. Both places are rather high-class and chic, though.
If you like it more cozy, get some cool white wine at the Einstein Café and sit on a bench on the Plattform, which also has a fantastic view.
Or grab a bunch of beers or a bottle of wine and go down to the Aare, find a nice spot right at the river, and enjoy the time with friends. There you'll certainly meet locals in summer, as it's jammed with people.
Rosengarten is also a very nice place for a sundowner and dinner, it has a great view over the old town.
Any recommendations for sustainable shopping? (Thrift stores, organic stores, vegan)
You can find nice thrift stores in the old town, and some thrift shops by the Red or Blue cross around the city. Just google them.
A lovely organic and vegan shop is Lola Vegan.
There's a great unpacked bulk shop in the old town city called Palette. There you find lots of things unpacked.
Can you recommend a beautiful (eco-friendly) accommodation?
I'd actually instead look for an Air B`n`b in one of the neighborhoods mentioned above or the old town city.
What's not worth doing or visiting?
Bern is a very small town, so most of the important sight-seeing can be done within one day. I would spend the rest of the time exploring nature, parks, and surroundings.
I'm not a big fan of the Bärengraben and don't think it's worth visiting. But feel free to do so, and if you're visiting Rosengarten, you might as well pass by there anyway.
What's the best way to find out more about the city?
Use trip advisor or read local blogs of people. Bärner Meitschi has a highly recommendable blog on restaurants in Bern. There you get a lot of tips on where to eat and where not.
Is there a book that can convey the spirit of the city?
It's better to experience it yourself and make up your mind.
Is there anything underrated about the city?
Its beauty and its charm.
What's the best season for a visit?
Summer, early fall, and maybe late spring, but I recommend summer when it's warm, green and people are outside.
If you had a magic wand what would you change about the city?
Maybe there should be more cultural things, festivals, events, etc. And I would definitely change it to have more vegan-friendly cafés and restaurants.
What makes a nice gift from Bern for those who had to stay at home?
Definitely chocolate or some locally brewed beer.
What's there to see and visit in the areas around Bern?
Schwarzwasser, Sense and Berner Oberland, Blausee, Kandersteg, Wohlensee. There are so many beautiful hiking spots if you get outside the city.
Any other suggestions for visitors?
Bring some time to explore the green spots and nature.
What are the places where it's most likely to meet you?
At the cafés mentioned above, in one of the organic shops, at the river, Plattform, Wohlensee, or in the forest (Bremgarten).
______________
Thank you, Sarah, for generously sharing your insider tips and recommendations on the best things to do in Bern. I am eagerly looking forward to exploring all the lush green areas of Bern one day and savoring a plethora of vegan delights in the Swiss capital.
For those interested in discovering more about Bern, I can recommend the following two reads:
The Swiss city of Bern surprises tourists
A local's guide to Berne, Switzerland: 10 top tips
Do you have other great recommendations for Bern? Let me know in the comments, I'm eager to know.
Wishing you planty of travel delights,
Ramona
Psst, you will also enjoy the insider tips on what to do in New York City and Paris.
______________
(Image at the beginning of post by Claudio Schwarz via Unsplash)