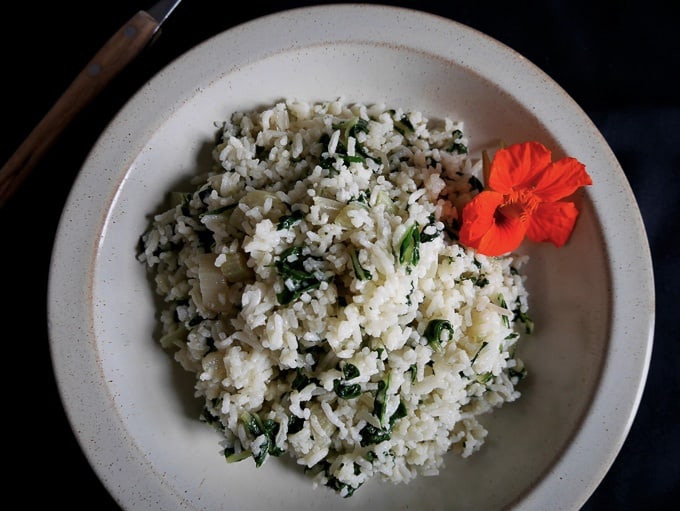 I imagine it went something like this:
"Sweetheart, I have a craving for rice. And the Swiss Chard needs to be used."
"I got you covered," he answered and left for the kitchen. Within minutes, our apartment was filled with the most appetizing scent of cooked rice. Then, less than half an hour later, my partner emerged with an aromatic dish, a delicious medley of green and white - the very meal my tummy and my taste buds yearned for.
Admittedly, I don't remember the beginnings of this dish in detail. The only thing I know for sure: My partner invented it, probably by me asking him to cook. He is the kind of sweet partner who would do such a thing. (I might add that I will do the cooking on most days - just because I love concocting and experimenting with ingredients.)
As to this recipe: It's as easy to make – it requires just a handful of ingredients - as it is delicious. Adding both neutral-tasting oil and olive oil balances out the flavors. Yet, the most astonishing thing about the dish is using cheesy-tasting nutritional yeast with rice. But, my oh my, does it go well with it – and the Swiss chard.
Recipe
Easy 'cheesy' rice with Swiss chard
This family favorite is as easy to make - it requires just a handful of ingredients - as it is delicious. What sets it apart is the pairing of rice with a subtle cheese flavor, which goes exceptionally good with the cooked Swiss chard.
Ingredients
300

g

white basmati rice

600

g

Swiss chard

3

tablespoons

rapeseed oil

or another neutral oil

2

tablespoons

olive oil

3

tablespoons

of nutritional yeast

Salt

Pepper
Instructions
Cook the rice in salted water according to the package instructions.

Wash and cut the chard into pieces, separating the stems from green leaves.

Blanch the cut stems in salted water. After 10 minutes, add the cut leaves and simmer for another 5 minutes.

Strain the chard and mix with the rapeseed oil, olive oil, and nutritional yeast.

Fluff the rice with a fork and mix with the chard.

Season with salt and pepper to taste.