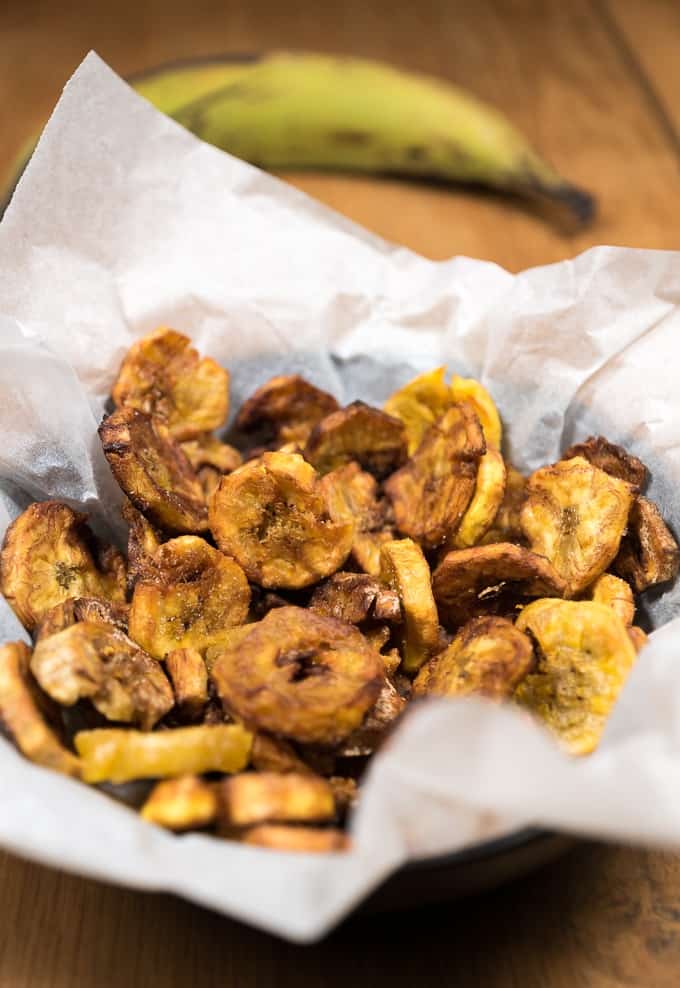 When my friend Clarissa raved about fried plantain patties, I was instantly hooked. I wanted to try plantains for a long time. So why not get acquainted with them by trying these sinfully delicious, crunchy, hearty patties? Luckily, Clarissa is generous and immediately agreed to share the recipe with us.
Now some hints concerning the Tostonera, the little mysterious device that Clarissa mentions below (I had never heard of it before). It is used to flatten and crush the plantain slices before frying them for the second time. I noticed that this step is essential for really delicious patties. The few "uncrushed" slices I fried were neither as crispy nor as tasty as the squashed ones. I heeded Clarissa's recommendation to improvise as I wanted to avoid buying a new kitchen appliance, no matter how small. I ended up placing the fried patties between two sheets of parchment paper and crushing them by pressing a can of beans on top. This worked quite well. So, you have no excuse for not making and enjoying this delicious Caribbean snack anymore (even if you don't own a tostonera).  
Here is how my friend Alba, a wonderful lady who lives in the US, prepares plantains - a staple food on her native island of Puerto Rico. It was in her kitchen 30 years ago that I ate plantain for the first time. When we visited Alba and her husband late last year she cooked plantain for us again, and this time I looked, listened and learned.
Plantains are relatively easy to come by in Southern USA. In Europe, you can find them in the exotic fruit & veg section of your supermarket, or at an Asian or Chinese grocery store. Plantains ripen slowly, unlike bananas, which become mushy fairly quickly. You can buy plantains when they are green and hard and store them for quite some time.
If you want to try the recipe below, the plantains need to be green (don't use plantains with yellow or black peel, they are too ripe for making patties).  Reckon with two plantains for three people.
For making the patties a small wooden press called tostonera comes in handy. A tostonera looks like two miniature cutting boards, one with a handle and one without, that are attached to each other with a hinge. On the inside of one of the boards is a circular indentation approximately 5 inches (7 cm) across. (If this description doesn't make sense to you best search the Internet for photos from stockists.) You can also improvise by using two regular cutting boards, or a plate and a spatula. Or make your own tostonera if you are a keen woodworker. If you do, make the circle larger in diameter than an average plantain slice, and leave the wood untreated.
We had plantain as a warm topping on a leafy salad, as an accompaniment to tofu and rice, and by itself as a snack. It tasted wonderful in all cases.
So here's how it goes.
Recipe
Fried Plantain Patties – A Scrumptious, Crunchy Snack
Fried plantain patties are a sinfully delicious, crunchy, hearty snack that is easy to make at home. Try it out, you won't be dissapointed.
Ingredients
2-3

Plantains

Rapeseed or sunflower oil

Salt
Instructions
Peel the plantains and cut them into 1 inch (1½ cm) slices.

Heat oil in a deep pan and deep fry the patties until they are a slightly brown colour.

Remove the patties from the pan.

Place a plantain slice into the carved-out circle of the tostonera (or whatever you are using instead) and squash it to make a flat, round patty. Proceed like this with all fried patties.

Return the patties to the pan with the hot oil and fry them a second time, until of golden brown color.

Drain on a kitchen towel, sprinkle with salt (generously if health permits, it really does make a difference!) while they are still warm.

Eat them while warm. You can keep them warm in an oven for a while. They'll lose some of their crispness, but are still good!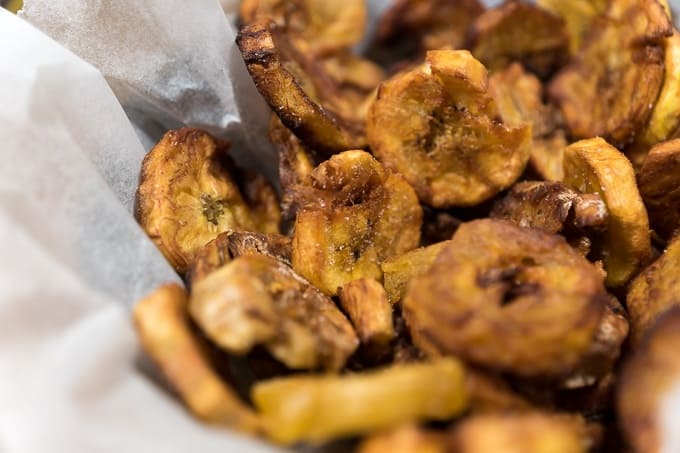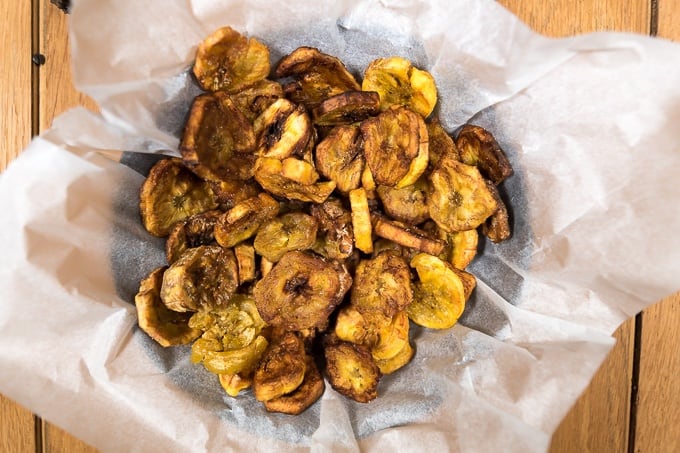 Recently I've discovered that you can make plantain chips in the oven. That might not be the traditional way of making plantain patties in Puerto Rico, but baking them in the oven sounds like an easy method if you're not into frying. Still, the results differ slightly. I find that the roasting flavors are richer when I fry the plantain chips in a pan. Also, the texture of the chips is crispier since there is more surface for frying after they had been crushed. For a similar result, you can try crushing the chips when they are half-way done and return them to the oven to finish baking.
You can check out the great instructions for baked plantain chips by Ela Vegan or Simple Vegan Blog. You can also find an extensive guide and helpful explanations on making traditional Caribbean tostones (fried plantain chips) at Host the Toast.
Have you ever tried plantains? Or plantain patties? I'd love to find out, just let me know in the comments. Also, how do you make your plantain patties? Do you fry or do you bake them?