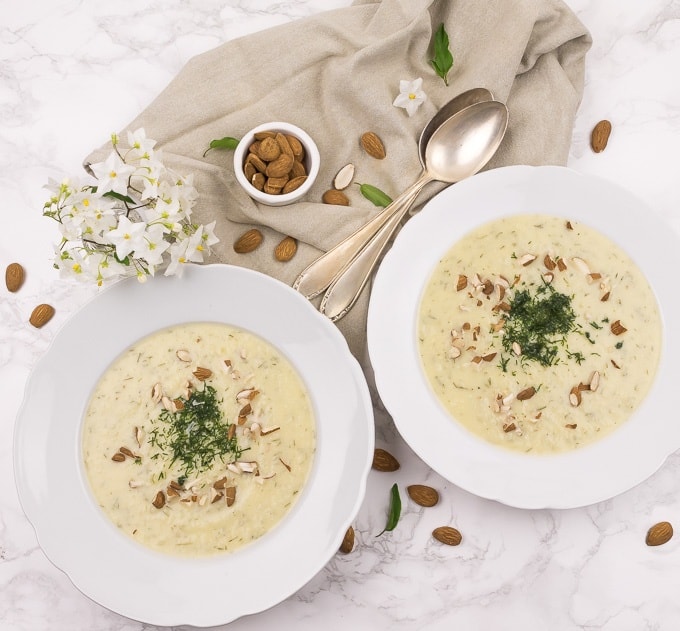 A couple of weeks back a good friend of mine who lives in the States came to visit. I was thrilled to spend some time with her and catch up. My parents invited us over one evening, so we had a nice get-together. Of course, mom cooked up a storm, and we all chatted away and enjoyed the delicious food. My American friend was delighted especially with the soup, and she asked my mom to give her the recipe. Mom shrugged her shoulders and said there is no recipe, as she usually cooks according to what's in season (and in her fridge). But she revealed to us that the main ingredients are celeriac, potatoes, dill and some vegan cream.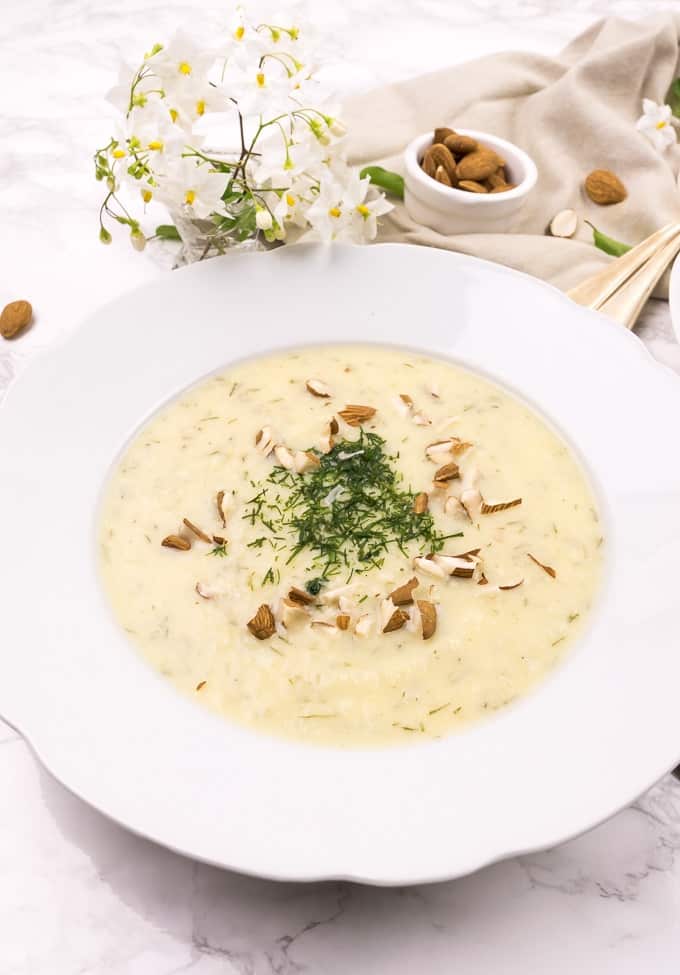 So, here it is, mom's great, creamy, mild celeriac soup, recreated by me. This recipe is for my good friend and for all the other lovers of creamy soups and of celeriac. It not only stars celery root (celeriac) with its earthy, nutty flavor, but also a home-made cream made of almonds. The cream is easy to make, you only have to soak the almonds overnight, skin them the next day and blitz them with some water in your blender. Of course, if you want to save some time, you can use store-bought vegan cream instead.
Mom's dream soup! Rich, silky, with celeriac and dill
This recipe is for all the lovers of creamy soups. And of celeriac. It not only stars celery root with its earthy flavor, but also a home-made almond cream (which can be substituted for store-bought vegan cream if you're pressed for time).
Ingredients
Almond cream
100

g

almonds

(Alternatively, you can use 300 ml of vegan store-bought cream instead of making your own cream)

200

ml

water
Soup
500

g

celeriac

1 mid-size root

750

g

starchy potatoes

1

liter

of water

25

g

dill

½ bunch

Salt

Pepper

A handful of almonds

chopped, to top the soup
Instructions
(Skip this step, if you're using store-bought vegan cream.)

If you're making your own vegan cream, soak the almonds overnight in water. The next day, drain the almonds and skin them. It's not absolutely necessary to skin them, but once blended with water, the result will be creamier and lightish if you're using skinned almonds. Usually, they are easy to skin after they've been soaked in water overnight. Use your fingers to squeeze the almonds and remove the skin. If the skin doesn't come off easily, soak them for another 10 minutes in boiling water until the skin appears shriveled. Now the skin should come off easier.

Mix the skinned almonds with 200 ml water on high speed in your blender until you get a smooth cream.

Peel the celeriac and the potatoes, wash them and cut them into bite-size pieces. Cook them with 1 l of water until they are soft and tender. Turn off the heat and puree the soup.

Clean the dill, chop it, and add it to the soup together with the almond cream. You might want to set aside some chopped dill to decorate the soup bowls.

Season the soup with salt and pepper to your taste.

Serve sprinkled with dill and chopped almonds.
Notes
If you like a pungent, spicy note, you can add ½ of a chopped chili (deseeded) to the soup before pureeing it.
You can add up to a whole head of cauliflower to the soup as the mild taste of cauliflower goes well with celeriac. If you do, you should increase the amount of water unless you like eating very thick creamy soups.