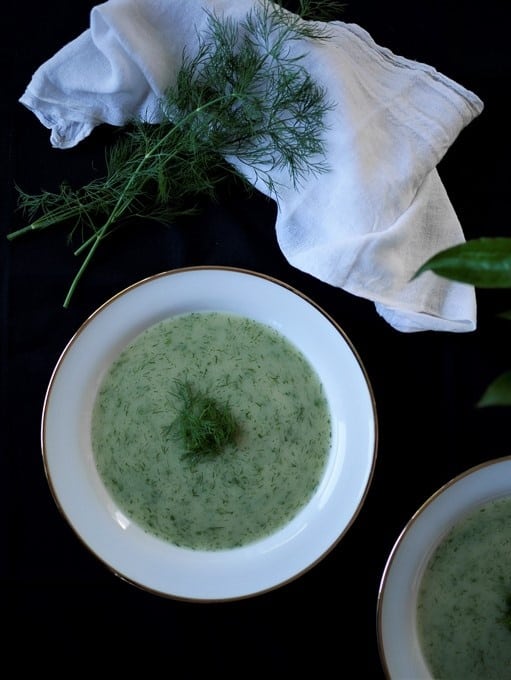 A mistake isn't a mistake if you turn it into something wonderful, right? Or something delicious, like this cheeky spring soup - which I intended to be a luscious dill sauce side dish to go with boiled potatoes. Except the sauce had other plans … and turned out too runny. Disappointed, I tasted it ... just one spoonful. Then two. Three ...
When I finally realized that I had stopped counting (and the sauce soup was half gone), I knew: This tastes so good, it could become a new standard recipe in our house. And so it did. When the dill season starts in April, we enjoy the soup regularly - as an appetizer or a light main course with a piece of good farmhouse bread.
By the way, the culinary world is full of accidental discoveries! Popsicles, for example, can be traced back to an 11-year-old American who forgot his lemonade and wooden spoon on the frosty porch overnight. On the other hand, potato chips are not the product of scatterbrainedness but of revenge: Legend has it that a chef served up wafer-thin, crispy chips to a nagging restaurant guest for whom the fried potatoes were never thin enough - and the guest was absolutely delighted.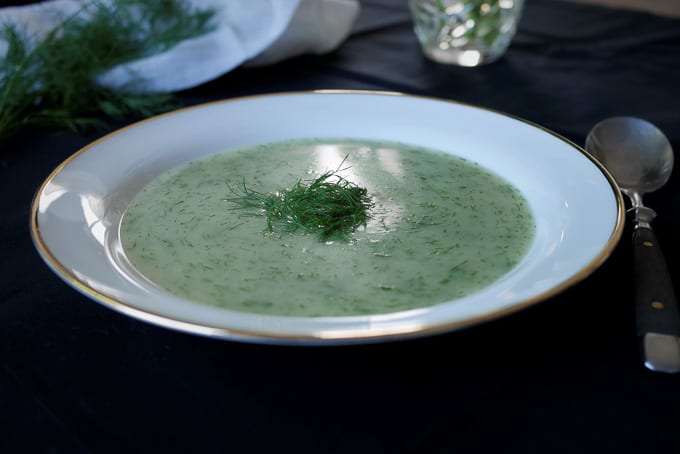 But let's get back to my happy accidental recipe. I am not afraid to use up a massive bunch of dill, which can be as big as a small flower bouquet. The good thing is that even the dill stalks go into the soup (very finely chopped). Nothing goes to waste.
Speaking of using resources sparingly: Instead of using plain water as the base for the soup, I use the water in which I cooked vegetables for another dish. Dill flavor is so dominant that it will stay in the foreground even if I use the cooking water of potatoes, asparagus, or even watermelon rind. Vegetable broth works, too. Dill flavor is persistent in a good, tasty way - that's why I call this dill cream soup "cheeky."
Recipe
Cheeky spring dish: Cream of dill soup
This easy and fast cream of dill soup will delight dill lovers and skeptics alike.
Ingredients
1

large bunch of dill

1

liter

of water

or vegetable cooking water

2

tablespoons

potato or corn starch

1

tablespoon

tapioca starch*

alternatively potato or corn starch

250

ml

vegan cream

½

teaspoon

ground nutmeg

Salt

Pepper
Instructions
Wash the dill, cut off the ends and chop the whole bunch (including the stems) very finely.

Mix cold water (or vegetable cooking water) with the starch and bring to a boil, constantly stirring with a whisk until the liquid begins to thicken.

Turn off the heat, then stir the chopped dill, the cream, and the nutmeg into the soup.

Season to taste with salt and pepper.
Notes
* I like to use tapioca starch in combination with potato or corn starch because the former helps provide a rich, creamy consistency.