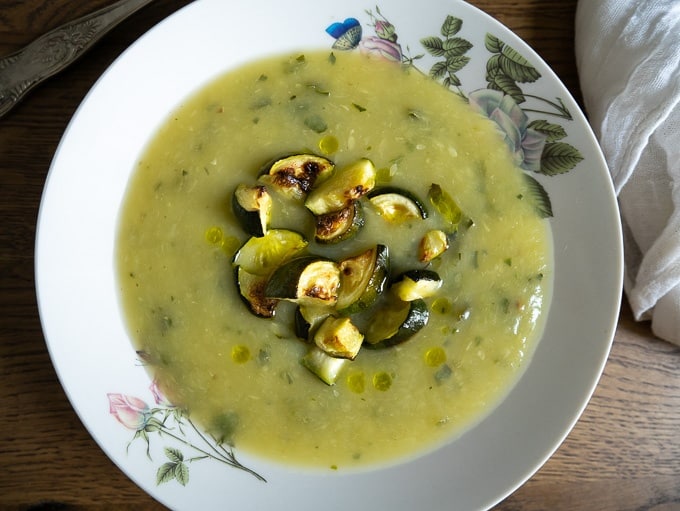 This very simple soup only needs three ingredients: Zucchini, garlic, and potatoes. No wonder that it's already one of my favorite dishes, especially as it's also phenomenally tasty. Zucchini and garlic are toasted in the oven until they are golden brown, and have a pleasant roasted aroma. Combined with potatoes, this results in a mild, irresistibly creamy soup that is light and filling at the same time (without the need for heavy cream).
Of course, you can grill the zucchini and garlic on the barbecue in case you own one. Since I don't have one, I made do with the oven.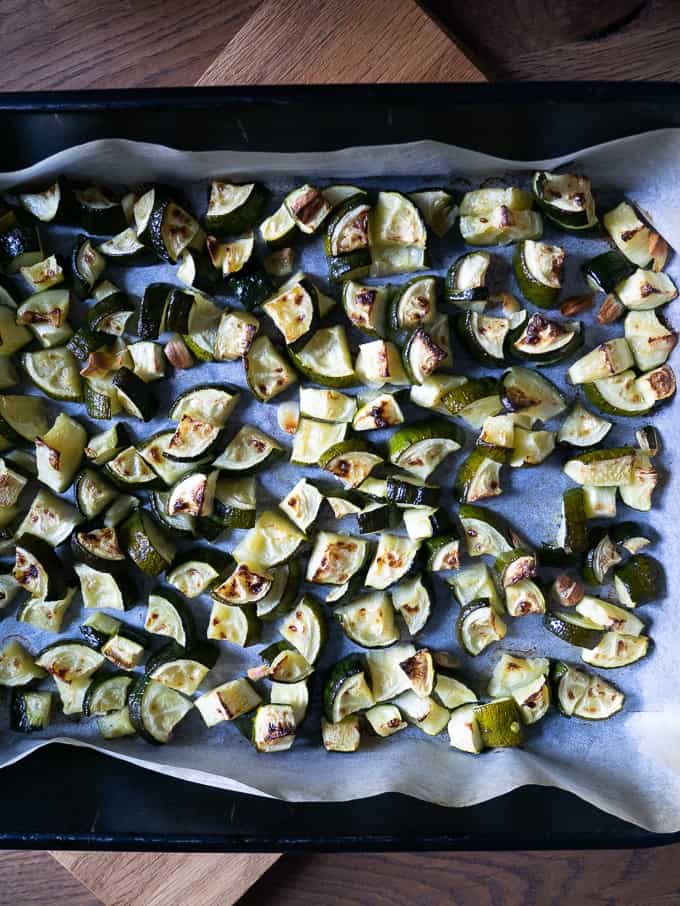 | | | |
| --- | --- | --- |
| Roasted Zucchini Soup | | Print |
Prep time:
Cook time:
Total time:
Ingredients
1 kg zucchini (about 4-5 large)
3 large cloves of garlic
1 tablespoon rapeseed oil + 4 additional tablespoons
500 g potatoes (4 medium potatoes)
1 liter of water
Salt
Pepper
Directions
Preheat oven to 250° C.
Wash the zucchini and cut them into pieces.
Peel and halve the garlic cloves.
Mix the zucchini and garlic pieces with one tablespoon of rapeseed oil and bake in the oven until they turn golden brown (about 15-25 minutes). Stir half-way through.
Peel and wash the potatoes, cut them into small pieces, and boil them with one liter of water at medium temperature with a lid on (about 15-20 minutes).
Set aside a few pieces of roasted zucchini pieces to use as a topping. Transfer the rest together with the garlic to the pot of potatoes and puree with the water (I use an immersion blender, and puree the vegetables coarsely since I like the soup "chunky").
Season with salt and pepper.
Divide the soup between four plates or bowls, top each with zucchini, and sprinkle with one tablespoon of rapeseed oil. Serve hot.