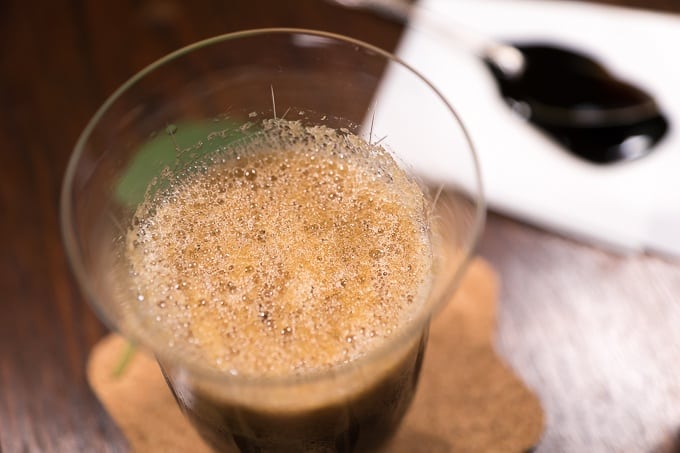 If you're searching for a unique and delicious coffee smoothie with just three simple ingredients, your quest ends here. This concoction promises to tantalize your taste buds by blending the juicy sweetness of melon pieces with the aromatic bitterness of coffee and then infusing it with the earthy richness and sweetness of molasses.
Note: Some of the links below are affiliate links. At no additional cost to you, I may earn a small commission if you purchase through those links. You can read my full affiliate disclosure here.
Content:
Can You Put Coffee in a Smoothie?
Absolutely, you can!
Coffee introduces a delightful coffee flavor and a caffeine boost to your smoothie. To include coffee in your smoothie, begin by brewing a robust cup of coffee and allowing it to cool. Then, blend it with your other smoothie components.
Just keep in mind that coffee will also contribute to the overall liquid content of your smoothie. If you don't need extra liquid to achieve your desired consistency, there's no need to add any.
Why People Love This Smoothie
This coffee smoothie offers the creaminess reminiscent of a soy latte, all while bursting with a symphony of flavors and natural sweetness courtesy of melon and molasses.
Moreover, this drink comes with a distinct personality. In fact, it's so unique that I've given it a name – Comomelo. Doesn't it have a nice ring to it? The acronym (coffee, molasses, melon) seems perfectly fitting, evoking visions of sunny Caribbean islands.
I'm still pondering whether to categorize this creation as a smoothie, a coffee drink, or perhaps a creamy virgin cocktail. Regardless of its label, one thing is sure – it's incredibly appetizing, luxuriously smooth, and a special way to fuel up with your caffeine energy boost.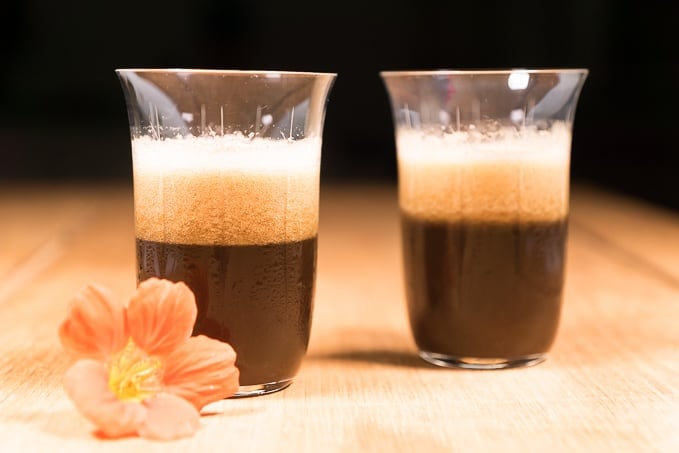 What Type of Melon to Use for The Coffee Smoothie
I prefer Canary melons or Piel de Sapo (also known as Santa Claus melons or Christmas melons) for this recipe, but any other melon type, except watermelon, will do too. If you choose to use smaller melon types, such as Cantaloupe or Honeydew, I recommend using the flesh of a whole melon and not just half a melon, as specified in the recipe below.
Do You Need a High-Speed Blender for This Recipe?
Short Answer: No.
Long Answer: No, you really don't. 😉 The smoothie comprises just three soft ingredients—coffee, melon, and molasses. Therefore, even an immersion blender will suffice. However, if you happen to own a quality blender, by all means, go ahead and use it. It will yield an even creamier result. Personally, I've been using the Vitamix A3500 for years and couldn't be happier with the outcomes.
What Type of Molasses to Use?
This smoothie is perfectly sweet, while the aromatic bitterness of coffee has room to shine. I don't use any refined sugar; the sweetness comes from the melon and a touch of molasses.
Molasses, a thick and sweet syrup, originates from sugarcane or sugar beets. It's a byproduct of sugar refining and contains various nutrients, including iron, calcium, magnesium, and potassium. I like incorporating it into a wide range of sweet and savory dishes, as it imparts sweetness and a unique flavor profile akin to umami.
There are three distinct types of molasses, and selecting the right one matters greatly due to their substantial differences: Light, dark, and blackstrap molasses. My personal preference leans towards dark molasses. Light molasses is characterized by its high sugar content, while blackstrap molasses tends to be intensely dark and carries a pronounced bitterness. Dark molasses strikes a harmonious balance, offering a nuanced flavor profile—neither overly sweet nor excessively bitter—making it an ideal choice for taste and nutritional value. I always choose organic dark molasses.
How to Best Enjoy the Coffee Smoothie
Savor your coffee smoothie chilled straight from the fridge or over ice cubes for a refreshing twist.
Recipe
Wake-Me-Up Coffee Smoothie With Melon
Looking for a special and delicious coffee beverage featuring melon and molasses? Comomelo, a coffee smoothie might just be the thing for you.
Ingredients
1

cup

of cold coffee

about 300 ml

½

melon

preferably Canary melon or Piel de Sapo

1

teaspoon

dark molasses

I use raw cane molasses, like the one linked
Instructions
Blend all the ingredients until you achieve a silky-smooth consistency.

Refrigerate the coffee smoothie for one hour before serving it chilled. Alternatively, you can use ice cubes if you want to enjoy the smoothie right away.
Notes
If you're an espresso enthusiast, feel free to substitute a shot of espresso for regular coffee. Just ensure that you add enough water to reach a total of approximately 300 ml (a generous cup) of liquid.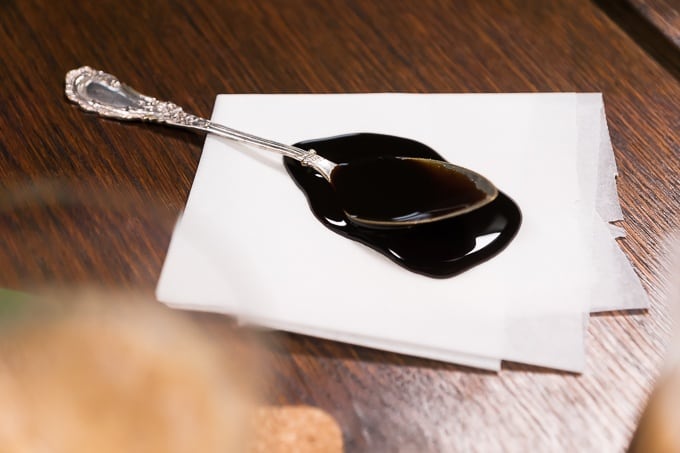 Let me know in the comments: What's your favorite coffee smoothie?
Wishing you planty of delicious delights,
Ramona
Psst, you might also enjoy this Fall Smoothie With Grapes and Apples or the Gorgeously Green Smoothie With Celery and Spinach.
______________