For me, there is no way to skip the traditional cream of white asparagus soup when this noble produce is in season. It takes me only 30 minutes and a handful of ingredients to make this delicious and flavorful soup, which delights everyone who tastes it.
The soup tastes mild thanks to the asparagus' subtle and elegant flavors; adding lemon juice turns this dish into an amazing springy starter. If you love asparagus just as much as I do, this soup might become a new favorite of yours.
What I also love about this recipe is how wonderfully it uses up the asparagus peelings and woody ends. These are cooked separately and the cooking water is added to the soup, thus intensifying the asparagus flavor.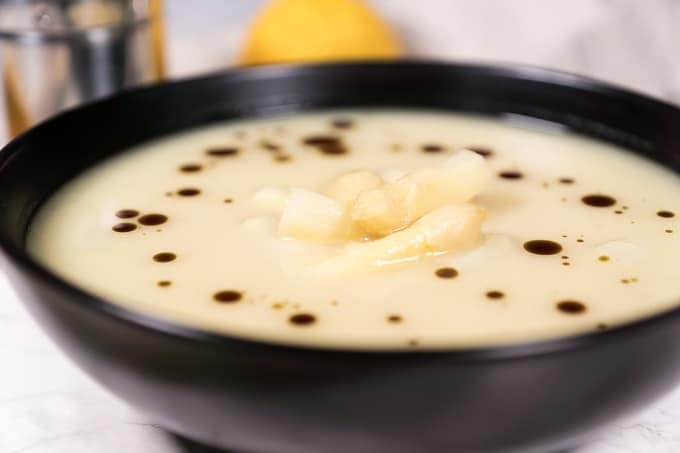 Cream of White Asparagus Soup - Mild and Springy
If you love asparagus, this flavorful and fuzz-free vegan cream soup might become your new favorite spring dish. Impressive taste, and ready in 30 minutes!
Ingredients
Soup
500

g

white asparagus

750

ml

vegetable broth

3

tablespoons

white almond butter

or cashew butter *

2

teaspoons

erythritol **

1

scant teaspoon ground nutmeg

Juice of ½ lemon

Salt

White pepper
Instructions
Wash the asparagus, cut off the woody ends and peel the asparagus spears. Keep the peelings and the woody ends.

Chop the asparagus into 3-4 cm pieces.

Bring the vegetable broth to a boil and cook the asparagus peelings and woody ends on low heat (with lid on) for 10 to 15 minutes.

In a separate pot large enough to accommodate 2 l of soup, cook the asparagus pieces with 1 l of water (lid on) on low heat for a couple of minutes until the asparagus is tender. Pay attention to not overcook the asparagus, it should still have some bite.

Strain the peelings and the woody ends but keep the liquid. Whisk in the almond butter, erythritol, nutmeg, and lemon juice.

Stir this liquid in to the pot with the cooked asparagus.

Add salt and pepper according to your taste.

Serve the soup sprinkled with some drops of pumpkin seed oil.
Notes
* You can use 200 ml of vegan cream instead of the almond butter. If you do so, add less liquid to the soup, that is, either 200 ml less water or vegetable broth.
** Use any sweetener of your liking instead of erythritol. If you exchange it for regular sugar or birch sugar, you'll need less, for example, only 1 teaspoon of birch sugar.