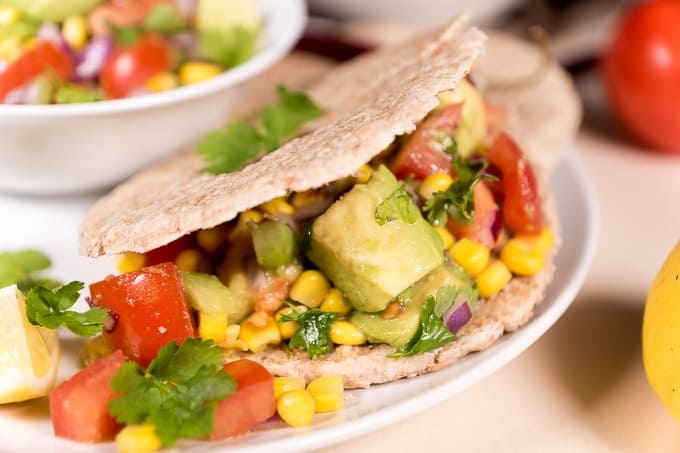 Honestly, I haven't met anyone who didn't love avocado salsa. And how could you not enjoy eating this fast and delicious meal bursting with flavors from a great variety of fresh produce! The salsa has crunch, texture and all the deliciousness of a fresh Mexican meal, making you want more. And you know what? It's ok, go ahead and help yourself to another serving as it is packed full with only good-for-you ingredients.
Avocado, tomatoes, red onion, and corn make a great combination. I added celery for a bit more crunch and freshness, which I like eating but, of course, you can substitute it for any other crunchy vegetable that's in season, for example bell pepper. The seasoning consists only of lemon juice, salt, and pepper. Very simple, yet it goes a long way. I find that no oil is needed since the avocado makes the dish rich and provides flavor. The cilantro leaves are that extra something in the salsa, but if you don't like their taste at all, you could substitute them for parsley.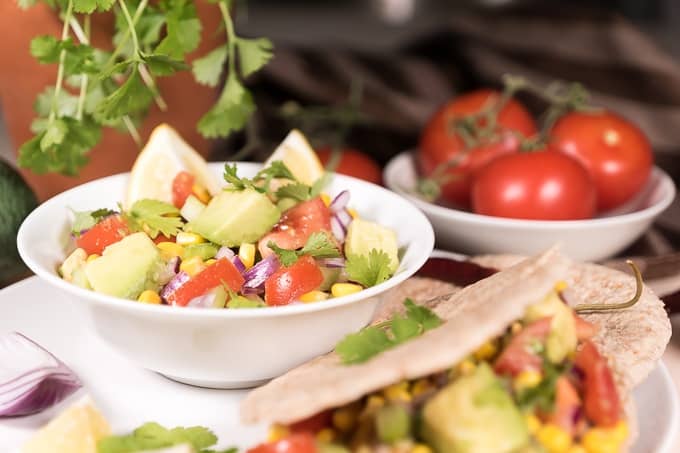 The salsa is delicious with tortilla chips and crackers. You can also stuff it into pita bread or burritos. And it becomes a satiating raw main meal when served in lettuce cups or chicory leaves (the corn kernels used are cooked, so you might want to leave them out if you're up for a fully raw dish).
If you have a favorite way of preparing avocado salsa, let me know, I'd love to find out.
Recipe
Light and Fresh Avocado Salsa with Celery (Oil-Free)
This oil-free avocado salsa has crunch, texture and all the deliciousness of a fresh Mexican meal making you want a second serving.
Ingredients
1

small red onion

2

small celery stalks

about 100-150 g (alternatively you can use 1 bell pepper when in season)

2

big tomatoes

2

large ripe avocados

Handful of cilantro leaves

about 5 g

200-250

g

cooked corn kernels

Juice of 1 lemon

2

small dried red chili peppers

or 1 fresh, chopped finely

½

teaspoon

salt

more or less according to your taste

½

teaspoon

pepper

more or less according to your taste
Instructions
Peel the onion and chop it finely.

Wash the tomatoes and celery stalks, and chop them into small pieces.

Cut the avocado open, peel it, remove the pit, and dice the avocado flesh.

Wash and chop the cilantro leaves.

Gently combine all the chopped vegetables with the corn kernels and the cilantro.

In a separate small mixing bowl whisk together lemon juice, salt, and pepper.

Pour the liquid mixture over the vegetables and gently combine.

Taste test and adjust salt and pepper as desired.

Serve with tortilla chips, stuffed in pita bread, or as filling for burritos or lettuce cups.