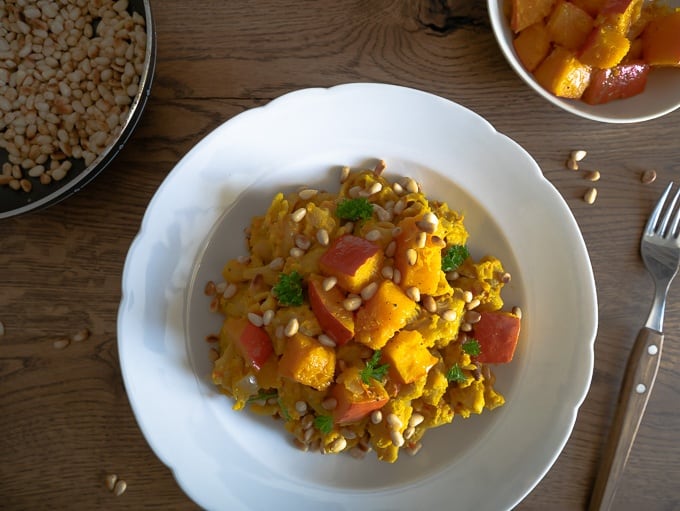 When I think of pumpkins, what comes to mind are warming, wintry cream soups. But I also think of fragrant, golden roasted squash cubes, which make together with rocket, cherry tomatoes and pasta one of my favorite recipes of the squash season.
I recently discovered that squash can also be used to make a delicious pasta sauce. No need for heavy cream, yet still incredibly smooth and creamy! You simply need to fry some squash with onion in oil and then puree everything (or part of it, as in the recipe below) with nutritional yeast. Et voilà, a simple yet refined and unusual pasta dish is ready. For me, squash has officially become a jack-of-all-trades among the winter produce.
I like to use ambercup squash (called Hokkaido in Germany) for this recipe because you don't have to peel this type of squash. This way, food is sooner on the table! You see, I don't mind a bit of time saving in the kitchen. However, any other squash that is great for soups or mains will serve equally well for this recipe (e.g., butternut). Just don't forget the peeling part in this case.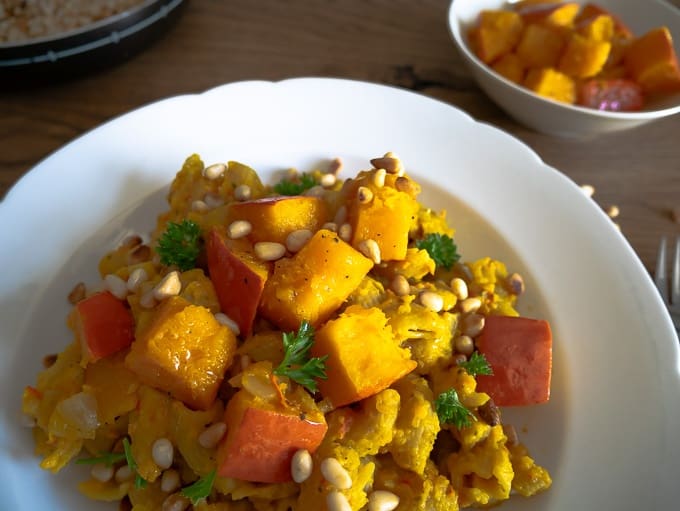 | | | |
| --- | --- | --- |
| Pasta with Creamy Ambercup Squash Sauce and Cedar Nuts | | Print |
Ingredients
100g cedar nuts (or pine nuts)
1 large ambercup squash, about 1 kg
1 onion
4 tablespoons mild olive oil + 1 tablespoon
3 tablespoons nutritional yeast
2 teaspoons dry marjoram (or 3-4 stems fresh marjoram)
Salt
Pepper
300g pasta (I had lentil pasta)
A few stems of parsley (or marjoram)
Olive oil to drizzle on top
Directions
Roast the cedar nuts (or pine nuts).
Clean the ambercup squash, cut it open, and remove the ends and the seeds. Cut the squash into bite-size pieces.
Peel and chop the onion coarsely. Fry the onion in a pan with 4 tablespoons of olive oil and the squash pieces on low heat until soft. If you use dry marjoram, add it to the pan so that it can develop its flavor.
Puree half the squash and onion mix with 1 tablespoon of olive oil and 3 tablespoons of nutritional yeast. If you use fresh marjoram, add it now so that it gets pureed. I'm using a food processor for this step, but an immersion blender would also work fine. The pureed sauce should have the consistency of a soft cream. If the sauce is too firm, you can add some water until it reaches the desired consistency.
Season the squash sauce with salt and pepper.
Cook the pasta al dente according to the packaging instructions.
Add the squash sauce to the hot pasta and mix gently.
Divide the pasta across plates and serve hot with the remaining squash pieces, roasted cedar nuts (or pine nuts), fresh parsley (or marjoram), and a drizzle of olive oil.