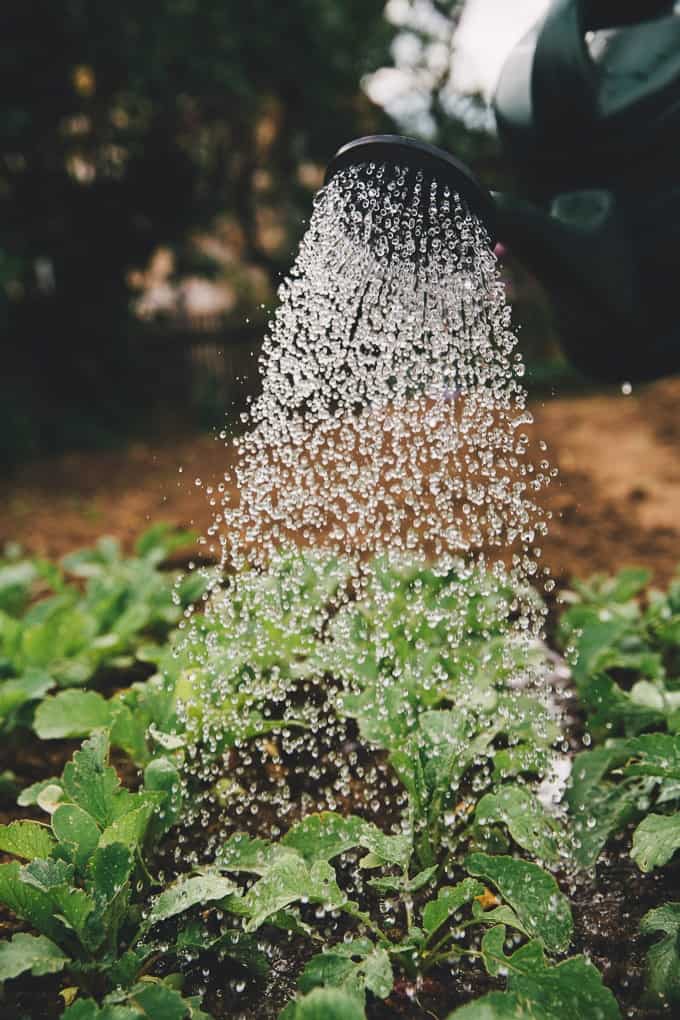 It really is incredibly simple. I'm surprised I didn't come up with the idea myself (I got it from The Frenchie Gardener).
This is the trick:
You collect the cold shower water.
Every time you turn the shower on, the water is freezing cold. Most people wait for the water to warm before they shower … letting perfectly good water go down the drain.
If you collect this cold water, you'll save a couple of liters of water each time. Just have a bowl or bucket ready when you turn on the shower. Isn't this ingeniously simple?
I like using the collected water for watering plants. Showering once provided me with enough collected water to make five of my medium-sized balcony plants happy. Now, imagine how much water a household with several people could save when showering.
Hmm, this got me thinking. My little success (after all, five plants have been cared for!) has spurred me on.
Are there any other ways to save tap water?
New goal: Watering all my balcony plants with water I usually let go down the drain.
The kitchen is the place where I deal the most with water. Especially when rinsing fruit and vegetables, vast amounts of "good" water flow down the drain. For me, "good" water is water suitable for watering plants. "Not so good water" would be: Dishwater (from washing hands or rinsing pots) or salt water (from cooking pasta or potatoes).
And whoosh: There is a little bucket now next to my kitchen sink. Always ready to use. I simply place the bucket under the faucet when I wash fruit or vegetables - or briefly rinse my hands without detergent.
When the small bucket is full, I empty it into a larger one. The "big one" resides permanently on the balcony (which provided just enough space for the big bucket but not for a rain barrel). Several times a day, I putter from kitchen to balcony - and back. It feels good.
And the payoff?
I DID IT!!!
I reached my goal. (I'm proudly patting myself on the back right now).
The big bucket is filled to the brim with water at the end of the day - enough to water the entire balcony—even larger plants like two small trees.
But why do it in the first place?
I can still hear the words of an acquaintance: "Tap water is so cheap, you can use as much as you want."
That's true. In Europe, tap water is not expensive. Everyone can - and should be able to - afford it. So, saving water is not primarily about saving money.
It's about the bigger picture: Protecting the environment!
Water is an extremely scarce and precious commodity worldwide, especially water of drinking quality. In Germany, tap water is safe to drink and is the most strictly controlled food item. Enormous resources (energy, time, labor costs, etc.) are spent to ensure drinkable water flows from the tap.
That's why it's always a good idea to use tap water as sparingly as possible (especially the "good" kind) - not only when another heat wave hits but even more so when that's the case.
You can even go one step further: Collect the "not so good" tap water and use it, for instance, for cleaning purposes.
Do you know any other tricks to save water?
With planty of delights,
Ramona
Image at the beginning of the post by Markus Spiske via Unsplash