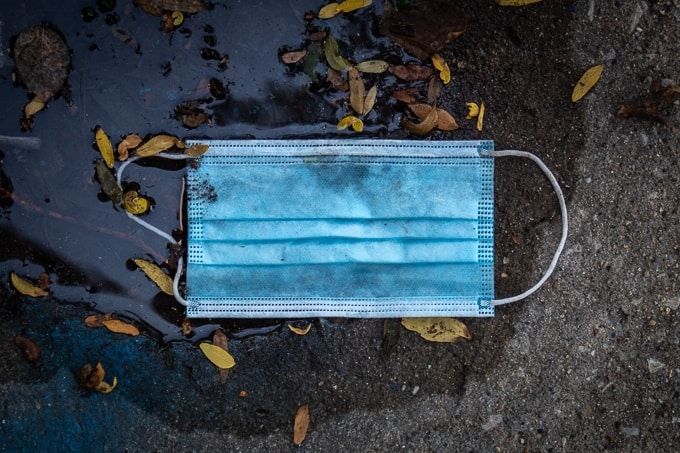 "Reducing plastic consumption can be fun? Excuse me?!!!! Say that again!"

You're welcome: Ditching single-use plastic is fun!
And I'm not just talking about feeling good when you know you're doing the right thing.
I'm talking about the joy of embarking on little adventures in everyday life, of doing things differently for a change.
You will feel self-efficacious, strong, and powerful when you change a plastic-heavy habit.
Go shopping with a jute bag (fashionistas may call it a tote bag) and put apples and crooked vegetables directly into it – no need for plastic produce bags.
Or switch to solid soap in the bathroom and banish liquid soap in plastic dispensers.
What other areas of life could you easily "de-plasticize"?
Infographics by lessplastic.org.uk
Amanda Keetley is the founder of Less Plastic, a non-profit organization based in the UK that helps spread awareness about the problem with single-use plastics.
Amanda's modern, appealing infographics help spark ideas about what single-use plastic items could easily be swapped for an eco-friendly alternative.
The infographics give tips for plastic-free alternatives and are so nicely designed that they are a pleasure to look at.
Which of the following 9 tips do you already know? Which ones have you already integrated into your everyday life?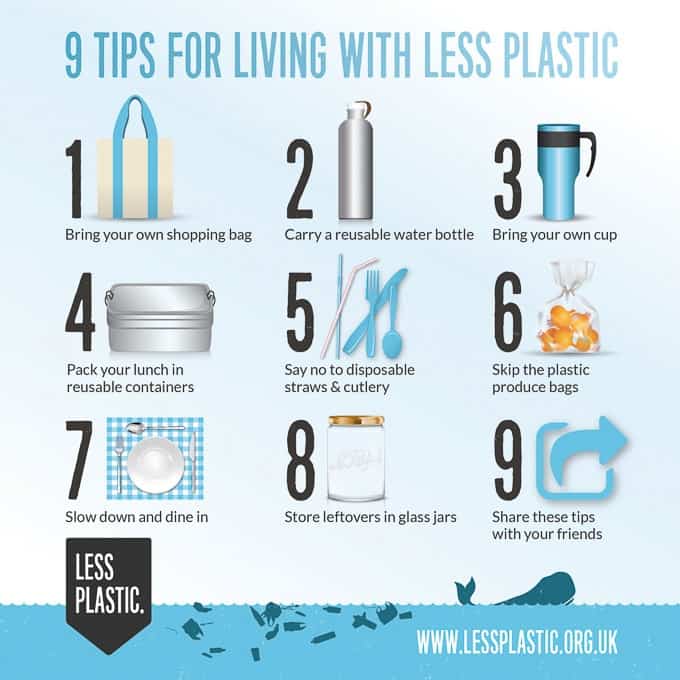 What about these 9 tips? Do you know any?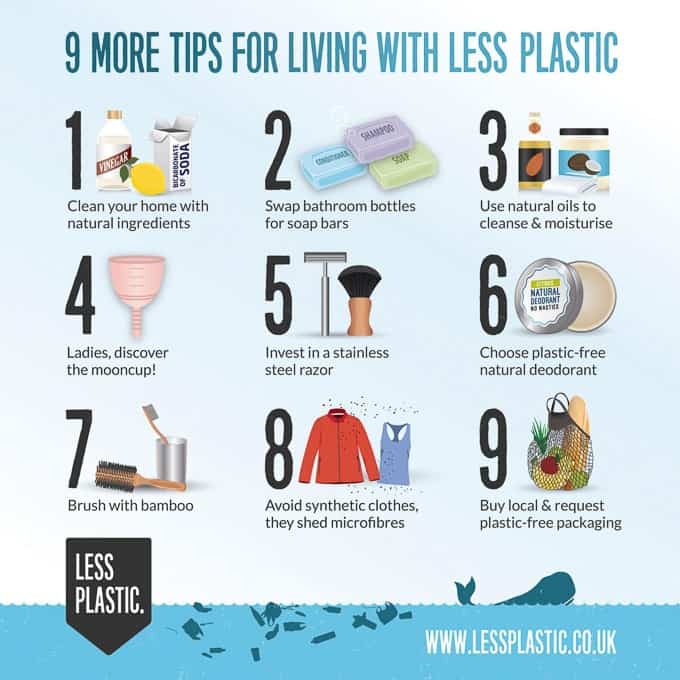 Helpful Apps
There are a couple of helpful apps that will make the hearts of all tracking fans beat faster. They let you track your plastic consumption, set goals for using less plastic, and celebrate your successes.
Educate Yourself
Is there a nasty little voice in your head screaming "The plastic pandemic isn't real! It's all fake news!"?
In that case, I advise you to step out of your front door and take a good look around on the street.

Well?
Already discovered a plastic bag?
Or a disposable mask?
Fact!
Oh, you've noticed already three of those ole blue disposable masks on the same street?
Fact! Fact! Fact!
(By the way: Reusable masks not only look chicer. They are also sanitized in just 10 minutes by boiling them in hot water. See, there's no reason to litter the environment with disposable masks).
If you want to learn more about why plastic is, well, um, "problematic," check out the post The Plastic Pandemic - 10 Facts that Will Make You Want to Reconsider Your Plastic Consumption. By the way, you'll also find a nice infographic by Amanda there.
Check out the article 40+ Handy Tips for Cutting Down on Your Plastic Waste for even more tips, including some for advanced "de-plasticizers."
________

And now a cheer for the small steps in everyday life. All the small changes that add up to a revolution.
Change will not come if we wait for some other person or some other time. We are the ones we've been waiting for. We are the change that we seek.
Barack Obama
Please share: What are your top tips for reducing plastic? What's easy and what's challenging?

Wishing you a joyful and successful journey towards reducing plastic in your daily life,
Ramona
Image at the beginning of the post by Elizabeth McDaniel via Unsplash