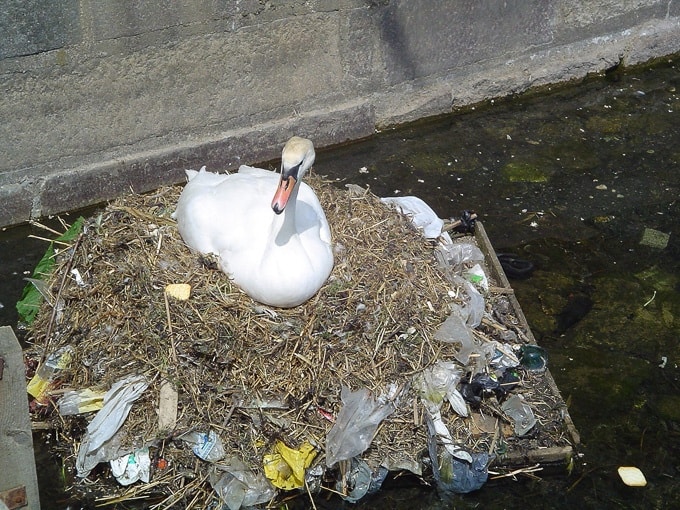 Wherever you are right now, please take a quick look around. Once to the left. And then to the right. How many plastic products can you spot? The question is not whether you can find any, but how many. In this day and age, we all use plastic. A lot of it. Around the clock and all over the world.
No wonder, since plastic is so handy. In addition, it is light, transparent, resistant, durable and not to forget: Cheap. We are now surrounded by so much plastic that modern life would collapse if the use of a magic wand made all the plastic disappear at once.
A campaign of the National Geographic magazine is entitled Planet or Plastic. Plastic planet? That hits the nail on the head since around 300 million tons of plastic are produced worldwide every year. Only 20% of it is recycled, the rest ends up in the environment. And it's bound to stay there as plastic takes decades or even centuries to decompose. For example, it is estimated that a plastic bottle takes about 450 years to decompose.
Every plastic item that has ever been manufactured still exists - even if it is just a tiny, invisible piece (called microplastic). This is the first of my list of 10 facts that speak against plastic. The other 9 facts are no less worrying. But there is hope as every one of us can do something about it. That's what the next article will be all about: Easy steps to reduce plastic waste in your everyday life.
But first find out here why we should all avoid plastic.
10 Facts that Speak Against Plastic
If you're more of a visual person, please take a look at the catchy infographic of the organization Less Plastic, which summarizes the most important reasons for not using (disposable) plastic.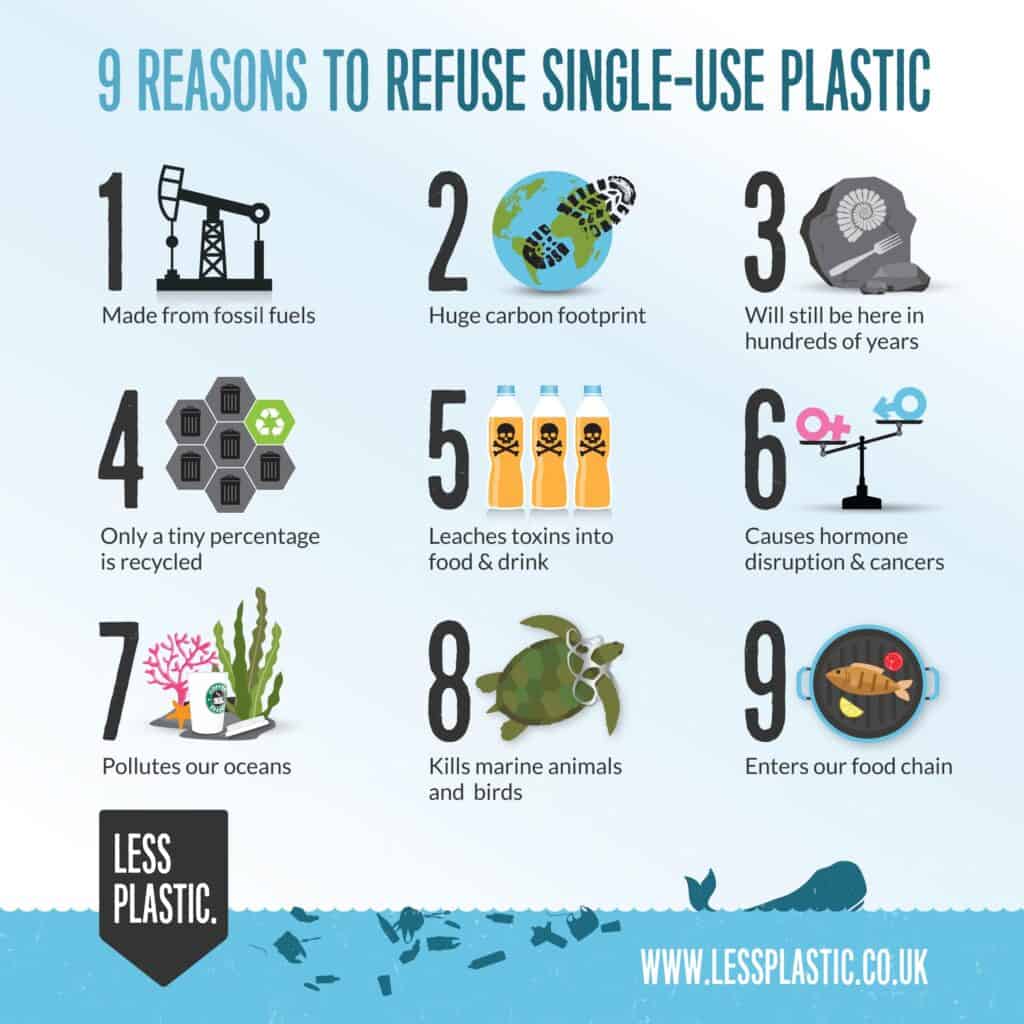 The largest market for plastic today is packaging. To me, it's crazy and incomprehensible that an imperishable material is being manufactured and used on a large scale as a disposable commodity. Over 40% of the plastic produced today is used only once and then discarded (National Geographic). Plastic water bottles, produce packaging, straws, single-use coffee cups, plastic bags - they all end up in the bin. At best! It's more likely that they end up on the street, in the park, in the woods, in the river, and finally in the ocean.
While no one can stop this plastic pandemic alone, fortunately, each and every one of us can contribute to reducing the demand for plastic. How is that supposed to work? By starting with our own plastic consumption. Take a closer look at how much and what exactly you use. And then reduce it step by step: Banish one piece of plastic at a time from your everyday life and replace it with more sustainable products and materials. This is the question that the next article will revolve around: What are simple changes that we all can make in our everyday life to reduce plastic waste?