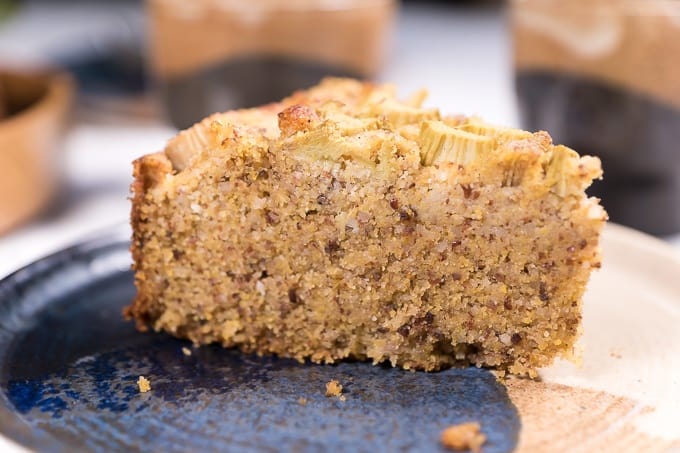 Are you looking for a gluten-free rhubarb cake that is rich, nourishing and flavorful? Here is a recipe that features only good-for-you ingredients such as almonds, flax seeds, polenta, bananas, and of course rhubarb. The cake base is sweet and delicious, with an exotic touch to it from the fragrant orange zest and vanilla. The top is covered with rhubarb, whose natural and refreshing sourness complements the sweet spice base. Above all, the cake is wholesome and nutritious, so don't be shy and eat a piece (or two) for breakfast - without any guilt.
The quantities below are for a 20cm round cake.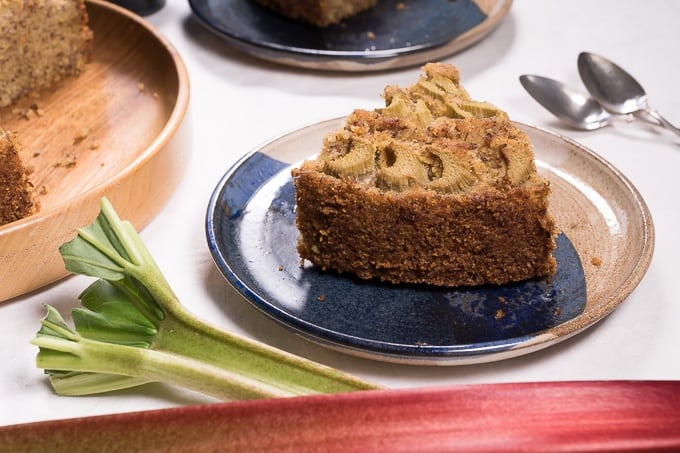 I love to indulge when the cake is just baked, fresh out of the oven with its burst of flavors. It might be a bit crumbly when still warm, but will firm up once cooled. It's consistency is similar to that of a moist, rich, slightly crumbly bundt cake. As with bundt cakes in general, this cake will taste gorgeous if allowed to sit for a day or two, as the flavors can combine better.
Recipe
Spice Rhubarb Cake with Almonds and Polenta
This vegan, gluten-free rhubarb cake is rich, moist, and flavorful. A sweet spice cake, topped with refreshing, sour rhubarb pieces.
Equipment
You'll need a round cake tin, 20cm diameter.
Ingredients
Dry Ingredients
150

g

sugar

I used birch sugar, but you can also use caster sugar or brown sugar

2

teaspoons

ground flaxseed

200

g

ground almonds

180

g

polenta

2

teaspoons

baking powder

1

teaspoon

vanilla powder
Wet Ingredients
2

large ripe bananas

150

ml

neutral oil

I used rapeseed oil

50

ml

water

100

ml

plain vegan yogurt

3

tablespoons

almond butter

optional, the cake will still taste great without, but will have a lighter consistency

Zest of 1 large orange

or of 2 small ones
Instructions
Heat oven to 160° C (320° F).

Combine the dry ingredients.

Peel the bananas and mash them with a fork in a bowl.

Mix the remaining wet ingredients with the banana puree until you have a smooth paste.

Combine the dry with the wet ingredients.

Line your baking tin (also the sides - alternatively, grease the sides with oil). Pour the batter into the tin.

Trim the ends of the rhubarb and peel the stalks. Cut the stalks into pieces.

Decorate the batter to your liking with the rhubarb pieces. The top should be covered completely with rhubarb pieces. Press the rhubarb pieces gently into the batter (half-way through).

Bake on the middle rack for about 60 minutes, until the top is golden brown.

If you want to enjoy it still warm, be careful when removing the cake from the tin as the sides can be crumbly.

The cake will keep for 5 days in an airtight container.