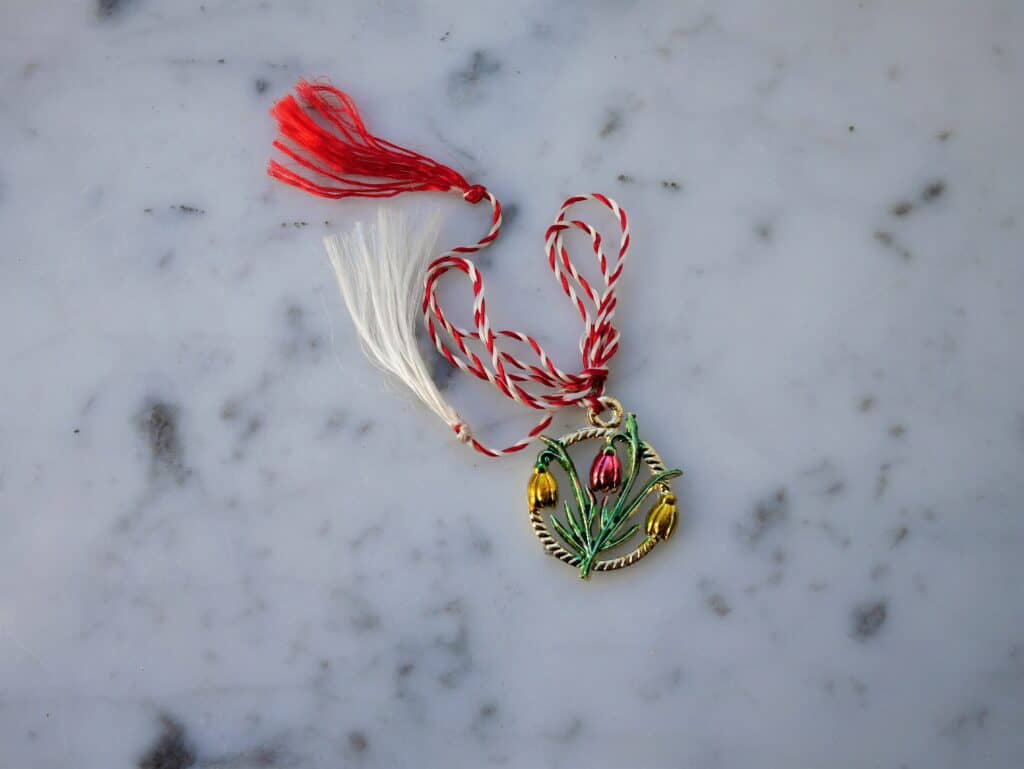 Happy 1st of March!
Romanians celebrate the first day of March, it's called Mărțișor (pronounced: maer-tsi-shore). The calendar may say it's no spring yet (meteorologists disagree), but people are thrilled about leaving the coldest and darkest months behind. The name alone – March – is a promise of sunshine, warmth, fragrant hyacinths, budding trees, and frolicking people in fields of yellow daffodils.
The word Mărțișor refers to both the general custom and the trinket gifted on the 1st of March to family members, friends, and co-workers. As it's a diminutive of the Romanian word for March, I came up with minimarch to have an English word for this beautiful spring tradition, and the trinket ('marchy' or 'marchlet' didn't ring true to me, maybe you have a better suggestion?).
Have you ever heard of Mărțișor? Maybe even worn a minimarch? Growing up, I loved everything about this tradition: Giving and receiving a little gift; the cheerful and colorful trinket designs; the iconic red and white threads - wrapped around each other - attached to the trinkets; people wearing them for the whole month pinned to their clothes, close to the heart. All of sudden, spring was in the air! Every minimarch I spotted on a jacket, blouse, or shirt filled my heart with joy. Minimarchs have the power to brighten up even the coldest and most gusty days of March.
There are many interpretations of the thread colors. I like the idea of red and white symbolizing the fire and the light of the sunny months to come. Another interpretation of the white thread refers to the snow of winter that is being left behind. The following meaning is interesting but far-fetched to me: You can read the intertwined threads similar to yin and yang - a union of the feminine (red) and masculine (white) principles.
Either way, a minimarch is always a fun and colorful means of saying hello to spring. My mom and grandma kept many of the ones they (and I) had received, so I'm blessed with a lovely collection of minimarchs, tucked away safely in 2 large envelopes. Today, on March 1, I pick three: One for me, one for my partner, and one for you. I hope you accept the minimarch (pictured) that I'm sending to you virtually – with my best wishes for a blessed start to March and the warmer months of the year.
Are you celebrating March the 1st? Do you have any spring traditions or rituals? Let me know, I'm curious to find out.
By the way: You might also enjoy A Romanian start to the year.