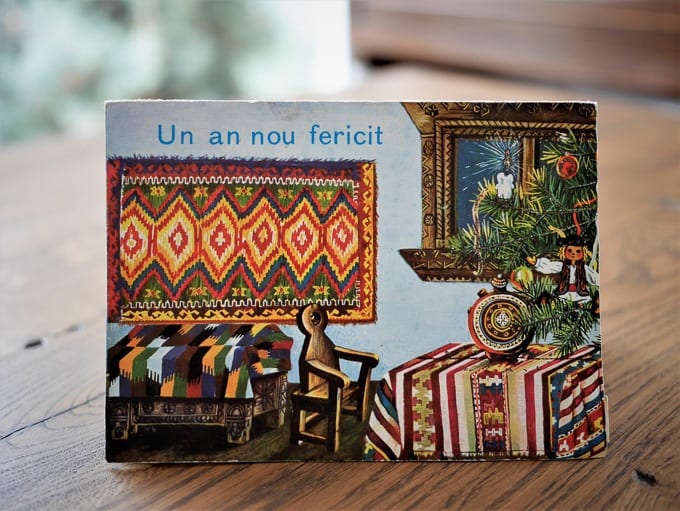 This postcard is almost 50 years old.
It wishes everyone a "Happy New Year!" in Romanian and depicts a cozy living room in a traditional Romanian house, decorated with the typical colorful fabrics that are still handmade in the countryside. As soon as you open the card, your eyes rest on a scene in front of the house: Three young men in festive costumes are caroling and bringing New Year's blessings to a woman at the window.
As for the singing part: I'm making a guess about that since the card has no audio ('though it has a nice 3D effect). These pop-up cards were very popular in Romania in the '70s, my grandmother kept some of the most beautiful she received. When she died a few years ago, I discovered them. The card pictured here has come a long way - in time and space - as it delights me now with nostalgic greetings at the beginning of 2021 in my apartment in Germany.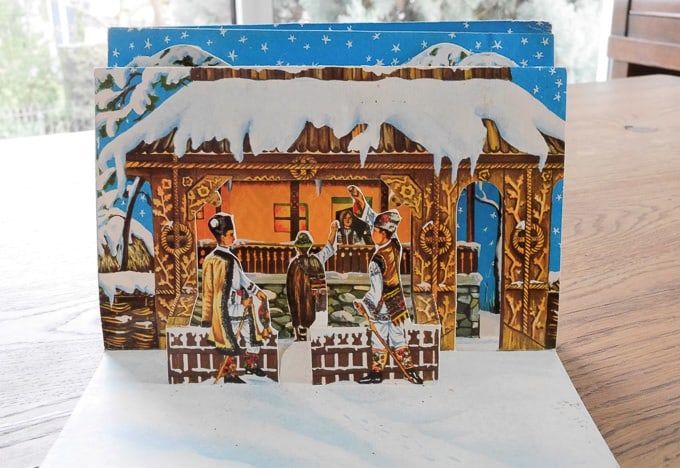 This type of card is no longer in fashion in Romania, but what lives on are the customs at the turn of the year. One of the most beautiful is Sorcova: A group of children goes around from house to house, singing special New Year's carols, expressing blessings, and waving a green branch like a magic wand. In rural areas, this tradition is still widespread.
I grew up in a (small) town in Romania, but I was lucky enough to experience Sorcova directly as a child. My grandparents' house is located on the outskirts of the town – there is more space for and sense of ancestral customs, and time passes slower. On January 1, the neighborhood children (I counted myself one of them) would bundle up and walk, giggling and red-nosed, through ankle-deep snow from one end of the street to the other to carol for all the neighbors. The song that has stuck in my memory is Sorcova, vesela (Sorcova, the merry). This is my try at translating the first verse:
Sorcova, the merry,
We wish you a long life, we wish you to grow old,
Like an apple tree, like a pear tree,
Like a single rose,
Solid like a rock,
Fast like an arrow,
Hard like iron,
Strong like steel,
Happy new year till next year!
I love this nursery rhyme to this day and warble it to myself on New Year's Day. Sometimes I'm surprised to find myself singing it in the middle of January.
5 Steps to writing great resolutions for the new year
What I additionally do at the beginning of the year: I think about what my personal wishes are for the next 12 months. It's rather intentions and hopes, not fixed resolutions carved out of stone. These wishes are meant to guide me on the path that I consciously chose, to bring me more peace, fulfillment, and joyful moments.

SOMETHING INSPIRING
Just as I light incense or a candle before meditating because the ritual, the light, and the scent help me become calmer, I like to read something inspirational before thinking about my wishes for the new year.

I read Holly Butcher's open letter to the world, written shortly before she died of cancer at age 27, at least once a year. Her words remind me why I make time for setting intentions - because this life, MY life, is so precious and unique and it goes by in a flash. And I want to live it intentionally, consciously filling it with people, things, and experiences that I like.

Cleo Wade's poem puts me in a position to let more easily go of the old year, with all its shortcomings and unfulfilled intentions (2020 didn't skimp on that, right?).
LESSONS
Next, I review the past year and identify the lessons it taught me, which results in a list of 5 to 10 items. In 2020, for example, I decided to consume less news - it did me so much good that I'm going to carry this habit over into the new year.
MORE OF THIS, PLEASE!
I also create a list of up to 10 items that represent what I want to welcome into my life. It can be something that I want to do more (often), such as singing or spending more time in nature. The items on this list can be based on some of the last year's lessons, but they can also represent unique wishes.

Having a Less-of-this list along with the More-of-this list sounds exciting, I'll give it a try next year.
ONE INTENTION
Sometimes I find it helpful to choose a single intention or affirmation. This helps me to get to the essence of my wishes - to find out what is most important to me.

For 2021, my number one intention would have to be 'Take time for yourself'. I have rephrased it into an affirmation that I keep repeating in my mind:
I allow myself to take the breaks I need for resting, unwinding, and recharging my batteries.
ONE WORD
Get to the heart of my wishes for the new year with a single word? What a great idea! If I'm pressed for time or just not in the mood for steps 2-4, I would skip them and choose one word for the new year that reflects my dearest wish.

My word for 2021: Mindfulness.
Tell me, I'd love to know:
Do you have rituals for New Year's Day? Do you sing certain songs? And what methods do you use to set intentions for the new year?