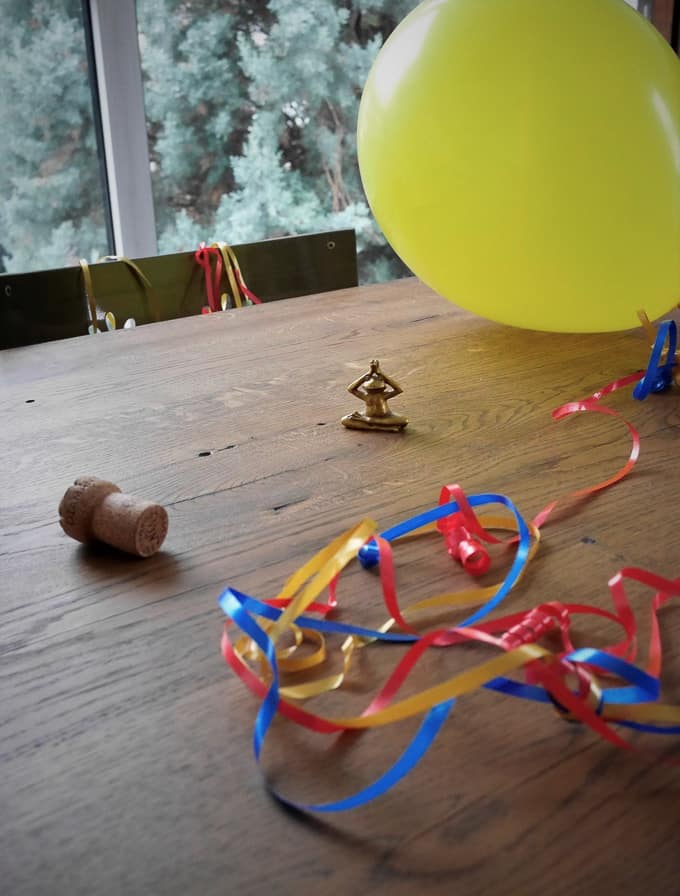 I used to hate year-end reflections.
I found them so tedious! While the outcome is interesting and groundbreaking for the upcoming year, at the same time they are so time-consuming and exhausting.
I didn't want to stop doing them because I always enjoyed the outcome. Those reflections gifted me with many insights about myself, about habits that are good or rather bad for me. True to the motto:
Learn from yesterday,
live for today,
hope for tomorrow.
The important thing is not to stop questioning.

Albert Einstein
Yearly reflections - the HARD way
My year-end reviews used to be energy-intensive for a good reason:
I sat down at the end of December (often directly on the 31st) with pen and paper to reconstruct my annual events from memory.
From memory?!!!
Whew!
Fortunately, there are calendars to put important dates in! I got my partner involved right away, after all, his memory is better than mine.
So, we sat there for 2-3 hours, not happy, doing loads of calendar scrolling and heavy thinking. In the end, we had a satisfying list including the main events of the past year together – but what a hard way to get to it! Arrrgh!
Yearly Reflections – The EASY way
And then: Ta-dah! I had a brilliant idea!
I put it into action right away.
I now record the most important events weekly, usually on Sundays. Only keywords typed on the PC. It's done in no time at all, 10 minutes at the most!
By the end of the year, I've got 10 to 15 pages as a summary of what happened during the year.
This is a wonderful overview of the past 12 months, handed on a silver platter as there is nothing left for me to do. (Except pouring myself a glass of bubbly and reading the reflections with pleasure, recalling the events of the past year in my mind's eye).
My partner and I are now looking forward to this annual summary at the end of December - it is a highlight on its own.
It's unbelievable what we forget over time! I'm amazed time and again how many events fit into just 12 months (and I'm talking about any year, not just the infamous 2020!)!
What about the 30 questions?
I discovered a few days ago these fun questions for end-year reflections on a Swedish blog that was previously unknown to me. Underbara Clara publishes every year her year-end review based on this list of questions.
Clara invites everyone to borrow her list. That's exactly what I did - with a few minor changes concerning the order and the phrasing of the questions.
There is a total of 30 questions. Some are funny and light ('Favorite series?), others are deep and thought-provoking ('What's your highest wish right now?').
The questions provide a playful approach to the past year. They help you illuminate different aspects of what you have experienced and felt, just like with a spotlight.
My 15-page keywords are only raw material, facts, albeit a good basis for gaining insights. Using the 30 questions on top of my keyword summary helped me get to the bottom line(s).
One surprising finding for me was that I had the most to say (by far) for questions 1 and 28.
Question 1 reads: Did you do something in 2020 that you have never done before?
Question 28: Most proud of?
For me, 2020 was indeed THE year of first times. Like working completely in a home office since March. Or having 4 months off at a time. Or radically decluttering. And the list goes on and on...
Interestingly, much of what challenged me filled me mightily with pride once I tackled it. In 2020, I was prouder of myself than ever before!
What am I trying to say?

That these 30 questions are a fantastic tool for taking stock of your year. They take you by the hand, set the pace, dance a waltz with you - and before you know it, you've gained a lot of surprising insights!
So, don't let this opportunity go to waste. Take some time to reflect, let the following questions guide you through your past 12 months, and look at the lessons you learned this (or last) year.
At the very end, you can find a bonus question. It's the question of all questions!
30 (+ 1) simple questions to help you reflect on the past year
Did you do something that you have never done before?

Did you make any major changes?

What date from this year will you always remember?

Did someone close to you die?

Which countries did you visit?

Best buy?

Did something really make you happy?

Did you miss something thid year that you want to pursue/experience/have the next year?

What do you wish you'd done more?

What do you wish you'd done less?

Favorite series from the past year?

Best book you read this year?

Biggest music discovery?

What was your biggest success at work?

Greatest success in personal life?

Biggest mistake?

Were you happier or sadder this year compared to previous years?

What did you spend the most money on?

Something you wanted and got?

Something you wanted and didn't get?

What did you do on your birthday?

What have you been the most grateful for?

Is there anything that would have made your year even better?

What made you feel good?

Who did you miss?

The best new people you've met?

The best present you received?

Most proud of?

Highest wish right now?

What are you going to do differently next year?

Here's the bonus question, the centerpiece of your annual reflections:
What is the most important lesson the year has taught you?
And now let's pop the corks and put the old year behind us! Let's turn to a bright, new, shiny year with smiling faces and transformative insights!
Psst, A Romanian start to the New Year and Did you break a bad habit?.