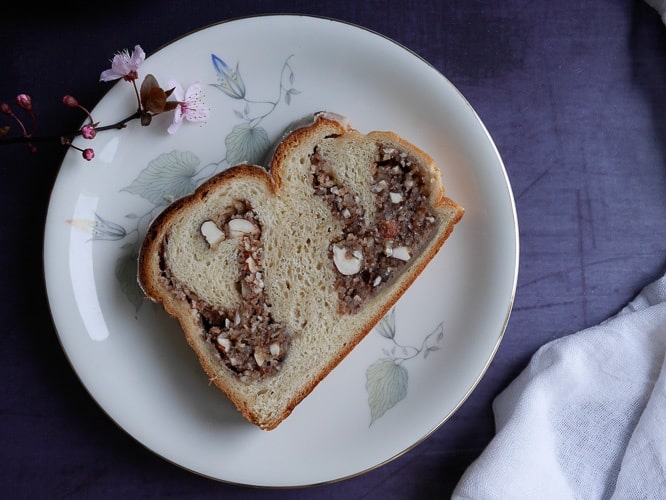 Is there a particular treat you need to have for the Easter holidays?
For me, it is a yeast braid. In Germany, the traditional dessert for Easter is a simple yeast bread without any filling. Coming from Romania, I prefer having a yeast braid filled with nuts or cinnamon. In my childhood, no Easter Sunday with my parents and grandparents was complete without a slice of this tasty treat. Indeed, it was a very much needed sugary treat after staying up late and taking part in the church service at midnight (the service starts when the clock strikes midnight on Sunday morning) in the city center with my family and most of the town's population.
Let me make a confession (and it's a hard one to make for me): For years on end, I was a total failure when it came to yeast doughs. I used only lukewarm milk (don't kill the yeast!). I let the dough rise in a nice warm place for a couple of hours. I even prayed, sang, and danced for the dough. Nothing would help. It seemed as if yeast doughs and I would never become friends.
When I heard colleagues praising Elena's vegan nut braid that she brought to an office party, I rushed to email her (I didn't even know her by then). I asked for the recipe and since she is a very nice person, she sent it immediately to me. She even sent me words of encouragement, letting me know that this recipe is really fool-proof (wohahaha, she didn't know the extent of my yeast dough failures!). She had made the nut braid many times already and she assured that nothing can go wrong. It was a success time and again.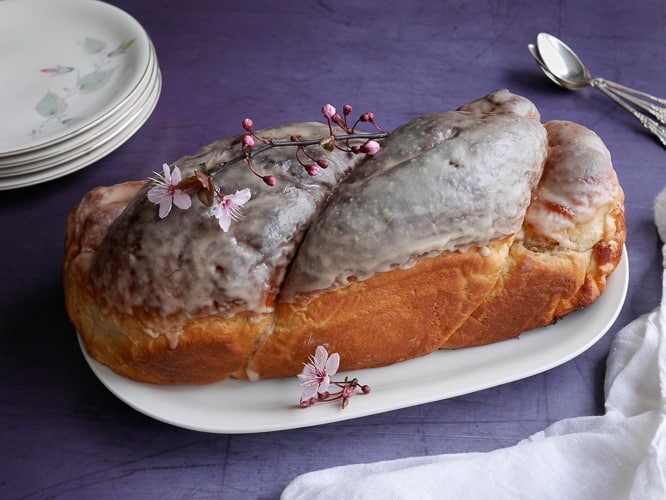 I made the nut braid, still a bit skeptical. And it was hit! Unbelievable to me, but Elena's recipe broke my yeast dough ban!
And now, enjoy reading and making Elena's nut braid recipe. And of course: Eating the yummy result.
---
Recipe by Elena Frommhold
What could be better than having guests in the afternoon and enjoying a cup of tea or coffee together? Also having a delicious vegan cake to enjoy together!
Since I have always appreciated a good nut braid, I wanted to try a vegan recipe.
I finally found a great recipe and changed a few things. The result is overwhelming! The cake is fluffy and juicy. It tastes phenomenal still slightly warm from the oven (I indulged it in it before pouring the frosting over it).
The original recipe is from Kaffee & Cupcakes (German). Compared to the original recipe, I mainly swapped fresh yeast for dry yeast, added chopped nuts to the filling (not only ground nuts), and I also added cinnamon to the filling and the frosting.
I am excited to share my recipe with you and hope it will lead to some nice afternoons!
Recipe
Nut braid: fool-proof braided yeast dough filled with nuts and cinnamon
Are you looking for a vegan nut braid recipe that always works and will result in a fluffy, yummy cake? Then this very recipe is what you were looking for. In many cultures a yeast braid is served for the Easter holiday, I know this tradition is kept alive in Germany and also in Romania. Yet you can make and serve this yummy nut braid on any occassion as it's a delicious treat for you and your guests.
Ingredients
Yeast dough
200

g

soy milk

unsweetened (I used the brand Alpro)

1

cube of fresh yeast

42 g

400

g

of flour

60

g

of sugar

½

teaspoon

salt

50

g

neutral oil

e.g., rapeseed oil
Nut filling
200

g

ground hazelnuts

100

g

finely chopped nuts

e.g. almonds, hazelnuts, walnuts, ... or a mix

75

g

sugar

1

packet of vanilla sugar

125

g

soy milk

unsweetened

1

teaspoon

cinnamon
Frosting
50

g

powdered sugar

A little water or soy milk

Some cinnamon
Instructions
For the dough, warm up the soy milk slightly (lukewarm!). Crumble the yeast into the milk and dissolve it with a whisk.

Mix the flour with the sugar and the salt in a mixing bowl and form a hole in the middle.

Pour the yeast milk and oil into this hole and stir carefully. Knead properly, with a dough hook or by hand. If the dough is too sticky, add a little more flour. If it is too dry, add very little soy milk.

Cover the dough with a clean, slightly damp dish towel and let it rest for 1 hour in a warm place (approx. 35 ° C). (I heat my oven a little, then put the dough in the oven and switch the oven off).

For the filling, mix the nuts in a bowl with the sugar, vanilla sugar, cinnamon, and soy milk.

Grease a 35 cm baking pan (e.g., with rapeseed oil) and flour.

Place the dough on a lightly floured working surface and roll it out into a rectangle (1-2cm high). Spread the filling on the dough and leave about 2 cm space at the top. Roll up the dough from the long side.

Cut the roll lengthways and wrap the two strands around each other several times.

If the roll is too long for the baking pan, cut it in half and then wrap the two already braided parts of the dough around each other again.

Place the nut braid in the prepared baking pan, cover with a towel and let it rest until the oven is preheated.

Preheat the oven to 180 ° C top/bottom heat.

Once the oven is fully heated, put the nut braid in the oven and bake for about 30-35 minutes until the surface is golden brown. Check the braid at the end of the baking time to make sure it doesn't get too dark!

Let the nut braid cool completely on a wire rack.

For the frosting, mix the powdered sugar and a pinch of cinnamon. Then add some water or soymilk in teaspoons (just a little at a time) until you get a thick, viscous frosting. You don't want the frosting to be too runny. Pour the frosting over the finished nut braid with a spoon and let it dry.

Enjoy.
---
A big thank you to Elena for sharing her recipe with us, and for helping me learn to lose my fear of yeast doughs.
Now it's over to you: I'm really curious to find out, so please let me know in the comments:
What type of yeast braid do you prefer? With filling or without?
Did you ever have problems making yeast doughs work?
What's the one treat that you can't skip for Easter?
---