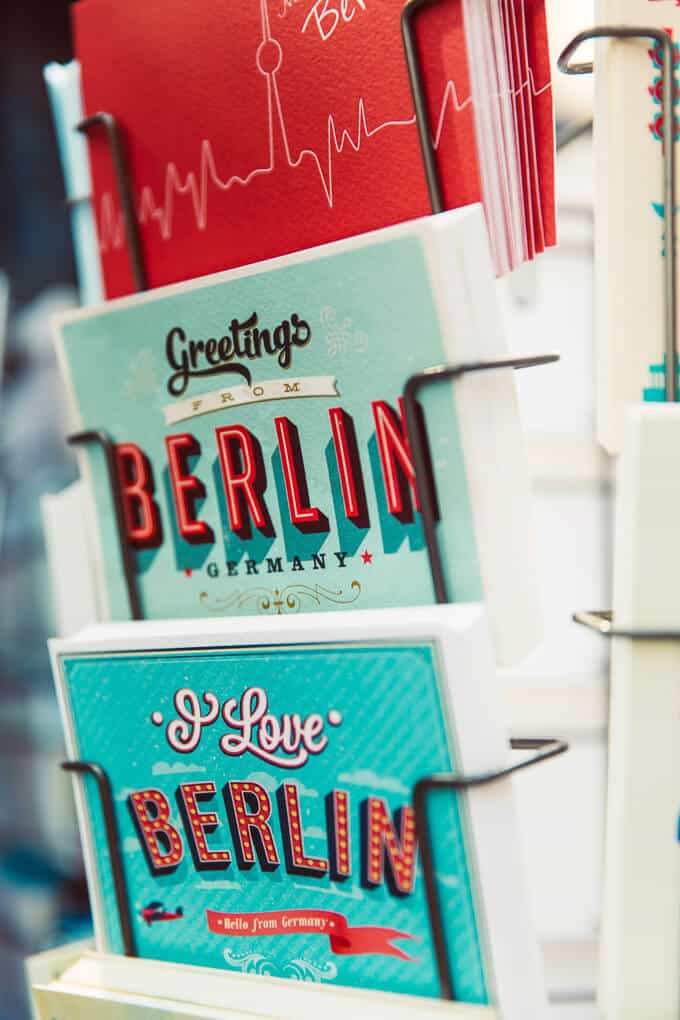 I don't have to drum up publicity for Berlin. Everyone knows that Germany's capital is worth a visit since the metropolis offers an impressive array of cultural offerings, historical sights, and culinary delights. Not to forget all the spacious public parks where you can take a stroll, read a book, or lie in the grass to give your sightseeing-tired feet a rest.
If you are planning a trip to Berlin, you can consider yourself lucky. For one thing, because you'll soon be able to enjoy this great city, and for another, because you'll be superbly equipped with exclusive insider tips provided to you in this article.
And if there's no sign of an imminent trip to Berlin for you: Don't be sad. With the help of these insider tips, you can at least wander the streets of Berlin in your mind. And once you've done that, you'll certainly want to stay in Berlin in real life soon.
The recommendations (and no-go's) for a stay in Berlin come from Diana Pauly who has recently made her dream come true and moved to Berlin. Diana is a politically engaged person of many interests, which you'll find reflected in her detailed answers and tips. On top of that Diana is one of the friendliest people I know.
In short: I couldn't imagine a better person at my side to discover Berlin and learn more about the city. How very fortunate that Diana has taken the time to share her knowledge about her chosen hometown with us here.
Answers and tips by Diana Pauly
How long have you been living in Berlin?
I moved to Berlin in April 2018. Prior to that, I had already visited the city a couple of times, as a lot of my closest friends have been living here. During those trips, I completely fell in love with the urban feeling of the city and the endless possibilities you have here.
What's unique about the city?
Berlin really has a lot to offer. First of all, you can learn a lot about German history here, for example by visiting the remains of the Berlin wall or the Holocaust memorials.
Also, as with most capital cities, you can get very active in politics. Last summer I participated in the #unteilbar march against racism and for a more just society, which was attended by almost 250.000 people in Berlin alone. And then there is, of course, an amazing variety of food and culture from all over the world.   
Which 3 words best describe the city?
Colorful, diverse, free
If Berlin were a person, what would be its main characteristic?
Berlin is like that one friend who seems to have an amazing life on Instagram but constantly gets nagged at family reunions that they are not making anything out of their life.
What is your insider tip, what shouldn't people miss when in town?
For those of you who are interested in traditional Berlin cuisine, I highly suggest eating a Vöner (vegan döner kebab) in Boxhagener Straße as well as a vegan currywurst in Curry 61.
What's the most common prejudice about the city? (And is there some truth to it?)
There are as many prejudices towards people living in Berlin as there are different "Kieze" neighborhoods here (and even more).
The one I like most is that every millennial / gen-x person is out partying from Thursday to Monday, taking drugs and dancing to EDM. This might be true for some club-goers, but I know a good bunch of people who are happily spending their weekends staying in and watching Netflix.
What pitfalls should people avoid when interacting with the locals?
As Berlin has been going through a lot of gentrification in the past decades, many locals are afraid their neighborhood will turn into a tourist hotspot, which ultimately increases rent and suppresses minorities.
So be mindful in interactions with locals that the new coffee shop you really enjoy may have been someone's home or art space in the past and that not everyone is happy about the developments of the city.
What should people pack for Berlin? Anything visitors need to know to be prepared?
Even though it's a cliché, I would recommend an all-black outfit (for clubbing or otherwise) as this seems to be an ongoing trend here.
Sunglasses are great but not mandatory if you are not visiting during peak summer season.
What's your favorite spot in Berlin? Why?
My favorite spot is the Maybachufer in Kreuzberg, as it has some lovely spots for picnicking, as well as one of the best vegan cafés (with vegan donuts!) in town (Brammibals).
Do you have a recommendation for a great vegan spot to eat?
Plenty. If I had to pick one, I'd probably go for vegan Vietnamese food.
There are several restaurants in the city, but one of my favorites is 1990 Vegan Living in Friedrichshain. You can choose from several small bowls of food from the menu and then share with your friends. Also, the staff is very friendly and the kitchen is super fast.
What's the best spot for having breakfast? And for dinner?
The best weekend brunch in town has to be Kopps in Berlin Mitte. You will have to make a reservation beforehand and it is not the cheapest restaurant in town, however, it is definitely worth it. During the week they also have a high-class dinner menu which is worth every penny.
What's the best place to enjoy a sundowner?
Again, there are so many. One of my favorite spots to watch the sunset in the evening is the little park next to the Zeiss Planetarium in Prenzlauerberg. Mauerpark also has a nice hill with a beautiful view.
Any recommendations for sustainable shopping?
You will find plenty of thrift stores in Neukölln and Kreuzberg. While you are there, definitely visit Dr. Pogo, which is one of Berlin's all-vegan supermarkets.
In Friedrichshain you will find a vegan shoe store called Avesu. They also offer vegan leather belts and other accessories and have a rather wide collection.
Can you recommend a beautiful (eco-friendly) accommodation?
The Sunflower Hostel in Friedrichshain is a 100% vegan hostel which is located in a great neighborhood for partying and sightseeing.
What's not worth doing or visiting?
I am a huge fan of flea markets. Thus, when I first came to Berlin, one of the must-go places for me was the flea market at Mauerpark in Prenzlauerberg.
The park in itself is great but the flea market is way too expensive and crowded, especially during the warm months. There are plenty of nicer flea markets in the city, so I suggest you don't waste your time and money there (e.g., flea market Pankeufer or Leopoldplatz).
What's the best way to find out more about the city?
When I arrived in Berlin last year in April I did most of my research on the city through Facebook groups (e.g. "Berlin vegan") as well as through Meetup groups.
As soon as you figure out what you enjoy most about the city, these places usually have Facebook groups with events posted. If you want to get away from the tourist hot-spots you will need to befriend a nice local who will show you around, as you will most likely not find these tips on the internet.
Is there anything underrated about the city?
Our public transport is excellent, even though many locals complain about it not being too punctual.
What's the best season for a visit?
Anytime apart from the winter, during which every Berliner is in hibernation. 🙂
If you had a magic wand what would you change about the city?
If I had a magic wand, I would create free accommodations for the many people who currently live on the streets of Berlin, so that they have a safe place to sleep and have their needs met.
What makes a nice gift from Berlin for those who had to stay at home?
One bottle of "Berliner Pilsner" beer, which can only be purchased in Berlin. If you are not into beer, "Berliner Luft" is a very delicious peppermint liquor.
Any other suggestions for visitors?
Don't expect to see all of the city in one weekend. Getting to know Berlin takes time and a lot of energy. Even though public transport is excellent, it always takes longer than expected to get from A to B, so plan some extra time. If you like one Kiez, stick to it and explore it properly.
What are the places where it's most likely to meet you?
As soon as the sun comes out, you will find me in one of the many parks of my neighborhood having a picknick with my friends, or strolling around the flea market at Leopoldplatz.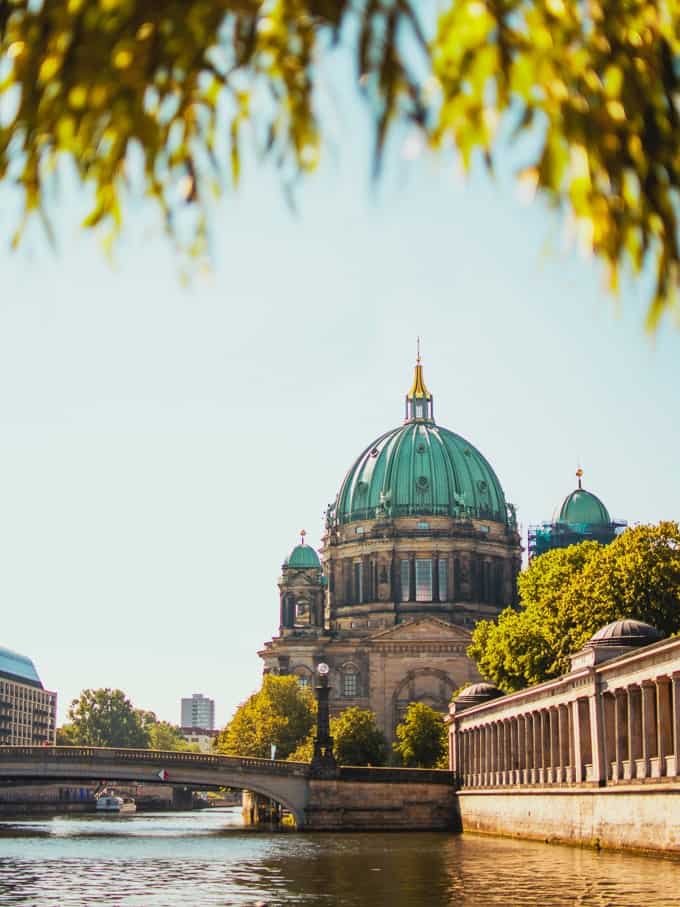 Picture of Berlin postcards by Markus Spiske and picture of Berlin cathedral by Julia Solonina via Unsplash
If you want to find out more vegan spots to eat, I can recommend the numerous Berlin food and restaurant guides written by the two authors of the blog Zucker & Jagdwurst.