The digital travel magazine Uncover Romania describes Bucharest, Romania's capital, as "unique in a way that goes beyond the usual travel stereotypes." In their article Bucharest: One of the Most Authentic Capitals in Europe they use words such as eclectic, noisy, and Western-Balkan atmosphere for the capital.
That's exactly how I always imagined Bucharest to be: Big, bubbling with Eastern European bustle, with magnificent Belle Époque houses, monumental neo-classical buildings, and grey architecture from communist times. In other words, a confusingly beautiful and worth seeing jumble. No wonder that the French magazine Slate has selected Bucharest as Europe's second coolest capital (after Lisbon). According to Slate, the Romanian capital is particularly recommended for students - not only because of the colorful nightlife but also because of the good study offer and the low cost of living.
Even though I grew up in the west of Romania, I unfortunately never bridged the 700 km to Bucharest – neither back then, when I was still living in Romania, nor in later years during the many trips to my relatives in the region of Banat. As luck would have it, on my last visit I met a friend from school days whom I had not seen for almost 20 years. A happy reunion with Silvia Stanciu, which not only resulted in a revival of our friendship but also in the following insider tips for Bucharest, since a good friend of Silvia lives in Bucharest - what a coincidence again! A big thank you to Diana for the great tips. Thanks to her I've been walking at least in my imagination the streets of Bucharest. I can hardly wait to visit this vivid and "confused" capital in person ... to take a stroll through one of the big parks, to be enchanted by classical music at the George Enescu Festival, to visit one of the many museums, and finally to admire the impressive palace of Mogosoaia.
I would also like to thank Diana for the pictures. They were taken during the Spotlight Festival, Bucharest's international festival of light.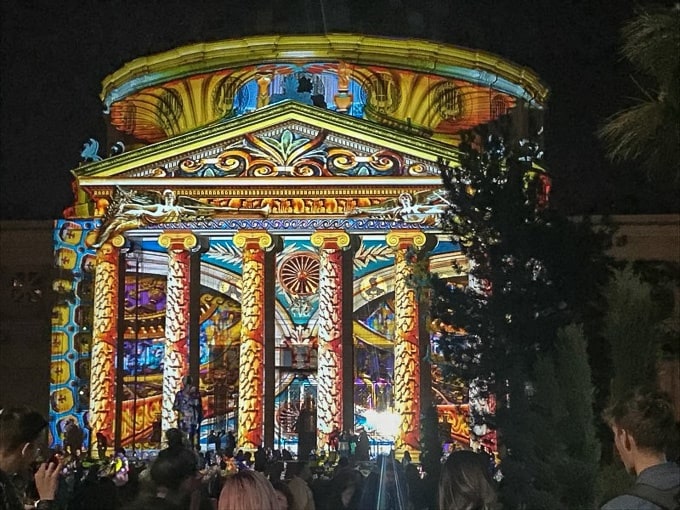 How long have you been living in Bucharest?
Since 2003.
What's unique about the city?
Its diversity.
Which three words best describe the city?
Offering, animated, (yet) gray
If Bucharest were a person, what would be its main characteristic?
Confused
How do people react when you tell them you're from Bucharest?
They have a tendency to be compassionate.
What is your insider tip, what shouldn't people miss when in town?
You shouldn't miss outdoor events during George Enescu Festival or the Museums' Night (Noaptea Muzeelor) of the major museums of Bucharest. The Village Museum (Muzeul Satului) is also quite interesting.
What's the most common prejudice about the city? (And is there some truth to it?)
That people living here are not civilized. At some point, if not used to big cities, it might be true.
What pitfalls should people avoid when interacting with the locals?
One shouldn't trust their kindness too quickly. Sometimes there is a hidden interest, especially when dealing with taxi drivers.
What should people pack for Bucharest? Anything visitors need to know to be prepared?
Nothing special. You find anything you need.
What's your favorite spot in Bucharest? Why?
I enjoy the parks, so I guess Libertatii Park is my favorite spot. But there are also the parks Herastrau and Cismigiu.
Do you have a recommendation for a great vegan spot to eat?
Depending on your taste, there are a lot of small coffee shop and restaurants in the Old Town.
What's the best spot for having breakfast? And for dinner?
The Urbanist. The White Horse (for dinner).
What's the best place to enjoy a sundowner?
The borders of Herastrau Lake (located in the parc Herastrau).
What's not worth doing or visiting?
I guess Malls are a waste of time - except if you are interested in shopping.
What's the best way to find out more about the city?
You google it or you take a hop on-hop off sightseeing bus.
What's the best season for a visit?
Spring is definitely the best time of the year.
If you had a magic wand what would you change about the city?
I think I'd make it cleaner.
What makes a nice gift from Bucharest for those who had to stay at home?
I guess some nice pictures or something traditional. Bucharest is not so much tourist oriented.
What's there to see and visit in the areas around Bucharest?
Do not miss the parks and all the outdoor events located in parks, and don't restrain your visiting area to the Old Town. The historic palace of Mogosoaia (about 10 km outside of Bucharest) and Stirbei Voda in Buftea (20 km outside of Bucharest) are worth visiting.
What are the places where it's most likely to meet you?
I like to hang out at parks (but not at the weekends because they are overcrowded).