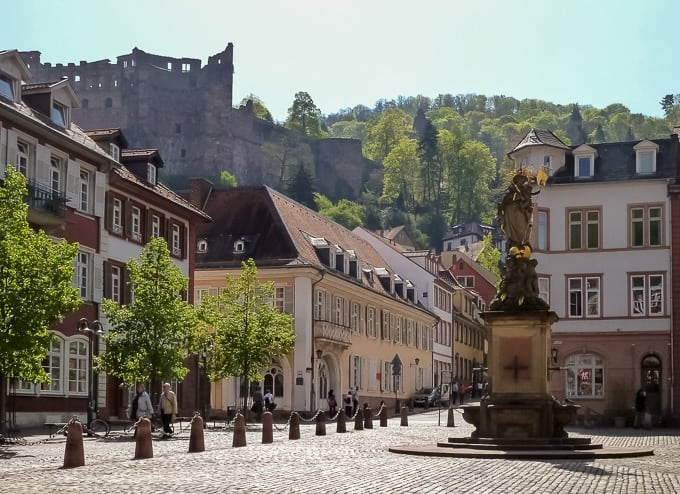 If I was to name an expert on Heidelberg, it would definitely be Marlen Schneider, the author of HeidelMag, a blog dedicated entirely to Heidelberg and the beautiful sides of life in and around this charming and famous city. Thanks to her entertaining and witty writing style, she makes me fall in love with Heidelberg a little bit more with every new - and always highly informative - article. She writes about unique cafes (Kaffee im Blumenladen?), half-hidden museums (Carl Bosch), about sporting (Wie der Frosch zum Neckar kam) and cultural events (Klein, aber Oho – das Zimmertheater). She always finds the special things off the beaten path.
So I count myself lucky that Marlen has agreed to answer my questions about Heidelberg. Actually, I assumed that I know the city quite well having lived in the area for over 25 years; Thanks to numerous visits to Heidelberg, I feel more like a local rather than a tourist. But Marlen's descriptions and expert tips let me see this gem of a city in a new light. I can hardly wait to have breakfast at Your Green Love and to eat dinner at Bay Jok (both locations I haven't heard of before).
And now I invite you to get inspired by Marlen's answers.
How long have you been living in Heidelberg?
I lived here during my studies (3 years) before I moved away for my first job. As it happens, last year, I decided to return – the plan is to stay for a longer period this time. I am beyond happy to be back!
What's unique about the city?
Heidelberg has it all: Unique history (Heidelberg Castle was recently voted among the 3 most important sights in the world!), a charming atmosphere and one of the best universities in Germany.
Which 3 words best describe the city?
Picturesque, semi-urban, green.
If Heidelberg was a person, what would be its main characteristic?
It would be a family loving person, a little posh at heart but very friendly. Sincerely concerned about the environment – but still having the occasional coffee to go in a throwaway cup (and feeling bad about it).
How do people react when you tell them you're from Heidelberg?
"Aaaaw, Heidelberg!! I've been there, it's so beautiful!" (or: "I always wanted to go there!!")
What is your insider tip, what shouldn't people miss when in town?
A stroll around Märzgasse and Plöck. There's a good choice of beautiful little shops and cafés and loads of things to discover (search for Heidelberger Zuckerladen 😊). Beware of the bicycles on Plöck, though!
What's the most common prejudice about the city? (And is there some truth to it?)
People often suppose that Heidelberg is expensive and quite posh. That is not entirely unfounded since there is a lot of "old money" and rich families around. On the other hand, there's the typical Heidelberg student life and a flourishing alternative / green scene. Heidelberg is one of the most liberal cities in Germany. Compared to Munich or Frankfurt, food and hotel rooms/hostels are quite affordable. Downtown housing has become quite expensive, though – just as in other cities providing a high quality of life and mainly caused by housing shortages.
What pitfalls should people avoid when interacting with the locals?
Nothing in particular. Maybe you should avoid telling them if you don't like their city. They are not used to it and will probably not know how to deal with negative feedback.
What should people pack for Heidelberg? Anything visitors need to know to be prepared?
Expect to walk a lot. In general, Heidelberg is one of the sunniest cities in Germany. The wind can be cold, though. No high heels (cobblestones)!
What's your favorite spot in Heidelberg? Why?
Marktplatz in spring/summer. If you're early, have some coffee at Max-Bar, you will feel very Parisian. In the evening, enjoy cocktails at ZKB (Zimmer-Küche-Bar).
Do you have a recommendation for a great vegan spot to eat?
red Restaurant (vegetarian and vegan), a buffet style restaurant with plenty of dishes to choose from. And their cakes are delicious as well! You can read more about it the German article Nicht nur Grünzeug: "Red – die grüne Küche" – das beste vegetarische Restaurant in Heidelberg?.
What's the best spot for having breakfast? And for dinner?
Breakfast: Your Green Love or Strohauer's
Dinner: Bay Jok (Thai / Asian food, suited for vegetarians and vegans)
What's the best place to enjoy a sundowner?
Neckarwiese (outside)! Or Schilling Roofbar (inside).
Any recommendation for sustainable shopping? (Thrift stores, organic stores, vegan clothing, etc.)
Friedrich (fair fashion, café & wine bar). For German speakers: City authorities have released an extensive guide for sustainable shopping in Heidelberg!
Can you recommend a beautiful (eco-friendly) accommodation?
Steffis Hostel (claim: Nature & the city 😊)
What's not worth doing or visiting?
The Christmas market is beautiful but usually really crowded and – to be honest – not very different from the Christmas markets in other cities. I wouldn't describe it as not worth it, though. Merely, a little overrated 😉.
What's the best way to find out more about the city?
Visit and ask me for advice 😊. (or have a look at my blog HeidelMag – but it's in German)
Is there a book that can convey the spirit of the city?
Not in English, but there's a very famous song: "I lost my heart in Heidelberg". If you're a German speaker, I can recommend a book, though: "Heidelberg – einfach spitze! 100 Gründe stolz auf diese Stadt zu sein", written by Heidelberg photographer Sabine Arndt.
Is there anything underrated about the city?
Heidelberg is not only about famous sights, university, and science – it has great outdoors as well! Hiking in Odenwald, wine tasting along Bergstraße, castles, and monasteries… there's so much to do and it's a great place for families.
What's the best season for a visit?
Spring or summer. During Christmas market time, the city is packed.
If you had a magic wand what would you change about the city?
I would create several places to go out dancing as many of them had to close down recently. (Don't drink at home, go out and shine! 😊)
What makes a nice gift from Heidelberg for those who had to stay at home?
As so many people here really love their hometown, there are plenty of businesses creating Heidelberg-related textiles, home decorations etc. Have a look at: HeidelBag, Frau Heidelberg, and Heidelbergbox. If you want to bring a small treat, visit Café Knösel in Haspelgasse for the famous Studentenkuss ("Student's kiss" – homemade sweets made from chocolate and waffles). They come in a nice packaging with explanations.
Any other suggestions for visitors?
Connect with locals! Most people in Heidelberg are really friendly and warmhearted. They will go above and beyond to make you fall for their city.
What are the places where it's most likely to meet you?
Any café offering a good WIFI and tables that fit my laptop. You'll find me in this one particular corner where I can oversee the whole place. If you see me, feel welcome to say hello!
A big thank you goes out to Marlen for sharing her recommendations with us and for giving us a deeper understanding of Heidelberg. If you want to find out more about Marlen, have a read at HeidelMag in the article Locals in HD: Wer bin ich eigentlich?.