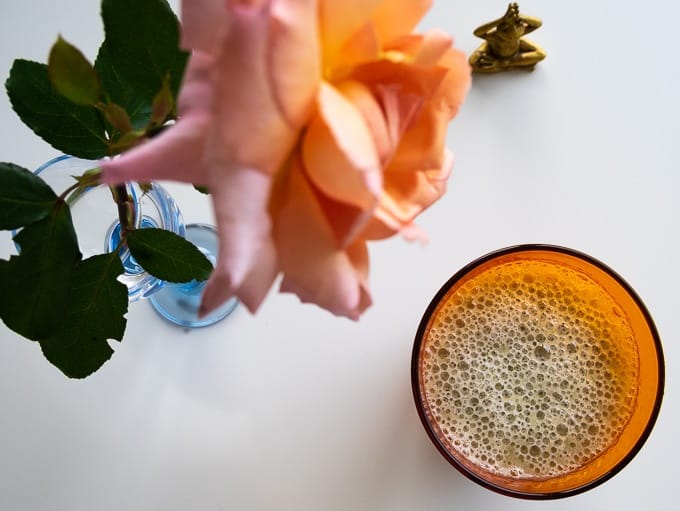 The organic box comes on Tuesdays. Always full to bursting with fresh delicacies - seasonal and local produce in abundance. We have subscribed to Dirks Biokiste, a large box of organic fruit and vegetables that will get us through the week. For me, every Tuesday is like Christmas: I'm looking forward to it as I know that there is going to be something delicious, colorful, and surprising in store for me. Christmas Eve every week. And on top of that, it's a blessing that the box is being delivered to the front door – the only thing left to do for me is to marvel, rejoice, and unpack.
This week in the organic box: Two crunchy fennel bulbs. I love the bulbs and like to eat them raw or cooked; the only thing I couldn't get used to for a long time was the stems because I find them fibrous (both cooked and raw). Until one day I had the idea to mix fennel green and stems with bananas and oat milk in a blender. That experiment was thoroughly successful: The result was a smooth, thick drink with an aromatic, freshly sweet taste. And fortunately, there were no traces of fibers.
Ever since this discovery I no longer throw away fennel stems - which in turn means less food waste. If I can't use the stems right away, I freeze them. They will wait patiently in the freezer until I have enough ripe bananas again and feel like having this refreshing smoothie.
Recipe
Refreshing and Satiating Smoothie with Fennel Stems, Bananas and Oat Milk
Best use for fresh fennel stems? Blend them with bananas and oat milk into a creamy, aromatic, and satiating delicousness.
Ingredients
Stems and greens of 2 large fennel bulbs

3

large

very ripe bananas (the peels may already have brown spots)

250

ml

oat milk*

Water to dilute according to taste
Instructions
Blend all ingredients until creamy.
Notes
* If you don't have any oat milk at home, but you do have rolled oats, you can soak 25-30g oats with 300 ml water for about 30 minutes (or overnight), and then blend the mix with the other ingredients.