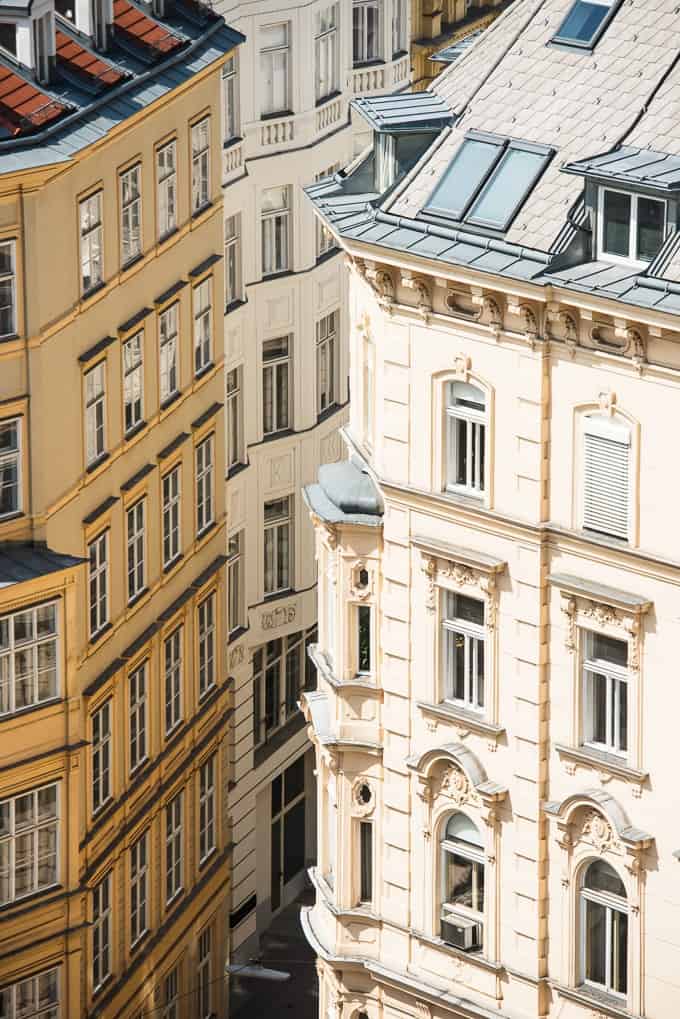 Vienna, Austria's capital, is one of my favorite cities. Even though it is a huge metropolis, it has the charm of a cozy small town, not least because of the famous coffee house culture. The locals take their time for the beautiful things in life: Slowly sipping on a 'Wiener Melange' (a Viennese coffee specialty similar to a cappuccino) while reading the daily newspaper; Or enjoying a small slice of the elegant Sachertorte – only a small one because you want to leave some room for testing also one of the many other sweet and fine pastries that the Austrian cuisine will entice you with.
Then you can stroll for hours through the museum quarter (also aids digestion). Or simply take a leisurely walk through the historic center and admire splendid buildings from the 18th and 19th centuries, or let yourself be enchanted by dainty Art Nouveau decorations.
If you want to get to know Vienna even better, nothing beats a few recommendations from insiders. I would like to thank Tanja Schättler and her partner for taking the time to share their insider tips with us.

How long have you been living in Vienna?
2 years
What's unique about the city?
It's as from another  time. Much of the impressive architecture comes from the 19th or 20th century, you can breathe the history at every corner. Everything is slower in Vienna, even the duration of the stop lights is longer.
Which 3 words best describe the city?
Relaxing, beautiful, different
If Vienna was a person, what would be its main characteristic?
It would be an old person with perfect make-up and grumpy charm.
How do people react when you tell them you're from Vienna?
Wow, you live in the city voted the most livable city in the world!
What is your insider tip, what shouldn't people miss when in town?
All the small live music venues.
What's the most common prejudice about the city? (And is there some truth to it?)
People are unkind. It's true. But that's just the surface.
What pitfalls should people avoid when interacting with the locals?
Taking unkindness for unwillingness to help.
What should people pack for Vienna? Anything visitors need to know to be prepared?
A nice dress if you may want to visit one of the prime operas, music halls, or theaters. Otherwise, come as you are and be open-minded.
What's your favorite spot in Vienna? Why?
One of the beaches along the Danube. You can swim or just watch the boats passing by.
Do you have a recommendation for a great vegan spot to eat?
There is a lot of great vegan food to eat in Vienna, e.g. the Yamm buffet or Deewan, a Pakistani bistro, where you pay as much as you wish (minimum 4€), and of course, there is Veganista for solely vegan ice cream.
What's the best spot for having breakfast? And for dinner?
For breakfast, I'd recommend Weltcafé. Or Café Burggasse 24, a cozy lounge-style bistro where you also can buy vintage clothing. For dinner, there is Tian Bistro which offers affordable Austrian gourmet cuisine and Grüner Schatten where you can try Bangladeshi home-style cooking. You could also go for a beautiful hike outside of the city center and recharge at the Heuberg, an Indian-Viennese fusion restaurant with a nice beer garden.
What's the best place to enjoy a sundowner?
In one of the beach bars at the Danube canal or on one of the rooftops, e.g. Dachboden on top of the 25 Hour Hotel.
Any recommendation for sustainable shopping? (Thrift stores, organic stores, vegan)
There are many flea markets—check online. And there are many organic and alternative stores around the city, e.g. in the 7th district around Neubaugasse.
Can you recommend a beautiful (eco-friendly) accommodation?
Magdas—a social business hotel run by former refugees located in the middle of the greenery close to the Danube canal and the city center. Each room is unique with upcycled furniture.
What's not worth doing or visiting?
Many visitors are disappointed with the Freudhaus.
What's the best way to find out more about the city?
Take a City Bike. They are available at many corners, free up to one hour.
Is there a book that can convey the spirit of the city?
Many. The autobiography from Alma Mahler may be one of the most telling books.
 Is there anything underrated about the city?
Not really. It's a livable city indeed.
What's the best season for a visit?
Spring, autumn, before Christmas, or summer if you like it hot and dry.
If you had a magic wand what would you change about the city?
Expel cars from Vienna.
What makes a nice gift from Vienna for those who had to stay at home?
Handmade vegan chocolate from the Xocolat Manufaktur.
What's there to see and visit in the areas around Vienna?
The Kahlenberg located in the Vienna Woods is a popular excursion from which you have a good view of the city. Schneeberg in the Vienna Alps is a great destination for a hiking day trip. There are plenty of "Heurige" close to the city; just take a streetcar (Bim) to the last stop. Biking along the Danube and on the Donauinsel in either direction makes for a beautiful day trip.
Any other suggestions for visitors?
Do not miss visiting the museum quarter as well as the Hundertwasser house.
What are the places where it's most likely to meet you?
Enjoying the sun on my rooftop balcony or at a beach at the Danube.