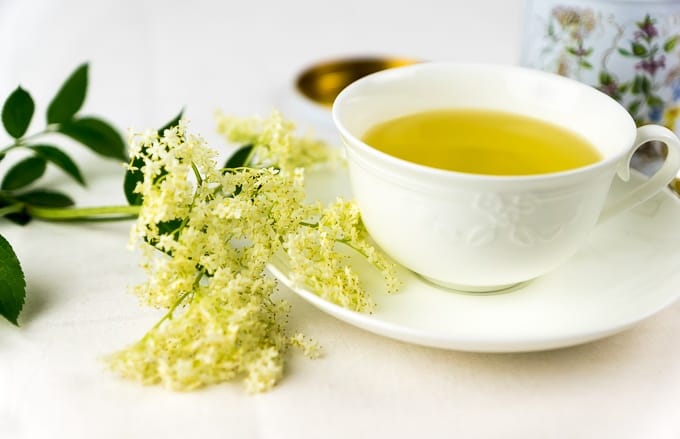 The merry month of May is delighting us with a burst of colors – be it the countless shades of green or the charming colors of blooming trees and flowers. And perfumes, oh, all the lovely scents when passing by lilac trees, honeysuckle, roses, mock orange blossoms, and elderberry blooms. I love them all, but am particularly in love with those wild flowers that are edible. Like lilacs and elderberries. Right now in Germany the lilac season just ended, but I don't have time to be sad as the elderberry bushes are in full bloom, so the happy harvesting and indulging in sweet, heady scents continues.
To me elderflowers are very familiar as no spring went by in my Romanian childhood without sipping on the delicious "suc de soc" (Romanian elderberry lemonade). Sweet, yummy drinks are exactly what elderflowers are mainly known for, such as cordials, lemonades, syrups, and the Hugo cocktail. It is a shame, though, that elderflower tea is not as popular (yet), since this herbal tea is highly beneficial. Besides, it is floral, delicious, and velvety.
Just read on to find out about the various health benefits and some tips and tricks for harvesting and drying the elderflowers, and how to use the blooms for making tea.
Benefits of Elderberry Blossoms Tea
I like drinking elderflower tea in the evenings as it soothes my mind and my stomach. But the tea is actually best known for its antiviral effects, thus fighting off the flu. You might want to give it a try to drink 3-4 for cups a day as soon as you notice the first flu symptoms.
Elderflower tea is also said to:
Contain high levels of vitamin C, making it a powerful antioxidant
Strengthen the heart and the immune system
Support the metabolism
Calm the stomach (especially when bloated), and soothe stomach cramps
Purify the blood
Stimulate kidney activity

Recommendations for Harvesting
First and foremost: Make sure it is really elderberry flowers you're picking, and not cow parsley, pyracantha, or cowbane (the latter is poisonous). Elderflowers grow on bushes, not on the ground; their smell is intense, heady, 'summery' and sweet, and their color is cream, not white.
Best time for picking elderflowers is around noon on a sunny day as the heat heightens their smell and aroma.
Choose only heads that are opened completely and that are not past their prime (no brown flowers).
Shake free of dust and insects right after picking. This is particularly important as it's not recommended to rinse or wash the blooms before use – this would strongly diminish their aroma.
Avoid picking along the road as the elderflowers might be polluted with petrol fumes.
Don't strip one particular bush bare of elderflower heads. Pick instead from different sources. This way the plants can thrive and you can forage elderberries come fall.
Collect them in a basket or paper bag as the flowers need to breathe. If you're using a plastic bag, leave it constantly open.
Use the elderflower heads as soon as possible (they wilt easily and lose their aroma) or dry them.
Please be aware that some parts of the elderberry bush are poisonous, such as the leaves, the bark and unripe elderberries.

Recommendations for Drying
To preserve the elderflowers beyond their season and to make tea whenever I'm craving it, I like to dry them.
Drying elderflowers couldn't be easier. Just spread the blooms out on paper or kitchen towels und leave to dry in a warm, dry and shady spot until they are crispy dry. Store them in an airtight container.
How to Make Elderberry Blossom Tea
Here is how to make this beneficial tea using either freshly picked blooms or dried blossoms. The recipe will yield two cups of tea.
In a teapot, steep 4 fresh elderflowers or 2 teaspoons of dried blossoms in boiling hot water for 5 minutes. I recommend placing a lid on the cup as it helps keep the aromas and agents trapped in.