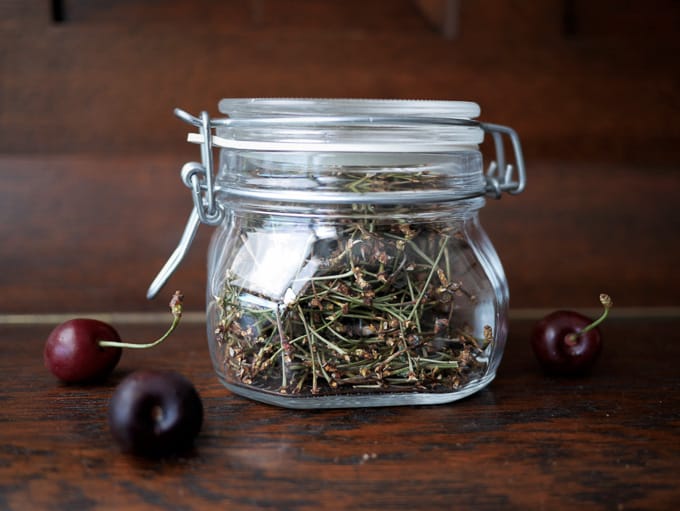 "This is for you."
My mother smiled and handed me a pretty jar. It was filled with something - I couldn't tell exactly what.
"Dried cherry stems.", answered my mother to my unspoken question.
"Uh-huh, thanks," I replied hesitantly. "What do you make with them?
"Tea, of course; what else?"
And so it came about that I started drinking cherry stem tea. The tea tastes good to me with its subtle bitter note and light fruitiness. I sometimes brew it with sage and dried grapefruit or orange peel for a change.
Another reason for drinking cherry stem tea: It's believed to have some health benefits. The tannins in both the leaves and stems are said to have mucolytic (e.g., for coughs), draining (good for fighting bladder infections), and detoxifying effects.
By now, I dry cherry stems myself. It's pretty straightforward: First, wash organic cherries with the stems, then dab everything dry, and finally pluck off the stems. I lay the stems out to dry on a plate, a kitchen towel, or newspaper for a few days. Then, off the stems go into a pretty tea tin.
Every now and then, I'll enjoy a lovely cup of tea by brewing 10-15 dried cherry stems with hot water and letting them steep for 10 minutes.
I'm curious: Do you know cherry stem tea? Do you have any other uses for cherry stems?
Psst, you might also like tea made of elderflowers and corn silk tea.