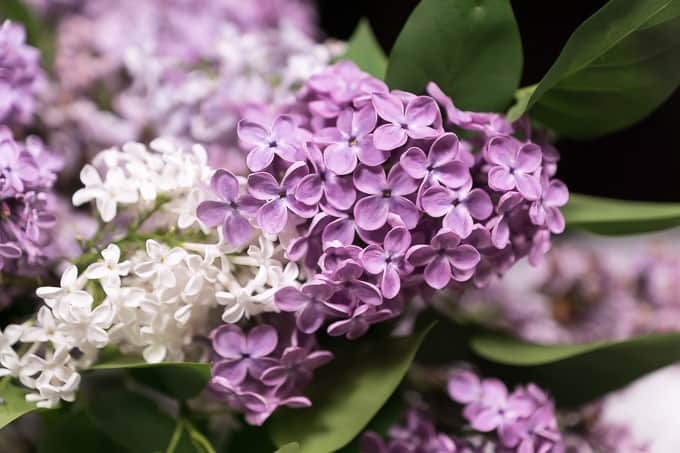 Did you know that lilacs are edible? I didn't until a week ago. Lilac trees are in full bloom in Schwetzingen, and as I was passing by several large bushes laden with fragrant white and purple blossoms, literally bathing in their scent, all of a sudden I had this notion that they might be edible. I know that elderberry blossoms can be used to make a fragrant and delicious syrup, as it is a common and welcome bubbly drink in Romania during elderberry season (my mom still makes it every spring). So I did some research and found out that lilac blossoms can be used similar to elderberry flowers.
Actually, lilac is supposed to be a medicinal herb that can help lower fever and improve digestion. It's medicinal use has been documented since the middle ages.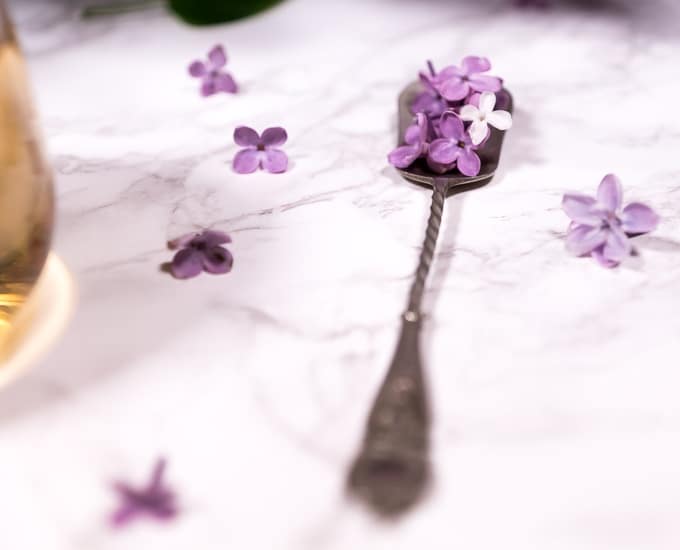 3 Easy Ways of Using Lilac Blossoms and Leaves
The easiest way to consume lilacs is to make tea using either the blossoms or the leaves. You can use both fresh blossoms and leaves. But you can also wilt them to be able to enjoy your cup of lilac tea once its season is over. Below I noted down the quantities I used with fresh blossoms and leaves, along with some tips and tricks.
Another easy way of preserving and cherishing the intoxicating scent of lilacs is to make lilac blossom syrup. This definitely puts your patience to the test, as the liquid needs to rest 3-5 days. I will post a recipe as soon as I get to try it out.
Why not use the lilac flowers as natural aromatherapy when taking a bath? Sprinkle your bath water with two handfuls of lilac blossoms and let the heady, springy, and hopeful lilac fragrance melt your thoughts away.
Harvesting Recommendations
If you want to harvest lilacs for culinary or aromatherapy purposes, here are some things you should pay attention to.
Choose plants from an area with no or little exposure to car emissions.
 Harvest dry flowers, e.g., not right after a rain shower.
Harvest in the morning or right after sunset when the flowers and leaves are fresh and filled with water.
Harvest lilac heads with fresh and newly opened blossoms (not those with wilted, brown blooms).
Lilac Blossom Tea
Lilac blossoms are known to soothe the stomach, for example improve digestion.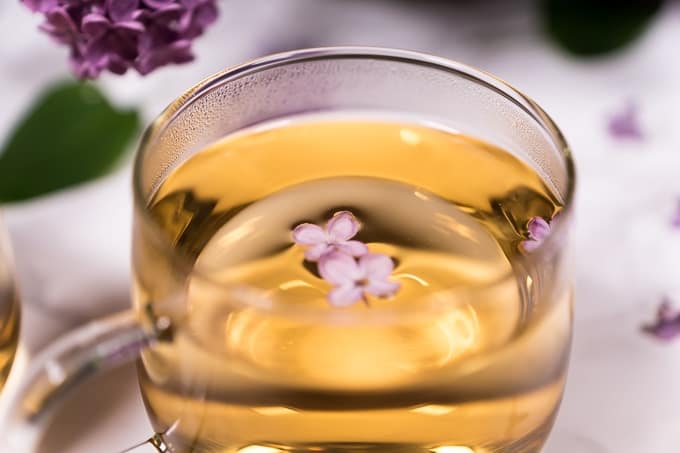 To my surprise, the lilac blossom tea doesn't have the typical strong lilac fragrance; it's scent is slightly bloomy. Once the tea is done, my trick is to sprinkle 2-3 blossoms over the tea so I can enjoy the unique lilac scent with every sip.
It's taste is mild, "oaty", and "grassy", just like a fine herbal infusion.
Lilac Blossoms and Leaves – Three Easy Ways to Use Them
Did you know that lilacs are edible? Find out easy ways to use them in your kitchen, and as aromatherapy when taking a bath.
Servings:
1
cup of tea (250-300 ml)
Ingredients
2

tablespoons

of lilac blossoms

1 fresh lilac head makes 2-3 cups

250-300

ml

boiling water

Sweetener of your choice

optional
Instructions
Pull 2 tablespoons of lilac blossoms off of the stem.

Steep lilac blossoms in hot water for 5 minutes.

Remove the blossoms from the tea.

Add sweetener if needed.

Sprinkle 2-3 blossoms over the tea for the typical lilac scent.

Lilac Leaves Tea
You can also use the leaves of lilacs to make tea. The leaves are known to reduce fever.
Lilac leaves tea is bitterish in taste, not as mild as the lilac blossom tea. I like the delicate bitterness, but you may want to sweeten your cup of lilac leaves tea.
For 1 cup of tea (250-300 ml)
Ingredients
2-3 lilac leaves
250-300 ml boiling water
Sweetener of your choice (optional)
Method
Steep lilac leaves in hot water for 5 minutes. The longer you steep them, the more bitter the tea will get.
Remove the leaves from the tea.
Add sweetener if needed.