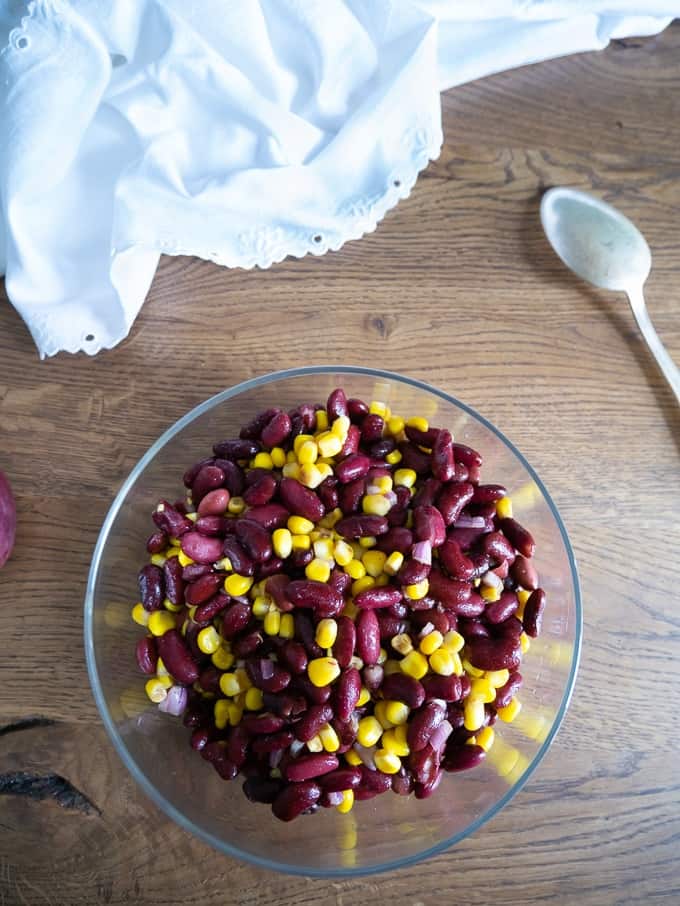 If there's one salad that I'm craving on a regular basis, it is this one.
But it was not love at first bite. Not the taste is to blame for it, though. Rather it was due to my expectation back then to be served a complete dinner. I was invited over and my host told me already that there's going to be food. Since it was dinner time, I obviously got there really hungry. I mean: REALLY hungry. And then I was served ... cold beans and corn.  "Whhaaat? Just salad? Where is the FOOD?" My thoughts ran wild as I was sure I'll starve. Can you imagine how disappointed I was? And really, really mad at my host. Arrgh, the pitfalls of communication!
Well, many, many years have passed, and despite the bumpy start of our relationship, a pure, intimate, unconditional love has evolved. The bean-corn salad and I are now inseparable. Sometimes, I even picture myself as an elderly lady holding a huge bowl filled with this salad and gorging on it with a big spoon. And a big, happy grin on my face!
How could it be otherwise, as it not only tastes fantastic, but it is also nutritious and satisfying. Yes, beans make you full. And above all: It is prepared in no time. That's why I call it the bachelor salad (and also because it was served to me by a bachelor back then). You probably have all the ingredients in your kitchen cupboards or in the pantry (canned corn, kidney beans, and a red onion), and the only "work" is to peel and chop the onion.
I can eat the salad on its own. Of course, it also goes well with a piece of bread or a veggie patty. By the way, this salad is very popular at parties, in fact, it's the star among salads as it's usually the first one to vanish. You can make it either 5 minutes before the party or the day before as it keeps well in the fridge.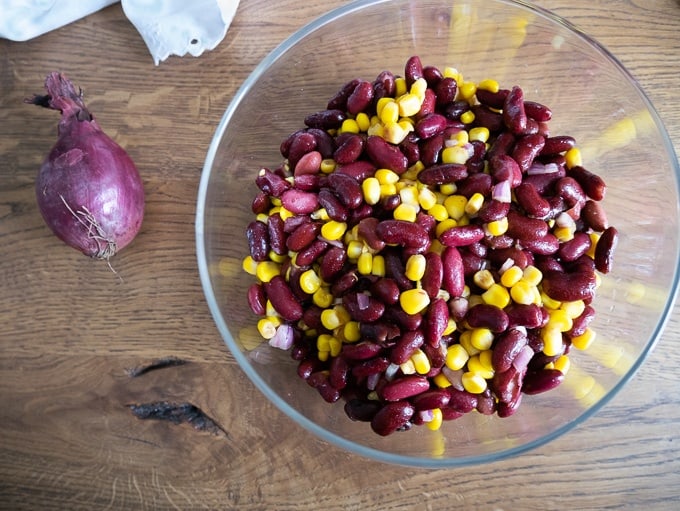 Quick and Satiating Kidney Bean and Corn Salad With Red Onion
Healthy, satiating salad with kidney beans, corn, and red onion. It's uber fast to make and a crowd pleaser at any party.
Ingredients
450

g

cooked kidney beans

drained weight, drained and rinsed

250

g

cooked corn

drained weight, drained and rinsed

1

Very small red onion

3

Tablespoons

rapeseed oil

or any other neutral tasting oil

3

Tablespoons

balsamic vinegar

1

Tablespoon

red wine vinegar

Salt

Pepper
Instructions
Peel the red onion and chop it finely. Mix it with the remaining ingredients.

Season with salt and pepper.