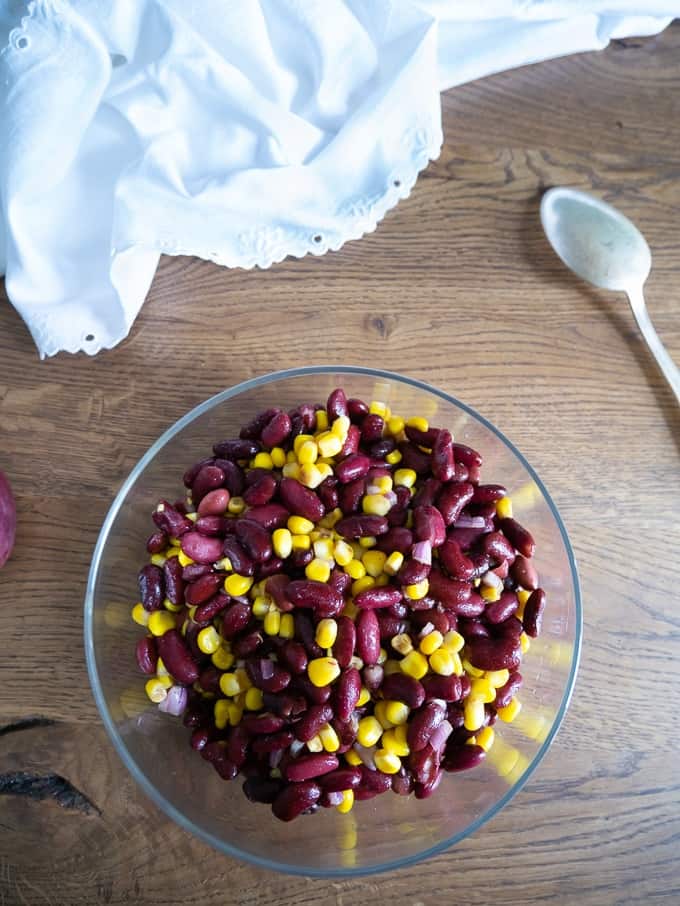 This kidney bean salad recipe isn't just healthy, filling, and downright delicious; it's also a breeze to whip up. No wonder it's often dubbed the 'bachelor's salad.' And the best part? It's easily scalable and perfect for feeding a crowd or your family at a delightful gathering.
Note: Some of the links below are affiliate links. At no additional cost to you, I may earn a small commission if you purchase through those links. You can read my full affiliate disclosure here.
Content:
Why It's Called a Bachelor Salad
If there's one salad I find myself regularly craving, it's this one. I have a particular fondness for beans, and this salad truly stands out when it comes to kidney bean recipes. It places kidney beans at the center of attention, right where I believe they belong.
But our relationship didn't start with love at first bite. In fact, it had more to do with my initial expectations than the taste itself. You see, I was invited over for what was promised to be a full dinner. It was dinnertime, and I arrived famished.
I mean, seriously hungry. And then, I was presented with... cold beans and corn. 'What? Just a salad? Where's the real meal?' My mind raced with disappointment, and I was genuinely upset with my host. Ah, the joys of miscommunication!
Fast forward many years, and despite our rocky beginning, an enduring, unconditional love has blossomed between me and this bean-corn salad. Sometimes, I even picture myself as an elderly lady, clutching a massive bowl of this salad, happily spooning it into my mouth with a grin.
How could it be otherwise? It not only tastes amazing but is also a nourishing and satisfying dish. Beans are masters at filling you up. Plus, it comes together in no time.
That's why I affectionately call it the 'bachelor salad' (partly because a bachelor served it to me that first time). But, of course, you could also call it the 'bachelorette salad' to keep things fair and equal.
Chances are, you have all the ingredients in your kitchen or pantry – canned corn, kidney beans, and red onion. The only 'work' involved is peeling and chopping the onion.
Are Red Beans and Kidney Beans the Same?
This recipe calls for red kidney beans, the most common type of kidney beans. It's easy to assume that kidney beans are simply red beans. This is a common misconception, but despite their similar names and appearances, red beans and red kidney beans are not the same.
Differences Between Red Beans and Red Kidney Beans
Red Beans
Appearance:
Red beans, often referred to as small red beans, are relatively smaller in size compared to red kidney beans. They have a deep red hue and a smoother texture.
Flavor:
They possess a mild, slightly sweet flavor, making them a versatile choice in various dishes.
Culinary Uses:
Red beans are commonly used in Asian and Caribbean cuisines, particularly in dishes like red bean paste for desserts or red bean rice.
Red Kidney Beans
Appearance:
Red kidney beans are larger and have a distinct kidney shape. They come in different sizes, with dark red and glossy skin.
Flavor:
Red kidney beans have a robust, earthy flavor with a slightly firmer texture than red beans.
Culinary Uses:
They are a staple in many Mexican, Southwestern, and Indian dishes, including chili, bean salads, and curries.
Are There Different Colored Kidney Beans?
If you're anything like me, you might be curious whether kidney beans exist in colors other than red.
The answer is yes; they come in various colors, although the red kidney bean is the most common and widely recognized type. You might have also encountered another variety without realizing it's a type of kidney bean – cannellini beans, also known as white kidney beans. Other colors of kidney beans include Dark kidney beans, white kidney beans, and speckled kidney beans.
Can You Substitute Red Beans for Kidney Beans?
Absolutely, you can typically replace red beans with red kidney beans in a salad without encountering significant issues. Red and kidney beans have textures and flavors that align closely enough to work interchangeably in many recipes, including this corn and kidney bean salad.
Since red beans tend to have a slightly sweeter flavor than red kidney beans, you can adjust the balsamic vinegar and red wine vinegar ratio in the recipe. Instead of the original recipe's proportions, you can use two tablespoons each.
Key to Success for This Kidney Bean Salad Recipe
It's an incredibly simple recipe, so there's no need to stress about it. However, there are two ingredients I strongly recommend using; otherwise, your salad might not reach its full flavor potential. The absolute essential for this dish is balsamic vinegar. Its sweetness adds a delightful twist; omitting it would mean missing out on that special 'Wow' factor. If you can, splurge a bit on high-quality organic balsamic vinegar – you'll notice the difference.
The second key ingredient is the red onion. It strikes the perfect balance between sweetness and spiciness, making it ideal for salads. White onions would be the next best option, followed by yellow onions.
What Goes Well With This Salad
I can enjoy this salad all by itself. Of course, it also pairs wonderfully with a slice of bread or alongside a veggie patty. Interestingly, this kidney bean salad recipe is a real crowd-pleaser at parties. In fact, it's the superstar among salads – it's usually the first one to disappear! The best part? You can whip it up just 5 minutes before the feast or prepare it the day before because it keeps beautifully in the fridge.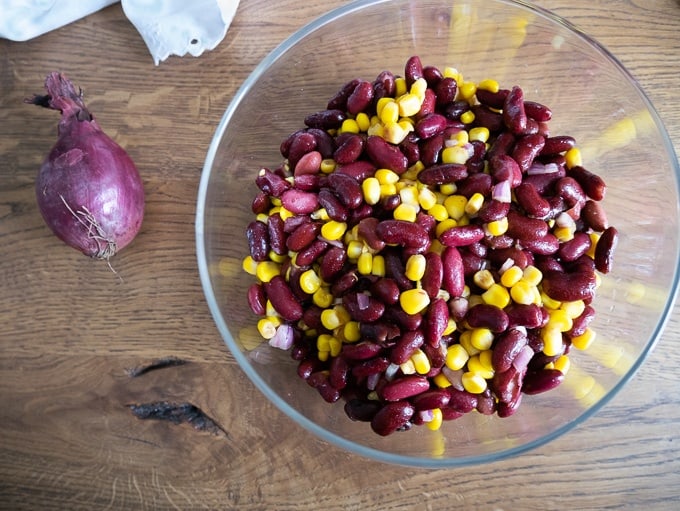 Recipe
Bachelor's Kidney Bean Salad Recipe: Quick, Easy, and Satiating
This healthy salad with kidney beans and corn is filling, uber fast to make and a crowd pleaser at any gathering. Everyone loves it.
Instructions
Peel the red onion and chop it finely. Mix it with the remaining ingredients.

Season with salt and pepper to taste.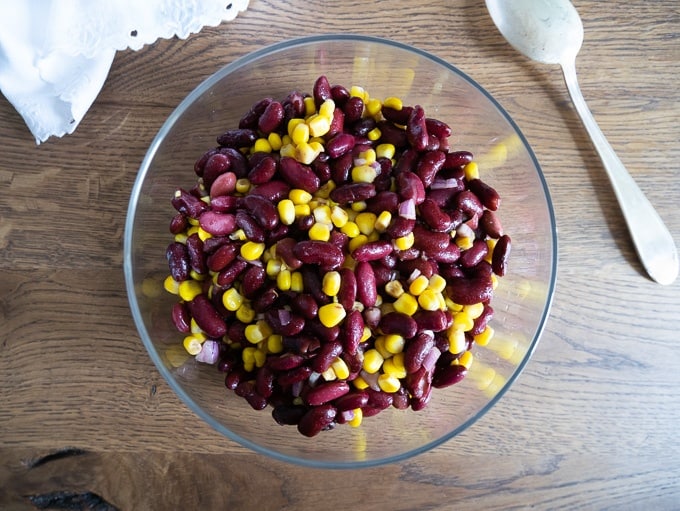 Let me know: Do you have another favorite kidney bean salad recipe?
Wishing you planty of delicious delights,
Ramona
Psst, you will enjoy this Chinese Cabbage Salad and the Refreshing Apple Celery Salad.
______________