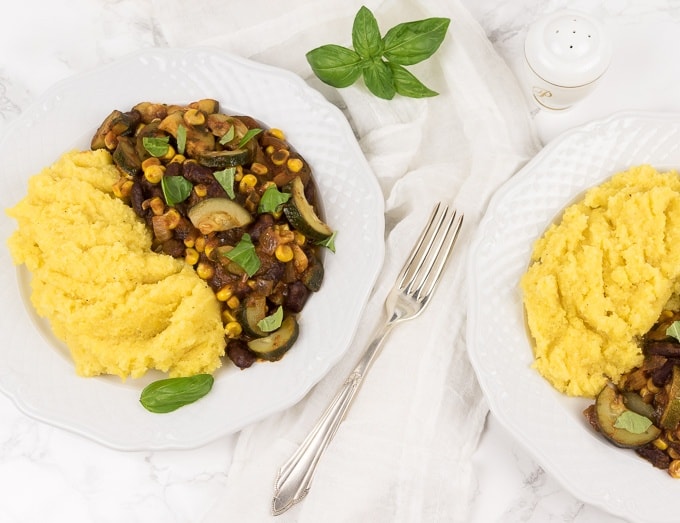 This is the very first recipe I created. Ever! I wasn't good at cooking a couple of years ago, I didn't even enjoy it, thus I avoided it completely. But this very dish changed everything because it made me realize how easy it is to cook something that is truely delicious and satiating, yet fool-proof and ready in 20 minutes.
Over the years, this dish has become my go-to comfort food recipe. I've cooked it more times than I can count, and have tweaked it a bit here and there every time. But, honestly, it is a never-failing one. Mix zucchini, a diced red onion, sweet corn, kidney beens with Italian herbs, and there you have your yummy veggie bowl, no matter the quantities you use. Now take the veggies and pair them with polenta, since anything with zucchini, tomatoes and Italian herbs goes extremely well with a creamy cornmeal mush. Moreover, polenta makes the dish filling even though it is still light and easy to digest. My belly is always happy after eating a full plate of this deliciousness.
I hope you try it out. I'm sure you won't be dissapointed.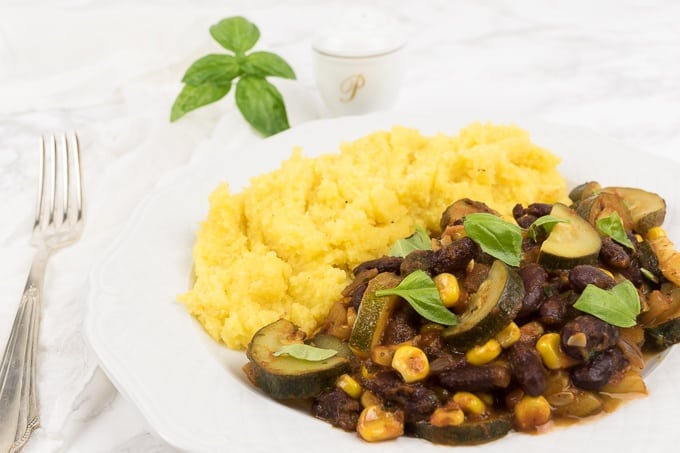 Recipe
Polenta with Mediterranean Spiced Zucchini, Red Beans and Tomatoe Passata
Mix zucchini, a diced red onion, sweet corn, kidney beens with Italian herbs, and pair the veggies with creamy polenta for a delicious yet fool-proof dish.
Ingredients
For the polenta
1

l

water

3

scant teaspoon salt

300

g

grainy instant polenta
For the veggies
600

g

zucchini

about 3 medium zucchini

200-250

g

of sweet corn

1 tin/jar, or use frozen corn

200-250

g

red kidney beans

1 tin/jar

1

red onion

3

tbs

olive oil

300

ml

tomato passata

or 1 tin of chopped tomatoes

1

tablespoon

tomato paste

2

small dried red chili peppers

or ½ fresh red chili pepper, seeds removed, flaked

1

bunch of mixed Italian herbs

e.g., basil, thyme, oregano, parsley, chopped

Salt

Pepper
Instructions
For the polenta, bring the water to a boil and reduce the heat to a minimum. Dissolve the salt in the water. Pour the polenta into the water while whisking continuously until the polenta starts to thicken (approx. 5 minutes). Whisk until the polenta gets too thick to stir, then put a lid on and set aside.

For the veggies, cut off the top and bottom of the zucchini, and cut them into bite-size pieces.

Drain the corn if you're using canned corn.

Drain the kidney beans. Keep the bean brine for use as aquafaba in other recipes.

Peel the onion, chop it, and saute it in the olive oil until it turns translucent.

Add the zucchini to the onion and fry on medium heat for a couple of minutes. Add all the other ingredients and let simmer on medium heat until the zucchini is soft. Taste test and add salt and pepper if needed.

Serve the veggie with the polenta.