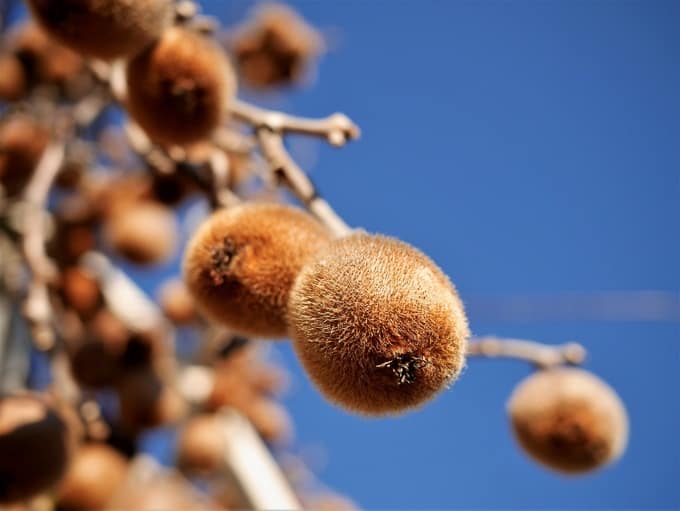 The first thing we saw: A canopy of huge velvety leaves and delicate branches. A kiwi tree! Right above our heads!
We stopped immediately, entirely taken by surprise by this unreal image. It was November in Germany, after all, a cold winter afternoon. And yet, there, right in front of our eyes, were dozens - if not hundreds - of kiwi fruit dangling from a tree.
This must be the dreamiest home entrance!!!
Our second thought: If the apartment is anywhere near as enchanting as the entry to the house, we want to rent it.
To our great delight, the apartment delivered what the entrance promised. We moved in within a month and have never looked back.
We have enjoyed living here for five years, and every year the exotic kiwi plant charms us anew. No matter how exhausting a day "out in the world" is, my heart becomes lighter when I come home and walk under the "sky" of heart-shaped leaves and jungle-like creeper branches.
Yes, we love our kiwi even when it STINKS on some days! It's not a light smell, let alone a fragrance. It's an AWFUL STENCH! Who would have thought that something so beautiful could spread such a terrible stench?
On hot, humid days, the tree secretes a smell of cloaca. It's just impossible to stand! First, we suspected the pretty kiwi flowers, which remind me of white anemones and camellias. However, the flowers themselves don't smell at all or very little (pleasantly, like lily of the valley). According to a quick Internet search, the leaves draw attention in this unbearably unpleasant way during the flowering period.
Be that as it may, we have come to terms with it. After all, it's only a few days per year. The rest of the time, the tree beguiles us with its fairytale charm.
There was only one thing that saddened me, and I never got over it: That year in, year out, the magnificent tropical kiwis dangle enticingly ready to be picked, and yet I have to do without them. The fruit never ripen; they are small-sized and rock-hard in November. Unripe, inedible! Eventually, they fall off the tree.
To make sure that no one would trip over or slip on them, our neighbor would shake the remaining kiwis off the branches, sweep all of them up and dump them in the trash bin.
What a pity! All those tantalizing kiwis, what a heart-breaking waste of some fine fruit!
A few weeks ago, an idea flashed into my mind: Some FRUIT RIPEN INDOORS! Stored at room temperature, green, hard bananas turn yellow, soft, and delicious with time. Persimmons - tropical fruit like kiwis and bananas - turn from bitter tooth-biters into pudding-soft flavor bombs, sweet as sugar.
So I started my experiment: I picked five tiny kiwis and put them on our dining table. Every day I squeezed them to check if they turned softer. I had little hope - I harvested the kiwis not only unripe but also not fully "grown" (unlike the said bananas and persimmons).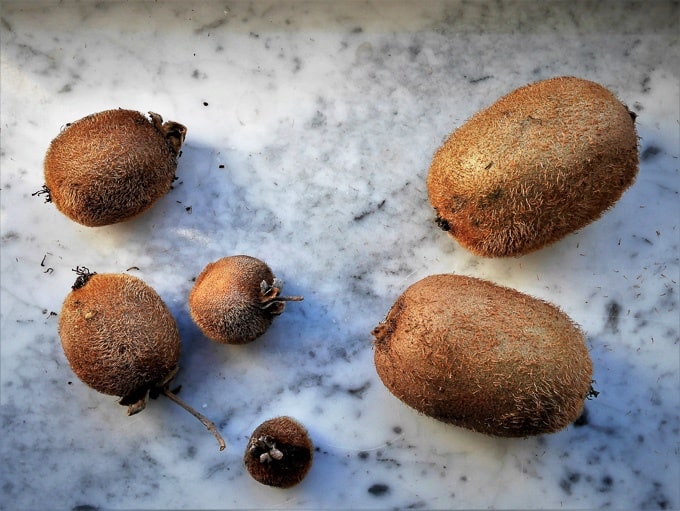 All the greater my astonishment after a few days that a kiwi was ... SOFT. REALLY soft! Was it rotten?
I carefully peeled it, sniffed it, and then bit off a small piece of the deep green flesh. WOOOAAAHHH! Super sweet! Uber delicious!!!! The sweetest kiwi I have ever eaten.
Gradually, the other four kiwis softened, too, the smaller ones first. I diligently plucked all the kiwis from the tree. (That is, all within my reach - which I knew how to cleverly extend with the help of my over 1.90m tall partner). Over the past few weeks, we had a decent supply of kiwis; every day, two or three would ripen.
What a GREEN GOLDMINE! Now, this was truly the apartment of our dreams.
Until that one day last week ...
I was taking out the trash when the SHOCK came! Out of the corner of my eye, I noticed a change. I turned around and ... there was ... NOTHING! Our kiwi tree! No more leaves. No kiwis. All gone.
I had a bad premonition - and right so: On the bottom of the huge garbage can, I could spot the remaining kiwis, mingled with their leaves, damp newspapers, and the rest of the (indefinable) trash of our neighbors.
Next year, I'll be smarter (and kiwi-richer). I've learned two things:
Kiwis get sweet and soft even in winter-cold Germany. Just allow them to ripen in your cozy, warm living room. (In fact, kiwis are supposed to be harvested unripe.)

I need to inform our neighbor that the kiwis are just pretending not to be edible. They should go into the fruit basket, not the trash can. And what's more: I would even share the yield with him.
Di you know that kiwi fruit continues to ripen once picked?